Gift Modern
For the colorful
personality
Brighten rooms and outlooks with inventive finds from our Danish sister brand, HAY, to bring joy to the everyday.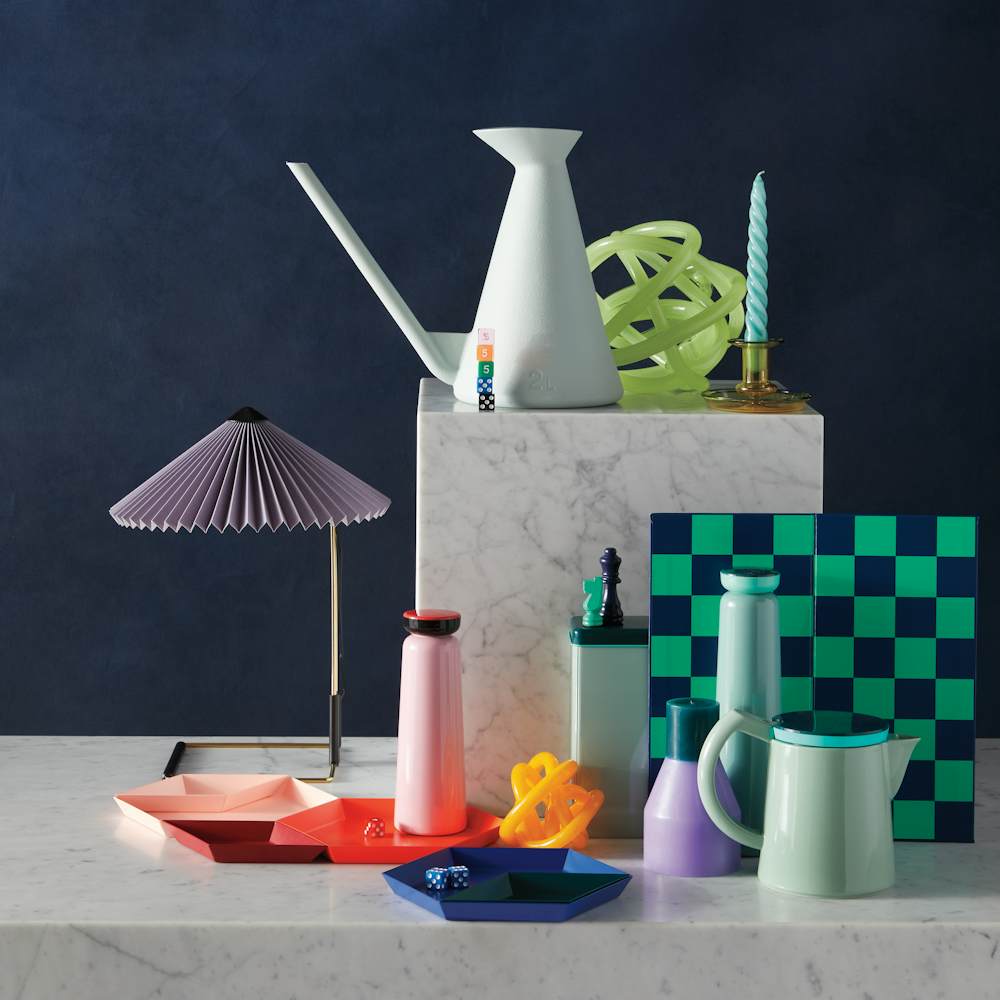 Practical Gifts for Colorful Personalities
Gift shopping for effervescent people who are always on the go involves thinking about practicality without neglecting fun. Exuberant people will appreciate thoughtful gifts that can match their energy and help them manage their busy everyday lives. The most useful gifts are those that align with a person's interests – like coffee, cooking, decorating, or mixology – and feature a compelling visual twist that will brighten any recipient's mood with just a single glance.
These practical gifts don't have to be elaborate – they can be as simple as household items – but the most memorable gifts are those that feature something unique that your colorful loved one will enjoy and appreciate for years to come. This year, shop for thoughtful gifts that are also useful gifts at Design Within Reach. Our curated collection of fun and functional gifts from HAY might have just what you need for even the most energetic person on your list.
Functional & Fun Gifts for Everyone in Your Life
When shopping for practical gifts for lively people, look for gifts that will enhance the fun and creativity of your loved one's daily life. These gift ideas may lean heavily on the recipient's interests and lifestyle; for example, gifts for coffee lovers may include statement-making borosilicate glass mugs or coffee makers with iconic silhouettes. Similarly, unique gifts for friends who spend a lot of time out of the house might include brightly colored (yet durable) travel mugs or tumblers, compact bento boxes, reusable glass straws, or reusable chopsticks.
Fun gifts for women or men who love interior design can include visually compelling light fixtures, color-blocked candles or candles molded in organic shapes, decorative trays, and other home decor accents that will contribute to a lively, carefree atmosphere. In HAY's collection of unique yet practical gifts for Design Within Reach, discover creative gift ideas that put an exuberant twist on useful household items.
Colorful & Practical Gifts From Design Within Reach & HAY
HAY's selection of coffee gifts includes the innovative Sowden Coffee Pot, with its vibrantly colored porcelain exterior and state-of-the-art coffee infuser that produces rich, grounds-free coffee. For a coffee gift bundle, consider coupling the Sowden Coffee Pot with a pair of playful borosilicate mugs. To create a gift for coffee lovers who'd also appreciate tea gifts, include a Sowden Kettle or Sowden Tea Pot in your coffee gift basket. For more tea and coffee gift ideas, shop all cooking and tabletop accessories and bar tools and glassware at Design Within Reach.
For those who enjoy at-home bartending or entertaining, useful gifts can include drink glasses from the HAY Tavern or Tint collections, or the borosilicate glass HAY jug, which makes a show-stopping centerpiece as well as a decorative vase. Home entertainers and decor lovers alike will appreciate lively candles, candleholders, and vases from HAY, including the Arcs vases and candleholders, Bottoms Up Vase, Moroccan Vase, Flare Candleholder, and color-blocked Pillar Candle.
For gifts that emphasize fun, shop classic board games from the HAY Play collection, which includes designer twists on Backgammon and Yatzy. Practical gifts for indoor gardeners can incorporate HAY's iconic watering can and Plant Pot with Saucer, assembled as a gift basket in one or several of HAY's best-selling Colour Crates.
Any questions so far? We can help.
Complimentary design services including expert design consultations, in-home measuring and 3-D renderings of your rooms.