Beveled-edge top with softly rounded corners.
Choose from two sizes in three finishes.
Shipping Options
Return Options
Not satisfied with your purchase? We'll work with you to make it right. Contact us within three (3) days of your order's delivery.
Learn more
.
12-year warranty (terms and conditions may vary)
Details
Details
Designer Leon Ransmeier established his own New York-based studio, Ransmeier Inc., in 2010, and his work has since been featured by the likes of MoMA and Cooper Hewitt. To Ransmeier, fulfilling design is all about breaking down a single challenge into a series of smaller tasks that can be considered and enjoyed at length. "If one cannot enjoy the details," he reasons, "one will never find satisfaction in the whole." Inspired by efficient aeronautical forms, he set out to eliminate the superfluous when creating his AGL Table Group (2012). AGL – an apropos abbreviation of "above ground level" – is a lightweight yet strong piece that serves equally well in a variety of residential and commercial spaces. Designed to be warm and welcoming, it features a sleek top with a rich finish and carefully beveled edge that's naturally conducive to resting one's arms. "There's something very inviting and very hospitable about the softness of the table's edge," says Ransmeier. "The edge shape," he further explains, "is about making people comfortable, physically and socially."
Beveled-edge top with softly rounded corners.
Choose from two sizes in three finishes.
Brand
General Dimensions
Assembly

Comes fully assembled
Warranty

12-year warranty (terms and conditions may vary)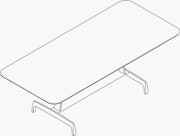 95" Wide x 48" Deep
Height (in): 28½
Width (in): 48
Depth (in): 95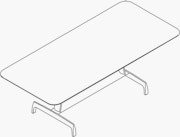 75" Wide x 38" Deep
Height (in): 28½
Width (in): 38
Depth (in): 75
White ash, ebony-stained ash or santos palisander veneer top

Powder-coated aluminum base

Leveling Floor Glides
Leon Ransmeier
New York-based industrial designer Leon Ransmeier believes "use follows form." His process – which always begins with a full-scale, usable prototype he experiences himself – is centered around this ethos, whether it's a toothbrush, table, or stool. A graduate of the Rhode Island School of Design, Ransmeier's work is included in the permanent collection of the San Francisco Museum of Modern Art.
More on Leon Ransmeier
Care & Maintenance
With regular care and maintenance, your Herman Miller product will provide many years of superior performance and satisfaction. To maintain quality, please follow the cleaning procedures outlined here.
The instructions for the care and maintenance of Herman Miller Products are provided to you as a service. No warranty is implied since results may vary.
Coated Metal
For normal cleaning, wash coated metal surfaces with a soft cloth soaked in detergent and warm water; rinse thoroughly and dry. Remove scuff marks from low-gloss coatings with pre-softened paste wax, following the instructions on the label. Remove scuff marks and scratches from high-gloss coatings using automotive polishing compounds, either liquid or paste. After polishing, apply a pre-softened automotive paste wax to restore original sheen. Do not use abrasive, acid, alcohol–based, or solvent–based cleaners; they may damage the paint finish. For assistance in determining the appropriate color and gloss for Herman Miller touch-up paint, contact your Herman Miller Customer Service Representative.
Polished Aluminum
For normal cleaning, apply a pre-softened paste wax to polished aluminum components following the manufacturer's instructions. In humid atmospheres near salt water, apply the wax once a month. In other areas, apply wax every three months to maintain the appearance of the aluminum.
Wood & Veneer
This includes Herman Miller products finished with wood veneer or recut wood veneer, except the oiled Eames Lounge Chair and Ottoman with Rosewood, Oiled Walnut, or Oiled Santos Palisander veneer unless specifically noted.
Normal Cleaning
Dust regularly with a slightly damp, soft, lint-free cloth. Wipe dry with a dry, soft cloth in the directionof the wood grain.Spills should be immediately wiped up with a damp cloth.
Once a month
Clean the surface with a soft cloth dampened with a quality cleaner formulated for wood furniture. Wipe the surface in the direction of the wood grain to remove dirt and fingerprints. Wipe dry with a clean, dry cloth.
Twice a year
Apply a good quality furniture polish with a soft cloth. Do not use aerosol-powered cleaners or polishes. Also, do not use polishes containing waxes or abrasives, or polishes that are oil based.
Stains
Herman Miller veneers meet strict testing standards for resistance to wear, light, stains, water, and pressure. To reduce the risk of damage, take some precautions: Use coasters for glasses and mugs. If a glass top is added to the veneer surface, be sure it rests on felt pads. Don't place a potted plant on a veneer surface unless it's in a water-tight container or in a drip tray.Don't let vinyl binders stay on a surface for very long. Use protective pads under equipment with "rubber" cushioning feet. Some chemical compounds used in the feet on office equipment, such as printers and monitor stands, may leave permanent stains or marks.
Minor repair of water rings, stains, and scratches
Rub the surface lightly in the direction of the wood grain using No. 000 steel wool. Apply a scratch-removing polish with a color and value that simulate the veneer. If the scratches are deep, consult a professional furniture refinisher.
Other Damage
Wood is susceptible to bruising and scratching from heavy office equipment, so we encourage a protective surface is placed underneath. Objects should be lifted instead of dragged across a surface. Protective pads should be used under items with a rough bottom, like pottery. Denting, caused by extreme pen pressure when writing, can also damage veneer. Use desk pads or some other protection where a lot of paperwork is done. Sunlight can damage veneer as well, so veneer surfaces should not be in direct sunlight. To help a surface age evenly, users can periodically move items on their desks so that the entire surface is exposed to an even amount of light over time. In addition to light, extremely high or low humidity is a damaging environmental factor. Herman Miller suggests maintaining a relative humidity of 35-65 percent.
Laminates
For normal cleaning, wash the laminate with a soft cloth and a solution of mild detergent and warm water. Rinse thoroughly and dry with a soft cloth.
For minor repair of burns or other stubborn marks, apply a nonabrasive liquid kitchen cleanser with a soft cloth soaked in warm water. Rub in the direction of the grain; use caution to avoid damaging the surface texture or gloss. If no grain direction is visible, rub with a light, circular motion.
Do not use powdered abrasives or other harsh cleansers like hypochlorite bleach, hydrogen peroxide, nitric or hydrochloric acids, or lye; they may deface the surface and change the finish color.
Formcoat
For Normal cleaning, wash with a soft cloth and a mixture of a mild detergent and warm water; wipe dry with a clean, soft cloth. Avoid the following types of cleaning agents: Lysol cleaners, abrasive cleaners (Soft Scrub, Comet, etc.), and acetone based cleaners. For spot cleaning, spray with Fantastik®, 409®, or Kleerdex Company's Kleer Off General Purpose Cleaner and wipe until dry with a clean, soft cloth. To clean metal marring, use a product call ZUD, which will remove the metal marring without changing the gloss or color of your Formcoat product.