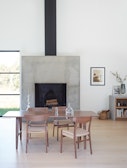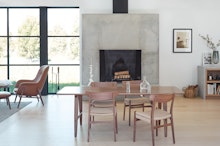 Estimated Arrival:
Available to ship in: 1 weeks
Shipping Options
Return Options
Not satisfied with your purchase? We'll work with you to make it right. Contact us within three (3) days of your order's delivery.
Learn more
.
DWR honors a one (1) year warranty on all products. Brand-specific warranties may extend to longer periods.
Details
Details
Børge Mogensen aimed to produce furniture that would be a pleasure to interact with and last for generations. This human-centered approach made him a hugely influential figure in post-war Danish modernism and is the reason his work continues to endure. His BM1160 Hunting Table (1950) was designed for the Copenhagen Cabinetmakers' Guild Exhibition and named for that year's theme "hunting cabin." Expertly crafted with premium materials, this table is exemplary of Mogensen's mastery of restraint. Its rounded edges, tapered legs and gentle curves combine to create an elegantly fluid form. The tabletop is finished with solid wood edging for durability and supported by stainless steel stays for stability. Contrasting mortise-and-tenon joints (walnut on the oak table, oak on the walnut table) celebrate Mogensen's love of wood and craft. With a depth of 32.5", this table is slightly narrower than typical dining tables, making it a smart choice for smaller spaces. This is not a folding table. Made in Denmark.
Brand
General Dimensions
Box Dimensions
Assembly

Comes fully assembled
Warranty

DWR honors a one (1) year warranty on all products. Brand-specific warranties may extend to longer periods.
BM1160 Hunting Table
Height (in): 28.3
Width (in): 82.7
Depth (in): 32.3
Leg to Leg Width (in): 55.1
Leg to Leg Depth (in): 27.1
Solid walnut or oak frame

Walnut or oak veneer tabletop with solid wood edging

Stainless steel stays
Børge Mogensen
Børge Mogensen studied under and worked for Kaare Klint, the father of Danish modern design, and later was his teaching assistant at the Royal Academy. Klint's emphasis on human scale, excellent materials, functionalism and craftsmanship influenced Mogensen, though he adopted an embrace of mass production and a hellbent calling to lighten the heavy Danish furniture of the past.
More on Børge Mogensen