Estimated Arrival:
Available to ship in: 2 weeks
Continuous and breathable seat and back.
One adjustment for height.
Simple assembly: Put the base onto the chair and sit down to lock into place.
Shipping Options
Return Options
Not satisfied with your purchase? We'll work with you to make it right. Contact us within three (3) days of your order's delivery.
Learn more
.
DWR honors a one (1) year warranty on all products. Brand-specific warranties may extend to longer periods.
Sit in Setu —
The Setu Chair defines flexibility, moving with the user, with a clean aesthetic that suits nearly any home or office space. It's no accident that this chair is designed for a healthy back – Setu is Sanskrit for "bridge" and borrowed from the yoga pose Setu Bandhasana, a strengthening backbend.
Details
Details
Uniquely contoured to your spine
The Setu Chair (2009) has a patented kinematic spine that connects the back and seat into one continuous support. Inspired by nature with its spiraling nautilus shell shape and contours, this spine conforms to yours without the need for any manual adjustments or complicated lumbar supports. Its seat and back are made with Lyris elastomer, an innovative material that distributes your weight evenly by stretching in all directions. This is the authentic Setu Chair by Herman Miller. Made in U.S.A.
Continuous and breathable seat and back.
One adjustment for height.
Simple assembly: Put the base onto the chair and sit down to lock into place.
Eco-Friendly Description: LEVEL Certified and Indoor Advantage Certified. LEVEL® by BIFMA is an evaluation and certification system for environmentally preferable and socially responsible office furniture. The LEVEL program has three performance tiers: LEVEL 1, 2, and 3. The higher the number, the more criteria considered and met across 4 key areas: materials, environmental impact, human health, and social responsibility. Indoor Advantage Gold certification is SCS Global Services' highest level of indoor air quality performance for furniture. The certification assures that furniture products support a healthy indoor environment by meeting strict chemical emission limits for volatile organic compounds (VOCs).
Brand
General Dimensions
Product Weight

36 lbs
Box Dimensions
Assembly

Comes fully assembled
Warranty

DWR honors a one (1) year warranty on all products. Brand-specific warranties may extend to longer periods.
Lifestyle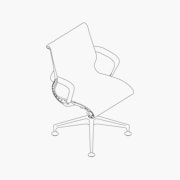 Setu Side Chair
Height (in): 36
Width (in): 25
Depth (in): 17.25
Weight (lbs): 36
Seat Height (in): 18.5
Weight Capacity (lbs): 300
Lyris™ 2 elastomer upholstery (67% elastomer, 33% polyester)

Polypropylene and aluminum frame and five-star base
Studio 7.5
The designers of Berlin-based Studio 7.5 share an attention to the smallest of details, or what they call EMC – every molecule counts. "If you ask specifically for what terms we use," explained partner Claudia Plikat prior to her death in 2013, "there is one German word: It's called einfach – simple, but not too simple." It's the concept of being on a mission to boil things down to their essence.
More on Studio 7.5
Care & Maintenance
With regular care and maintenance, your Herman Miller product will provide many years of superior performance and satisfaction. To maintain quality, please follow the cleaning procedures outlined here.
The instructions for the care and maintenance of Herman Miller products are provided to you as a service. No warranty is implied since results may vary.
Polished Aluminum
For normal cleaning, apply a pre-softened paste wax to polished aluminum components following the manufacturer's instructions. In humid atmospheres near salt water, apply the wax once a month. In other areas, apply wax every three months to maintain the appearance of the aluminum.
H-Alloy Base
For normal cleaning, wash surface with a soft cloth soaked in mild detergent and warm water. Rinse thoroughly and dry with a soft cloth. Do not use solvents or abrasive kitchen cleaners.
Plastic
For normal cleaning, wash plastic surfaces with a soft cloth soaked in mild detergent and warm water. Rinse thoroughly and dry with a soft cloth. Do not use solvents or abrasive kitchen cleaners.
Lyris 2 Suspension Material
For normal cleaning, vacuum material as needed using an upholstery attachment. Vacuuming picks up dust and reduces the need for professional cleaning. Do not brush fabric or use a vacuum attachment with a rotary brush. Brushing may permanently damage the nap or change the character of the fabric.
To spot-clean fabric, immediately soak up the stain with a soft absorbent cloth. Do not dry the stain completely or it may set. The longer a stain is allowed to remain on a fabric, the more difficult it is to remove.
For water-based stains such as coffee, soft drinks, fruit juices, or milk use a water-based cleaner (specifically made for cleaning fabric) or a solution of mild (alkaline) warm soapy water (not overly soapy) applied with a damp clean cloth or sponge. Work the cleaner into a lather or foam. Never use hot water; it will set the stain. Avoid scrubbing.
For oil-based stains such as lipstick, grease, or salad dressing use a dry cleaning solution applied with a damp clean cloth or sponge. Test the cleaning solution on a small, concealed area first. If there is no spotting, ringing, or damage to the fabric or its dyes, apply the cleaning solution to the soiled area with light, quick strokes. Begin at the outside of the stain and work toward the center, being careful not to over-saturate the fabric. K2r is also a product that can be used. See product label for complete instructions.
Do not over apply water or any liquid solution to fabric. Excessive wetting of the fabric with any liquid solution may result in permanent damage to the material.
Do not rub too vigorously or you may damage the nap of the fabric or break fibers.
Several light applications are better than one heavy application.
Soak up all remaining solution and then use another clean cloth or sponge dipped in cool water to remove any residue.
Let fabric dry thoroughly and then vacuum well before using.
If the stain resists cleaning, call a professional cleaner.
If large areas are soiled, contact a professional cleaning firm.
Reviews
Reviews
Great chair  could use a couple more things:
Great quality materials. Simple, beautiful design  but I wish there was height adjustment. Especially for the price. A minimalist design should still have proper function  this chair would be perfect if it offered that height adjustment.

My desk is 29" and I'm 6'2".
Chair is Incredibly Comfortable
My law school library uses these chairs. Lets just say that although I was not fond of the incredibly high price of tuition for my three years in law school I am very grateful that they splurged for these chairs.

I spent countless hours and days sitting on these chairs and never experienced back pain or discomfort. I wish I could say that this was the case on any chair but I can most definitely tell you that that is not true. In fact, I made it a point to walk to the library just so I could study while using these chairs rather than my standard issue dorm-style desk chair at my apartment. Although the chairs were sturdy and padded (provided by my apartment buildings) they really did not compare to the Setu Side Chair.

Another reviewer mentioned that the height of the chair cannot be adjusted and that's incorrect. The only thing you can adjust with this chair is the height, there is a button on the bottom right side of the chair, which is very easy to use. I find that the chair is perfect for me and that I have no need to adjust anything other than the height on the chair.

I'm highly considering purchasing one for my "home office." Although my chair at work I'm sure is just as expensive, it has all these knobs and levers to adjust the back support and the arms and the height and I don't find that the chair is any more comfortable than the Setu... I love that the Setu chair is made out of a mesh like material, which helps it not only mold to your body shape but also provides nice air flow to keep you cool. When you sit almost all day or just get to work after getting out of public transportation in the summer it's very much appreciated not to feel like you might "stick" to your leather desk chair.

I highly recommend this chair to anyone considering it. It is a splurge, but can you really put a price on being comfortable and avoiding back pain?
A well made chair that cannot be adjusted
While I was excited about getting this chair, it was not apparent to me that there is absolutely no way to adjust the height.