Shipping Options
Return Options
Not satisfied with your purchase? We'll work with you to make it right. Contact us within three (3) days of your order's delivery.
Learn more
.
12-year warranty (terms and conditions may vary)
All eyes on comfort —
Place your monitors exactly where you need them for maximum efficiency and comfort with the Flo Dual Monitor Arm. This dual-display support holds two screens with a single clamp so you can easily adjust both monitors. Use with one or two monitors or one monitor and one laptop.
Details
Details
With the fluid, dynamic movement of this modern dual-display support, you can adjust your screen position with minimum effort and maximum precision. Flo Dual's broad range of motion and quick, intuitive fingertip control allows you to place your screens in the most comfortable viewing position for your eyes, even if you have progressive lenses. And a single clamp keeps the screens exactly where you need them, no tightening necessary.
Brand
General Dimensions
Box Dimensions
Assembly

Comes fully assembled
Warranty

12-year warranty (terms and conditions may vary)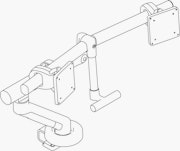 Flo Dual Monitor Support
Height (in): 13.5
Depth (in): 20.6