Celle Chair Suspension Back
Celle Chair Suspension Back
Estimated Arrival:
Available to ship in: 2 weeks
Shipping Options
Return Options
Not satisfied with your purchase? We'll work with you to make it right. Contact us within three (3) days of your order's delivery.
Learn more
.
12-year warranty (terms and conditions may vary)
Details
Details
Beyond working in a wide range of spaces, the Celle Chair (2005) also accommodates a wide range of people. Designer Jerome Caruso's vision for an intelligent surface that could provide comfort for everyone resulted in Celle's innovative cellular suspension, a durable system of polymer cells and loops engineered to support and respond to different areas of the body. Harmonic tilt prevents your lower back from pulling away from the backrest as you lean back, keeping you balanced and supported as you move naturally through the chair's 28-degree recline range. This dependable, hardworking design stands up to extended heavy use, even in the most demanding environments – call centers to nurse stations, conference rooms to laboratories.
Stands up to heavy use, even in the most demanding environments.
The interconnecting loops are engineered to form a "flex map" that conforms to your unique shape.
An inspired palette of warm colors helps the highly technical design achieve a timeless look.
Human-centered design.
Eco-Friendly Description: Indoor Advantage Gold certification is SCS Global Services' highest level of indoor air quality performance for furniture. The certification ensures that furniture products support a healthy indoor environment by meeting strict chemical emission limits for volatile organic compounds (VOCs).
Brand
General Dimensions

39.25" H 29.5" W 27.25" D
Product Weight

45 lbs
Box Dimensions
Assembly

Comes fully assembled
Warranty

12-year warranty (terms and conditions may vary)
Lifestyle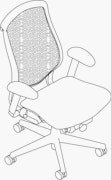 Celle Chair
Height (in): 39.25
Height Min (in): 39.44
Width (in): 29.5
Depth (in): 27.25
Weight (lbs): 45
Seat Height (in): 15.5
Seat Height Min (in): 20.25
Seat Width (in): 20
Seat Depth (in): 18
Arm Height (in): 10.8
Arm Height Min (in): 6.8
Steel and plastic frame

Foam padding

Crossing (86% antimony-free polyester, 14% polyester) fabric upholstery
Care & Maintenance


With regular care and maintenance, your Herman Miller product will provide many years of superior performance and satisfaction. To maintain quality, please follow the cleaning procedures outlined here.


The instructions for the care and maintenance of Herman Miller products are provided to you as a service. No warranty is implied since results may vary.


We recommend using a soft rag, either dry or wet. When needed, use ph-balanced soap diluted in water and ph-balanced liquid soap especially formulated for wood, diluted in water. Do not use abrasive sponges as they may leave scratches. Avoid using acidic products, solvents and products containing ammonia. Avoid exposure to sunlight. Periodic and correct maintenance allows the product to keep its original aspect and lengthens the duration of its performance.