Price reduced from

$1,030.00

to
$875.50
15% off
Price reduced from

$1,030.00

to
$875.50
15% off
Estimated Arrival:
Available to ship in: 2 weeks
Responsive design.
Personalized ergonomics.
12-year warranty.
Shipping Options
Return Options
Not satisfied with your purchase? We'll work with you to make it right. Contact us within three (3) days of your order's delivery.
Learn more
.
12-year warranty (terms and conditions may vary)
Ready to adapt —
The Mirra 2 Chair is designed to keep you supported and comfortable as you move about throughout the day.
Details
Details
A flexible, ergonomic performer
The lean, light Mirra 2 Task Chair (2013) has a spry, playful form but is plenty serious when it comes to passive and active adjustments, hassle-free performance, and lasting comfort. The Butterfly back is made of ultra-responsive hybrid material, and the durable, cleanable TriFlex back creates unique zones of back support while allowing maximum breathability. This chair is especially well-suited for people who need to bounce between individual and group activities. This is the authentic Mirra 2 by Herman Miller. Backed by a 12-year warranty.
Responsive design.
Personalized ergonomics.
12-year warranty.
Brand
General Dimensions
Box Dimensions
Assembly

Comes fully assembled
Warranty

12-year warranty (terms and conditions may vary)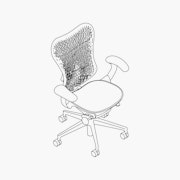 TriFlex Polymer Back
Height (in): 42
Width (in): 29
Depth (in): 25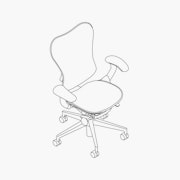 Butterfly Suspension Back
Height (in): 38.75
Width (in): 30
Depth (in): 18.5
Weight (lbs): 52
Seat Height (in): 20.5
Gradated polymer seat

AireWeave 2 seat mesh

Die-cast aluminum base
Studio 7.5
The designers of Berlin-based Studio 7.5 share an attention to the smallest of details, or what they call EMC – every molecule counts. "If you ask specifically for what terms we use," explained partner Claudia Plikat prior to her death in 2013, "there is one German word: It's called einfach – simple, but not too simple." It's the concept of being on a mission to boil things down to their essence.
More on Studio 7.5
Care & Maintenance
With regular care and maintenance, your Herman Miller product will provide many years of superior performance and satisfaction. To maintain quality, please follow the cleaning procedures outlined here.
The instructions for the care and maintenance of Herman Miller products are provided to you as a service. No warranty is implied since results may vary.
Coated Metal
For normal cleaning, wash coated metal surfaces with a soft cloth soaked in detergent and warm water; rinse thoroughly and dry. Remove scuff marks from low-gloss coatings with pre-softened paste wax, following the manufacturer's instructions. Remove scuff marks and scratches from high-gloss coatings using automotive polishing compounds, either liquid or paste. After polishing, apply a pre-softened automotive paste wax to restore original sheen. For assistance in determining the appropriate color and gloss for Herman Miller touch-up paint, contact your Herman Miller Customer Service Representative.
Plastic
For normal cleaning, wash plastic surfaces with a soft cloth soaked in mild detergent and warm water. Rinse thoroughly and dry with a soft cloth. Do not use solvents or abrasive kitchen cleaners.
Fabric
For normal cleaning, vacuum upholstery fabric using an upholstery attachment. If further cleaning is needed, dry-clean or spot clean fabric with solvent cleaner.
Do not brush fabric or use a vacuum attachment with a rotary brush. Brushing may permanently damage the nap or change the character of the fabric.
Do not apply water or any liquid solution. Wetting the fabric with any liquid solution may result in permanent damage.