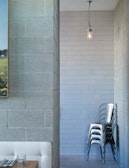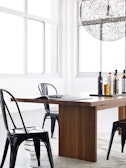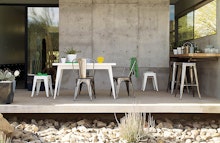 Estimated Arrival:
Estimated Arrival: January 25 - January 29
100% authentic.
Stackable to 10 high.
Galvanized steel.
Shipping Options
Return Options
Not satisfied with your purchase? We'll work with you to make it right. Contact us within three (3) days of your order's delivery.
Learn more
.
2-year warranty (terms and conditions may vary)
Thank you, France —
Designed by French metalworker Xavier Pauchard in 1934, the Tolix Marais Chair is still a ubiquitous presence in cafes in France and elsewhere. It's still made in Autun, the same Burgundy town where it originated, and it still looks comfortable, even in an ultra-modern lounge.
Details
Details
A machine aesthetic with elegance
Metalworker Xavier Pauchard not only brought the art of galvanizing steel to France but also took the process to the next level by creating the Marais A Chair (1934). The quintessential cafe chair, it was both elegant and robust enough to grace the decks of the S.S. Normandie ocean liner. Slight surface abrasions and markings are characteristic of the material and part of its hardworking machine aesthetic. Stackable up to 10 high. Made in France.
100% authentic.
Stackable to 10 high.
Galvanized steel.
Brand
General Dimensions

33.47" H 17.32" W 20.08" D
Box Dimensions
Assembly

Comes fully assembled
Warranty

2-year warranty (terms and conditions may vary)
Tolix Marais A Chair
Height (in): 33.47
Width (in): 17.32
Depth (in): 20.08
Varnished or powder-coated sheet steel

Rubber floor glides
Xavier Pauchard
Xavier Pauchard was born in the thickly wooded Morvan region of Burgundy, France, and began his career as a roofer and zinc worker, like his father and grandfather before him. It's ironic that a young man who grew up surrounded by innumerable pine forests in an area with a thriving timber industry would go on to become the first manufacturer of galvanized steel domestic goods in France.
More on Xavier Pauchard
Reviews
Reviews
High quality chair.
Very nice sturdy chair. Excellent quality. By buying this chair, you support the original artist or artist's heirs, rather than the numerous copycats. Beware, if you have big hips, you may find this chair uncomfortable and may want to try the tolix A56 armchair instead. Love that these can be stacked.