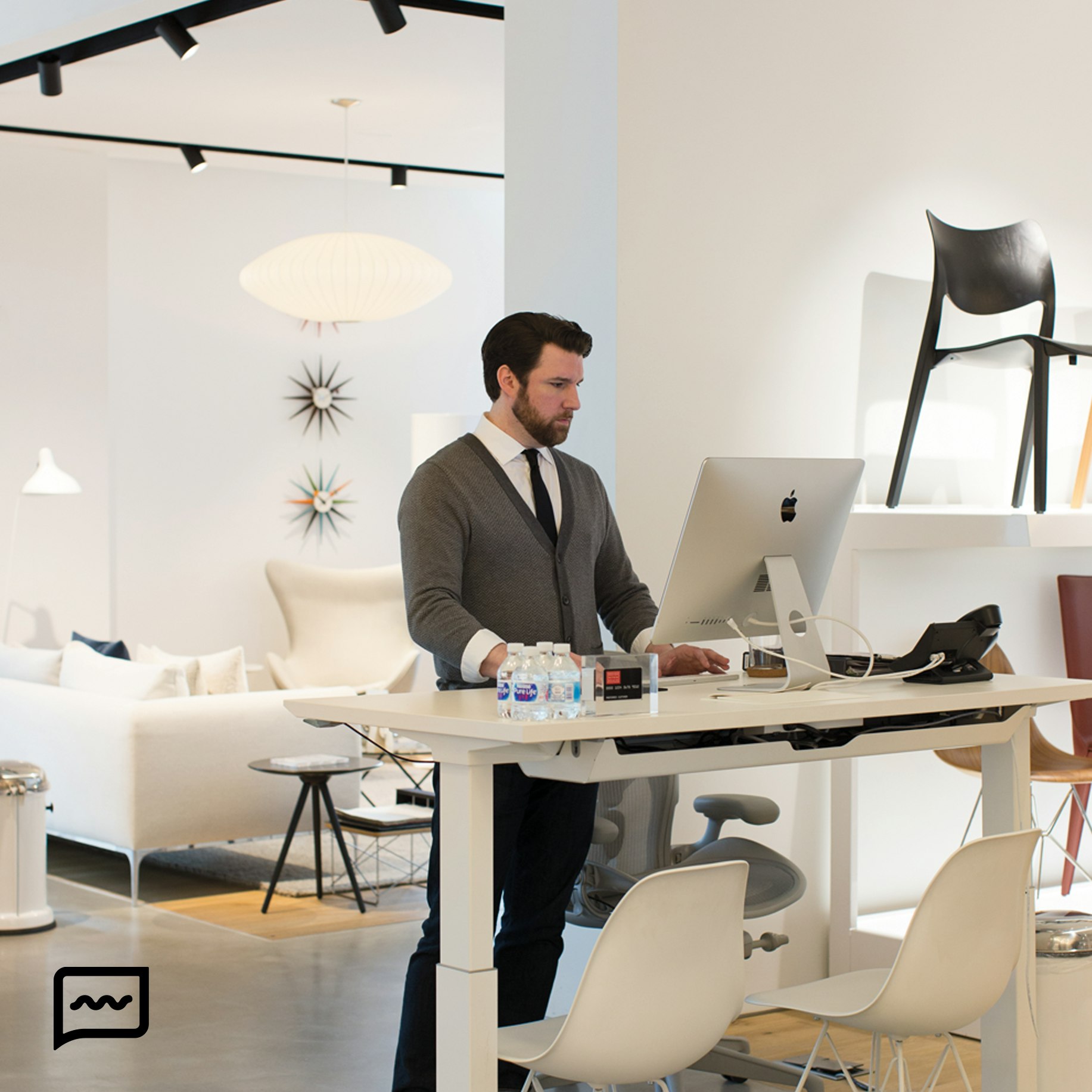 Any questions so far? We can help.
Complimentary design services including expert design consultations, in-home measuring and 3-D renderings of your rooms.
Modern Kitchen + Dining Room Furniture
In the mid-1900s, as homes evolved from small, private spaces to hubs for hosting and entertaining, the modern dining room and modern dining furniture were redesigned. In pre-war homes, dining rooms and kitchens were often separate spaces, but in post-war homes, the dining area and kitchen became one multifunctional space, where those preparing meals and drinks could socialize with those seated at the table. Kitchen peninsulas and kitchen islands rose in popularity alongside bar and counter stools, which became a common feature of midcentury dining rooms and kitchens.

In midcentury modern kitchens and dining rooms, large, well-constructed solid wood dining tables were essential, flanked on all sides by affordable yet well-made dining chairs that could seat every member of the household, plus a few guests. The rise in popularity of the cocktail party also saw a rise in popularity of bar furniture, such as bar carts, bar cabinets, and wine bars. At Design Within Reach, shop authentic kitchen furnishings and modern dining room sets as you design your own mid-1900s-inspired dining room.
How to Choose Kitchen + Dining Room Furniture
Start with the basics: a dining table and chairs.
To furnish your dining room, start by selecting a dining table and chairs. The most important factor to consider when choosing a modern dining set is the size and shape of your space. Ideally, your table should be proportional to your space. If you have a rectangular dining room, consider an oval or rectangular table; if you have a square room, consider a square or round table. In a long room, opt for a long dining table for large parties; in a small space, consider a small, bistro-style table that can comfortably seat two to four people.

Once you've determined the best dining table shape, consider how many people your table should be able to seat on a regular basis. Shop for tables that can comfortably seat all the members of your household as well as a few guests. Or consider supplementing your kitchen set with bar stools or side chairs, in case of large dinner parties. Dining chairs and stools often come in sets of two, four, six, or eight, but may also be available for individual purchase. Or opt for a bench to maximize seating space.

Consider storage.
While kitchen cabinets are designed to hold most of your dinnerware and culinary essentials, it can be helpful to add supplementary storage where convenient. In your dining room, consider a buffet table, sideboard, or credenza for storing extra dinnerware, drinkware, and table linens. Or, for a more decorative display, opt for freestanding storage shelves. Cocktail connoisseurs may appreciate a bar cart, bar cabinet, or wine bar for storing and displaying spirits, mixers, stemware, barware, and other mixology essentials.

Accessorize.
Curate your space with accessories that speak to your home's design aesthetic. For example, instead of choosing traditional salt and pepper shakers, opt for monolithic shakers and grinders that double as decor. Think about which tools and accessories can contribute to the aesthetic value of your space and consider storing them on open shelves where they can be displayed. And don't forget about centerpieces – modern candleholders, sculptural candelabras, and flower-filled vases can contribute to a cohesive, thoughtfully designed space.

For the best in modern kitchen and dining room furniture and accessories, shop kitchen and dining at Design Within Reach.

What furniture is usually in a dining room?
A typical dining room is furnished with a dining table, dining chairs or benches, side chairs for additional seating, and/or a credenza, buffet table, or sideboard for additional storage.

What is the difference between dining and dinette?
A dinette is a small dining set composed of a square or round table and two to four chairs. Dinettes are typically located in the same room as the kitchen as eat-in dining areas, while standard dining sets are usually separated into a more private space.