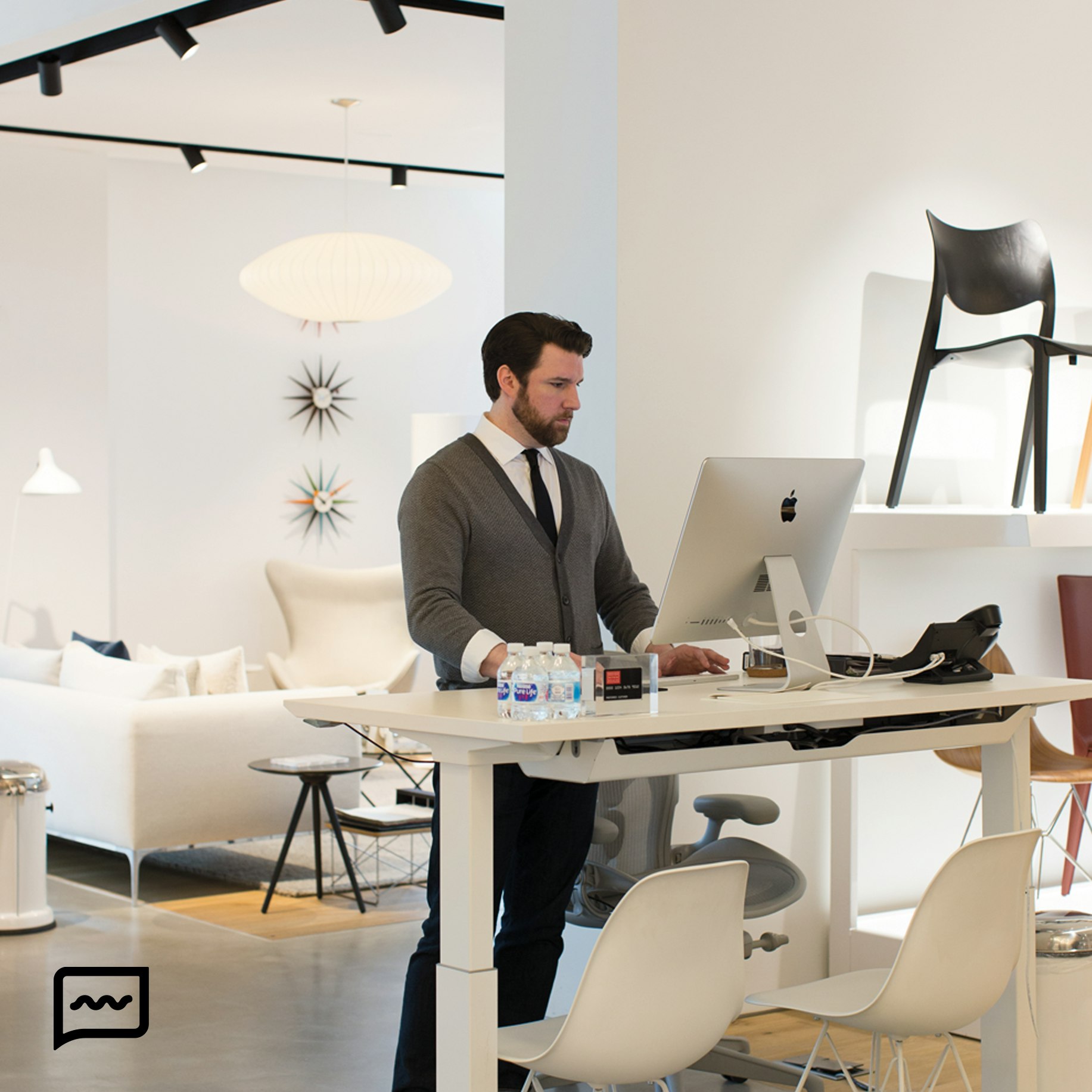 Any questions so far? We can help.
Complimentary design services including expert design consultations, in-home measuring and 3-D renderings of your rooms.
Modern Office Desks
The desk is one of two very important choices to make when selecting modern furniture for the home office. The other is the modern home office chair. Together they will determine not only your productivity but your comfort and well-being while at work. A mid-century modern office desk will provide streamlined style and an efficient work surface. Even though you are working from home, you can select a modern executive desk to be your work center, especially if you have a larger space to use for your home office. In shopping for a contemporary home office desk, look to the full assortment at Design Within Reach. 
How to Choose an Office Desk
Many people have only a modest space available for a home office and must select an office desk for small spaces. DWR offers many desks that serve well in small or large spaces. Home office desk dimensions vary greatly, so it's easy to find a desk that fits your size room. Standard office desk dimensions start around 42" wide and go up from there. In trying to understand how to make your office desk more comfortable, the most important consideration is finding a balance between the space you have available and the desktop space you need to work efficiently.

The home office desk varies in style and in materials. A common choice is the wood office desk, providing sturdiness, warmth, and beauty. DWR has many to choose from. Some people prefer the hard, smooth surface of a glass office desk and also the crisp, modern appearance. A steel office desk is favored for its indestructible qualities and easy-clean surfaces.

A standing office desk will almost always be made of steel and typically has motor-driven gears to raise and lower the desktop, allowing the user to either sit at the desk or stand. A standing office chair, or office stool, can be a good option to pair with a standing desk. File cabinets are handy but an office desk with storage can be even handier, its drawers or cubbies within easy reach. If you have generous space in your home office, you may even opt for conference office tables, allowing use by a team or the family.