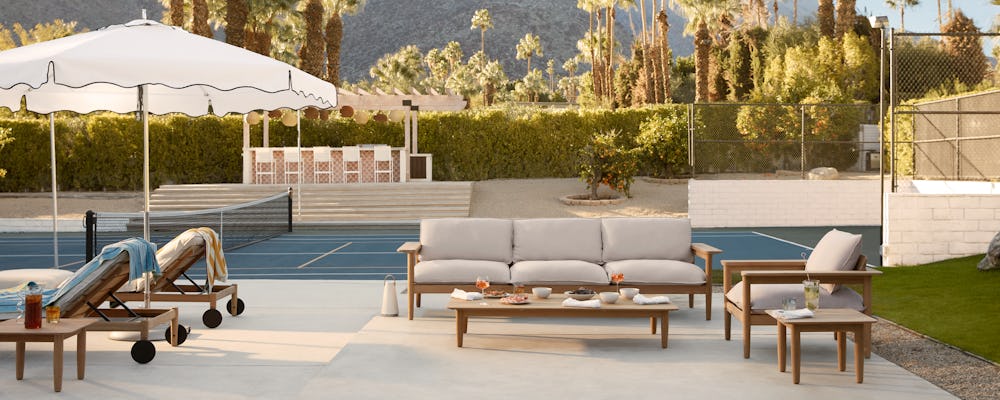 Modern Outdoor Furniture & Accessories
Along with kickstarting the rise of midcentury modern design, the post-war period of the mid-1900s ushered in a new era of leisure that manifested itself notably in outdoor spaces. Once-modest backyards became convenient gathering places for friends and family; patios became outdoor dining rooms; porches became living areas. With the ascent of leisure culture and outdoor living came a new demand for outdoor patio furniture.

Midcentury modern furniture designers and architects answered the call for functional, affordable, and design-forward modern outdoor furniture, creating innovative outdoor furniture and accessories that were as durable as they were accessible. From this era came iconic midcentury modern outdoor furniture collections such as Richard Schultz's 1966 Collection, Russell Woodard's Sculptura Collection, and Harry Bertoia's namesake collection for Knoll. For authentic pieces from these collections and others, shop modern outdoor patio furniture at Design Within Reach – and learn more about the qualities of modern outdoor furniture and accessories.
Outdoor Furniture Materials
As you shop outdoor furniture for dining, lounging, and entertaining, it's important to consider the different types of outdoor furniture materials. Think about your local climate as you determine which materials are right for your outdoor space and which outdoor furniture materials you should forgo.

Teak, acacia, and cedar are among the best types of hard wood for outdoor furniture, prized for their durability, natural beauty, and pest and moisture resistance. Wood outdoor furniture crafted of teak develops a beautiful silvery-grey patina over time and use. Metal outdoor furniture, made of stainless steel, aluminum, or wrought iron, is popular for its durability. Aluminum outdoor furniture is the most lightweight, while wrought iron outdoor furniture is the heaviest. Powder-coated metal outdoor furniture is water-resistant and will last for seasons to come. Synthetic outdoor furniture, made of plastic or resin, is affordable, lightweight, and water-resistant. However, be sure to look for UV-resistant plastic furniture that won't fade or crack due to sun exposure. Due to its light weight, plastic outdoor furniture should be stored away in high winds.

If you live in a damp region with excessive rain or humidity, avoid materials susceptible to mold, mildew, rust, corrosion, and warping. Outdoor furniture crafted of powder-coated steel and teak tends to fare well in these regions. If your outdoor space receives a lot of sun, beware of materials that might fade or crack in heat or sunlight, as well as materials that can get dangerously hot due to prolonged sun exposure. For areas with extreme weather conditions, you should consider either heavy outdoor furniture that can withstand high winds, or lightweight foldable or stackable outdoor furniture that you can easily store away.

What is the best outdoor furniture material?
Your local climate will help you determine which outdoor furniture materials are the best investment, but teak, powder-coated aluminum, and plastic are smart choices.

Where to buy outdoor furniture?
At Design Within Reach, you can buy authentic modern outdoor furniture online.