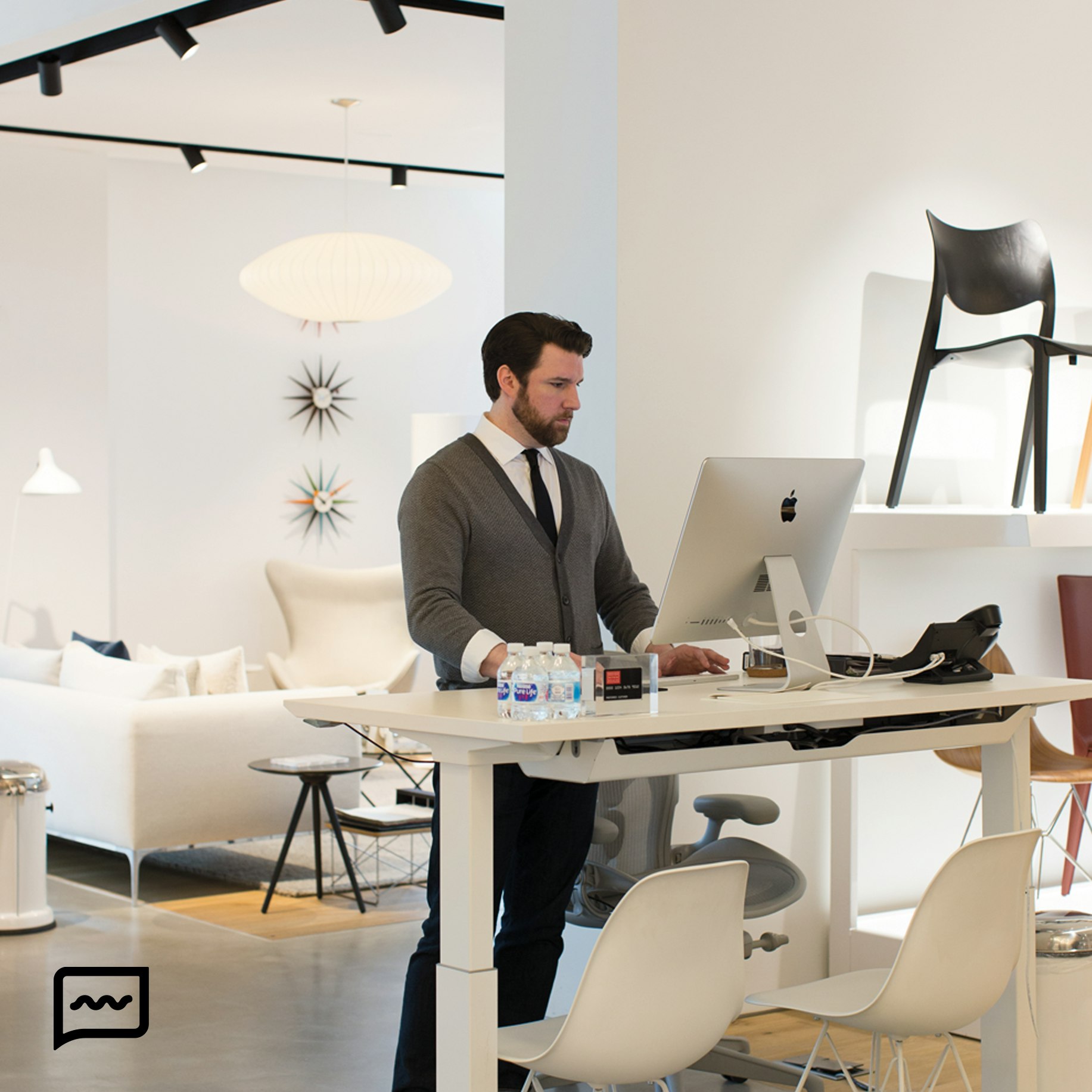 Any questions so far? We can help.
Complimentary design services including expert design consultations, in-home measuring and 3-D renderings of your rooms.
Modern + Contemporary Living Room Furniture
As a warm, inviting place to relax or host cocktail parties, the midcentury modern living room exemplified the mid-1900s cultural shift toward leisure and entertainment. As one of the most frequently used spaces in the home, living areas required living room furniture that was functional and well-crafted – with ample seating for friends and family members as well as living room tables for drinks, card games, and reading material. Then and now, modern living room furniture is well-made, comfortable, and beautiful, featuring clean lines, organic shapes, and sculptural forms.

Midcentury living room ideas persist as some of the most popular design schemes today. Consider these living room ideas: To arrange a cozy yet contemporary living room, look for pieces that combine form and function. For small and large spaces alike, choose versatile designs that play well with your home's design scheme. At Design Within Reach, discover authentic modern living room furniture for a wide range of design aesthetics.
How to Arrange Living Room Furniture
Start with seating.
Adequate living room seating is essential to creating a welcoming space for conversation and relaxation in your modern living room. If your living room is a blank slate, a good rule of thumb is to furnish your space by choosing living room chairs in order of size, from largest to smallest.

First, assess the size of your living room. If you have a small living room, a two- or three-seater modern couch, loveseat, or sleeper sofa may be a better fit for your space than a large sectional, which could inhibit traffic flow. If you have a spacious living room, a roomy L-shaped sectional or U-shaped sectional is a great choice for creating ample seating. In either case, the best practice is to choose a central spot for your sofa or sectional so that other pieces of furniture can be arranged around it to create a welcoming space. It can be helpful to tape off a rectangular section of your living room floor where you'd like to place a sofa or sectional. By measuring the taped-off section, you can gauge what size sofa or sectional would be best for your space.

Once you've chosen a couch, determine if your space could benefit from additional seating, such as lounge chairs, armchairs, accent chairs, or ottomans. These upholstered seats can create additional space for conversation or relaxation. If your space is tight, consider a multifunctional piece, such as an ottoman, that can serve as a footrest or seat. Remember to account for approximately two feet of space around your sofa and modern living room chairs to help ease traffic flow. Explore modern lounge chairs and side chairs at Design Within Reach in a wide range of fabric and leather upholstery options.

Add living room tables.
Complete your space with modern living room tables. As you shop coffee tables, look for one that is approximately two-thirds the length of your sofa or sectional. Relative to your sofa, this size is optimal, providing enough tabletop space without overwhelming your living room set. For maximum surface space, opt for a square or rectangular coffee table. However, if your floor plan is tight, an oval or round coffee table can help ease traffic flow around your living room set. Finally, for small living rooms, glass coffee tables can help make the space feel bigger since they allow light to pass through.

Side tables and end tables provide convenient surface space next to seats that aren't within arm's reach of the coffee table. To choose living room end tables and side tables, consider where someone might need to rest a drink or book. A living room side table is usually most convenient when placed near the arm of a sofa or between two chairs. It's also helpful to consider lighting – if a corner of your living room could use extra light, consider adding a side table and table lamp.

Supplement with storage.
Mitigate clutter with living room storage. Modern living room bookshelves and shelving units create a place to store essentials as well as display decorative objects. Media storage units, such as TV stands and media consoles, offer tailored storage space for media accessories. For small living rooms, consider multipurpose storage furniture, such as storage benches or storage ottomans, that conceal items for a cohesive, clean look.

Finish with accessories and decor.
Once you've selected living room furniture, add finishing touches that will complete your space with charm and character. To start, tie your modern living room set together with a living room area rug. Then add cushions – accent your chairs with throw pillows and throw blankets that bring color, pattern, and texture to the space.

Fill in the blanks with decor, including decorative objects, sculptures, potted plants, mirrors, wall clocks, and wall art. Look at your coffee table, side tables, storage shelves, or mantel to determine which areas could benefit from a coffee table book, framed photo, or decorative object. Then, look at your walls. Hang wall mirrors across from windows to reflect light and add wall art to bare spaces in need of visual interest.

Unsure where to start? Shop living room accessories and modern decor at Design Within Reach.