How To Set Up Your Home Office Space
Gone are the days of commuting and working in a cubicle or office in a high-rise building. We've been ushered into an era in which a hop, skip, and jump from the kitchen to your laptop constitutes a commute – and a corner of your room of choice is the new corner office. Perhaps you've been working from home these past few months but haven't taken the time to establish an effective home office setup. The good news is this: It's easier than you may think to create a working space. Here are a few tips and tricks to follow so that you can create a dedicated home office and increase your productivity.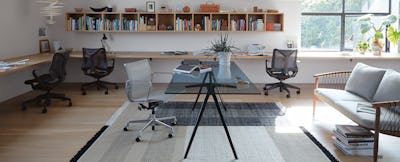 "If your living room sofa has long doubled as your work from home space, I can help you set up a dedicated home office. It's easier than you may think – and it just might increase your productivity." – Alejandro, Design Expert, DWR West Hollywood Store
Choose the right room for your home office
Productivity often hinges on the absence of distractions (e.g., a spouse, children, roommates, or pets), so the best home office working environment is one that occupies a separate space in your house or apartment. This likely rules out the kitchen counter or the living room sofa. If possible, find a space that's infrequently used to establish your work from home setup. Consider a guest room, dining room, study, basement, or even a closet.

A guest room can easily be converted so that it doubles as both an office and a place for guests to stay. If you have a dining room that's used only on occasion, consider adding a secretary desk to the dining area. Incorporate a practical workspace, like a table desk and ergonomic chair, into your home's study or library. Perhaps you have a finished basement? With proper lighting and furnishings that add warmth, a basement can also serve as an effective office. A large closet will even do the trick. Over the course of the past few months, many people have turned their closets into home offices or podcast studios. Yours, too, could be repurposed for working from home.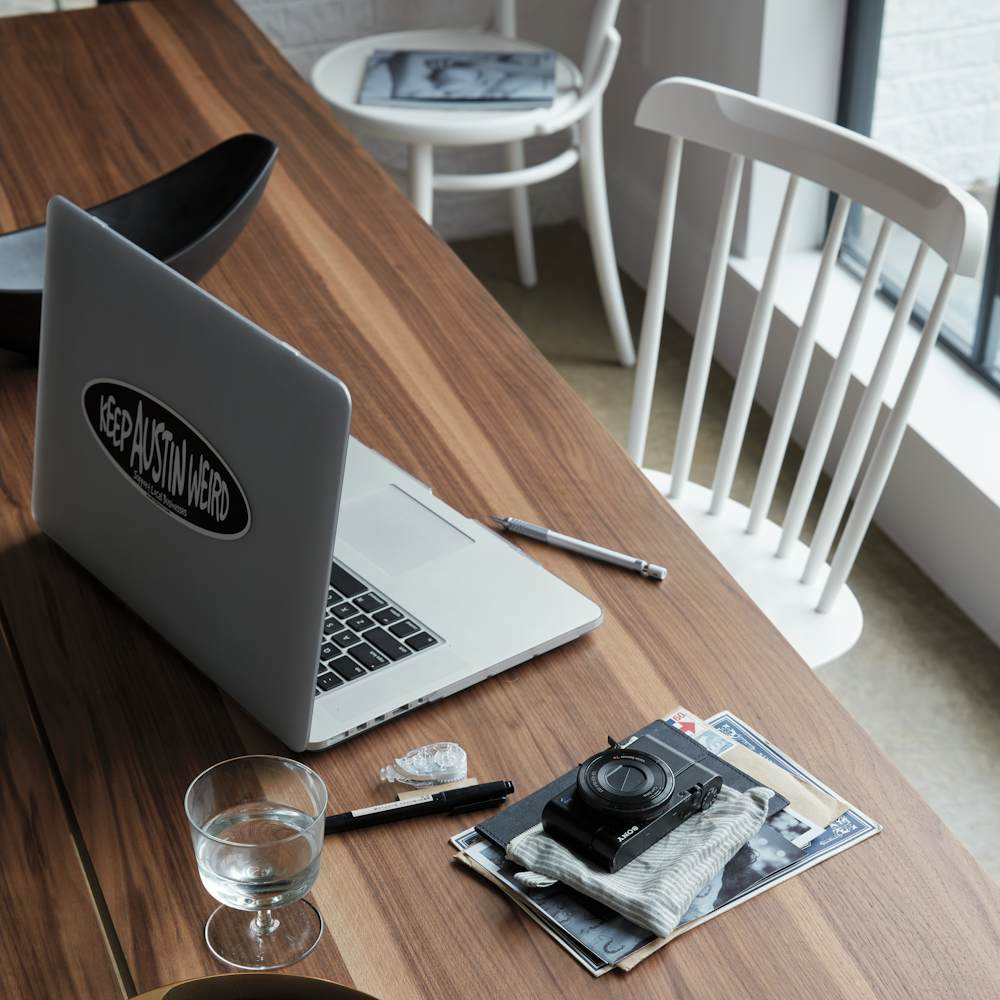 Make any location
in your home an
office space
Although it's ideal to have a separate space for your office, any location in your house or apartment – from an empty bedroom to a corner of the living room – can be turned into a dedicated workspace with the right office furniture. Here's how to set up a home office just about anywhere. First, measure the room or area so that you know how much space you have. Then, you'll need a proper desk, chair, and lighting.
Home Office Desks
A desk is the most important (and, probably, most obvious) necessity for a home office. There are a few styles from which to choose.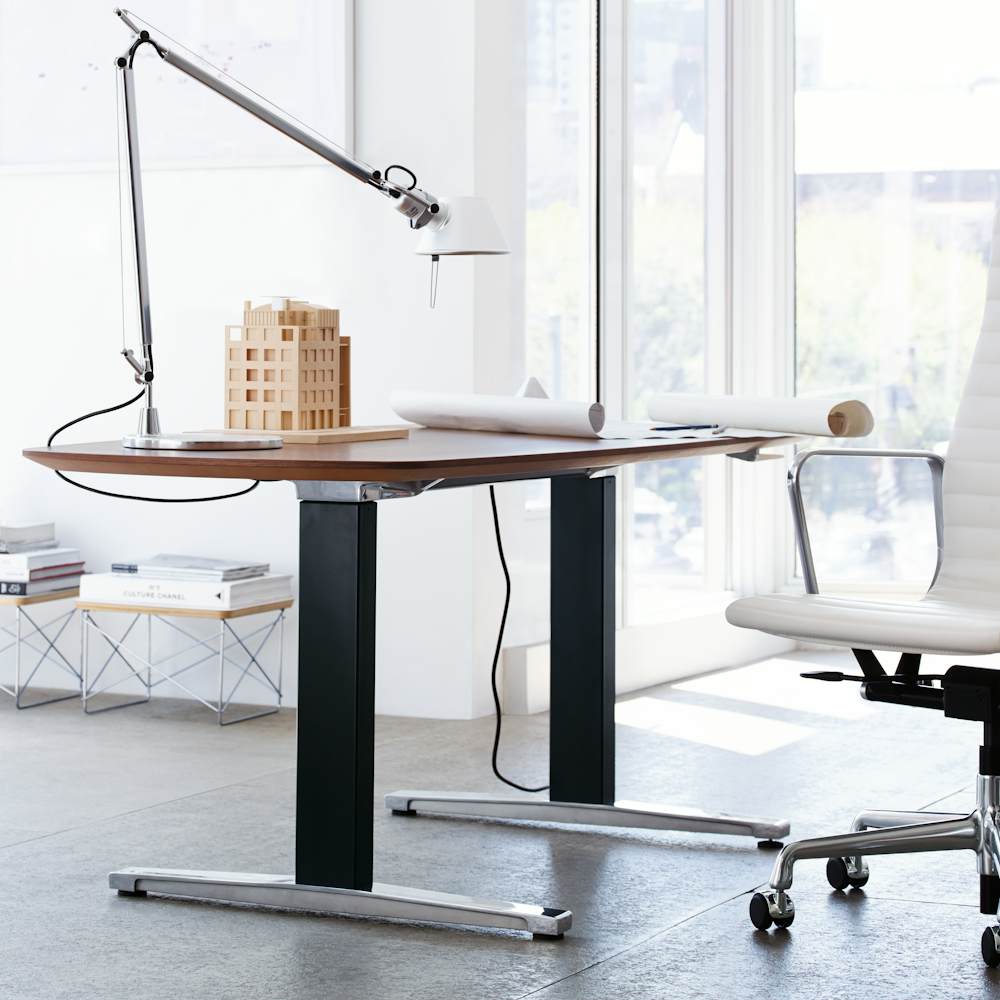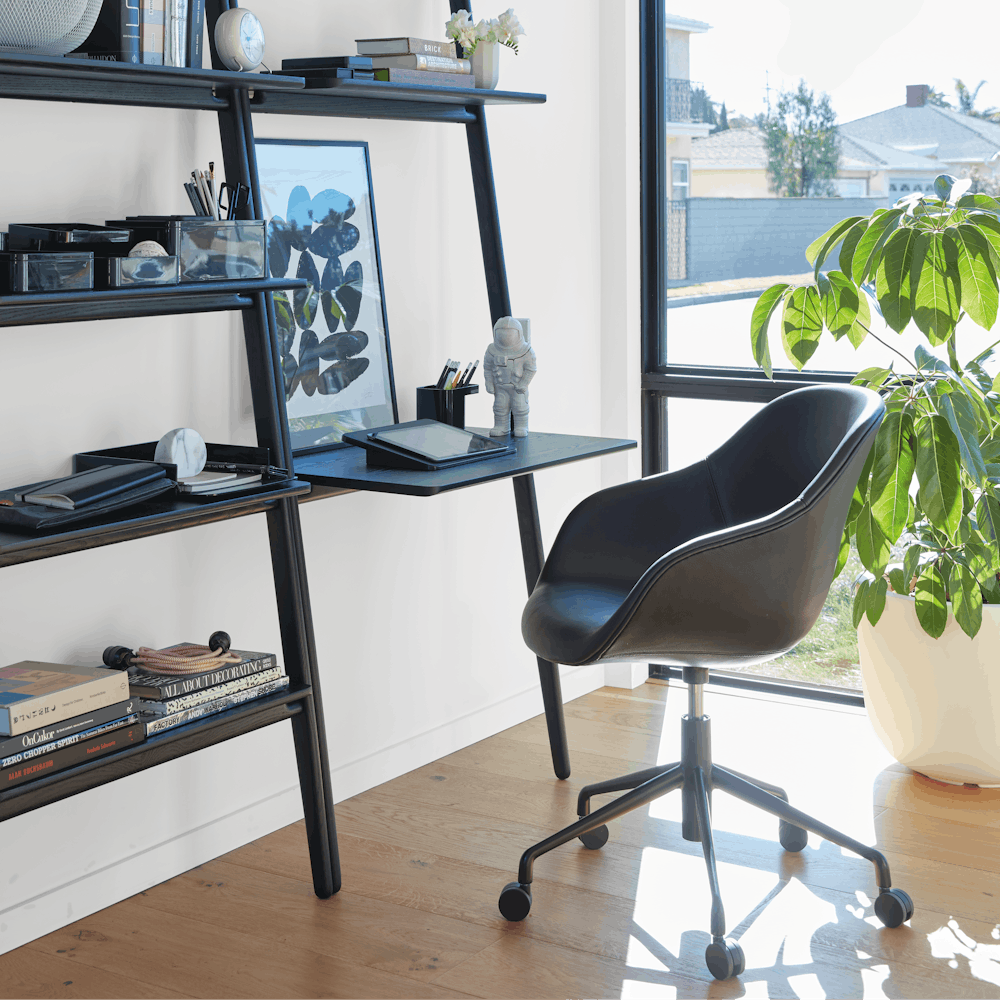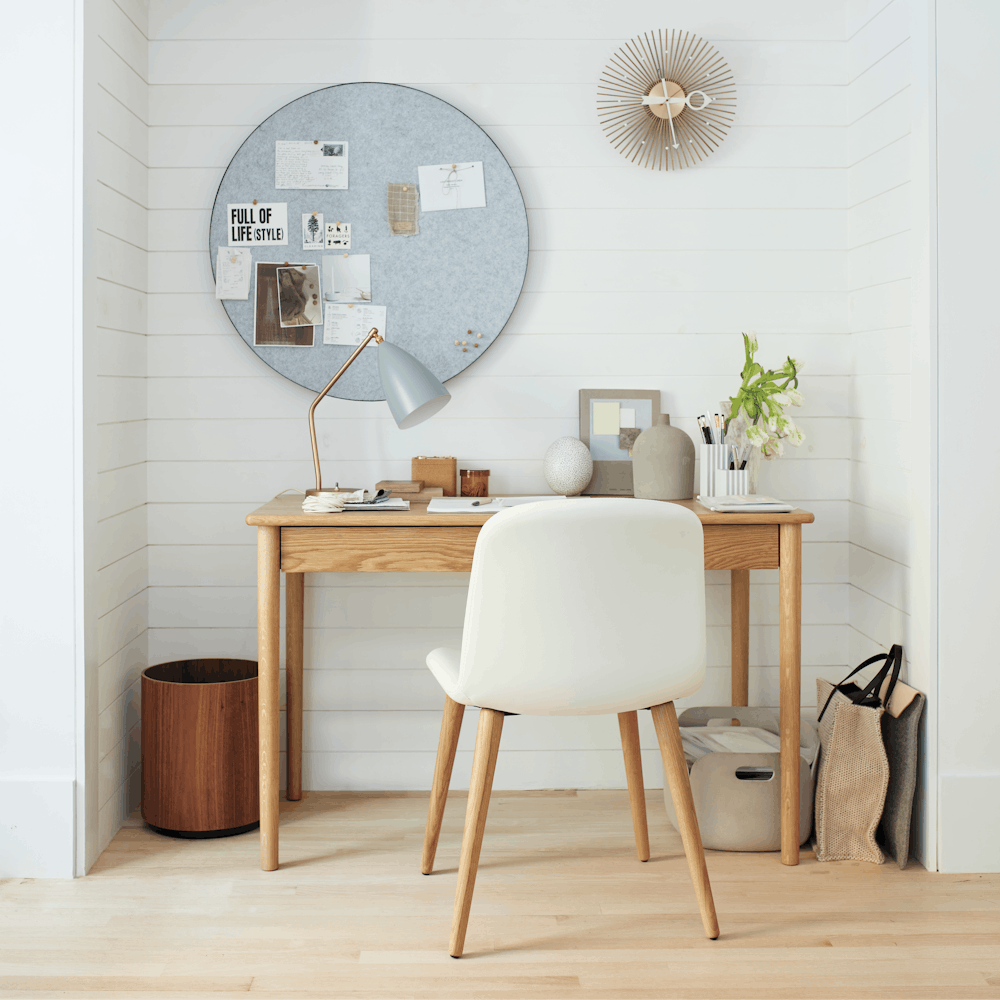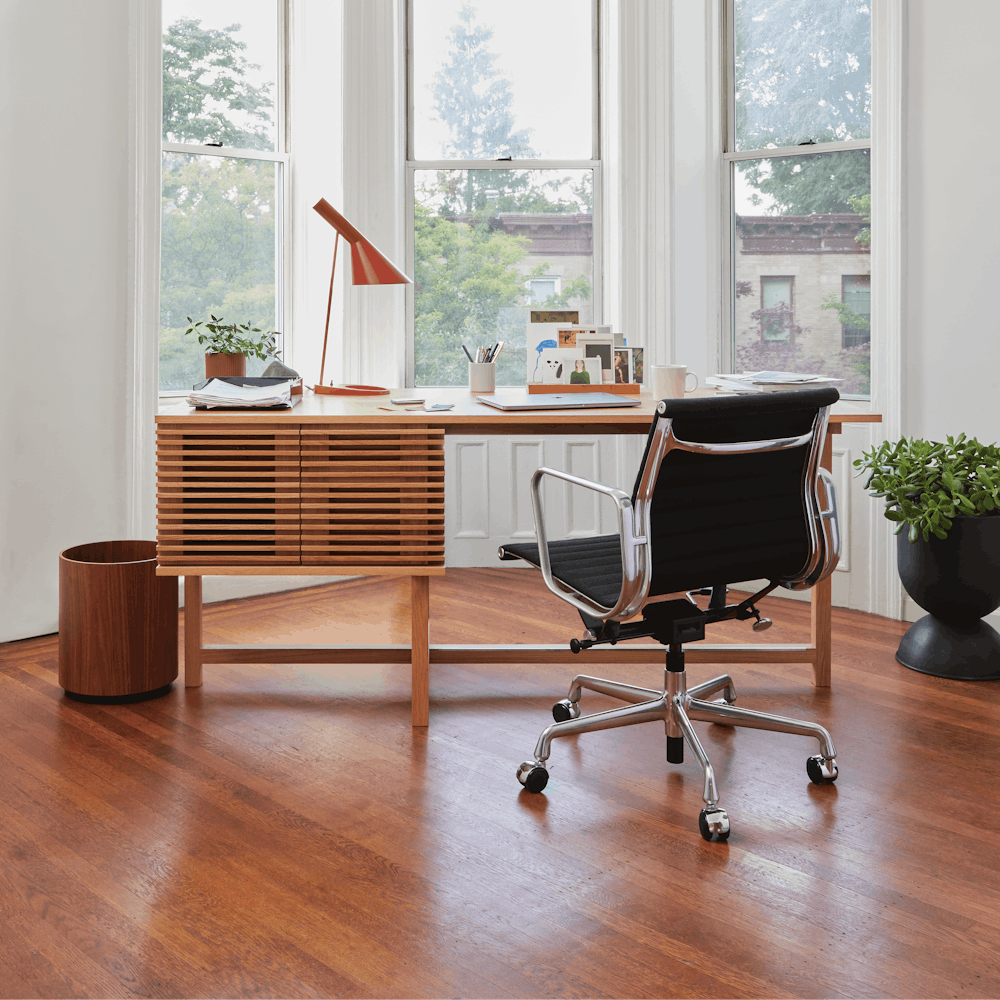 Home Office Chairs
Since you'll likely spend several hours a day in your desk chair, it's important to choose a piece that's ergonomic so as to avoid strain injuries. Look for a chair that has an adjustable height mechanism, lumbar support, and armrests. If you're picturing a clunky standard-issue office chair, we have good news for you: Ergonomic design and a visually pleasing aesthetic aren't mutually exclusive. Select a sleek and sophisticated Eames office chair with adjustable seat and armrests. Or opt for a sculptural swivel chair that's chic yet pragmatic.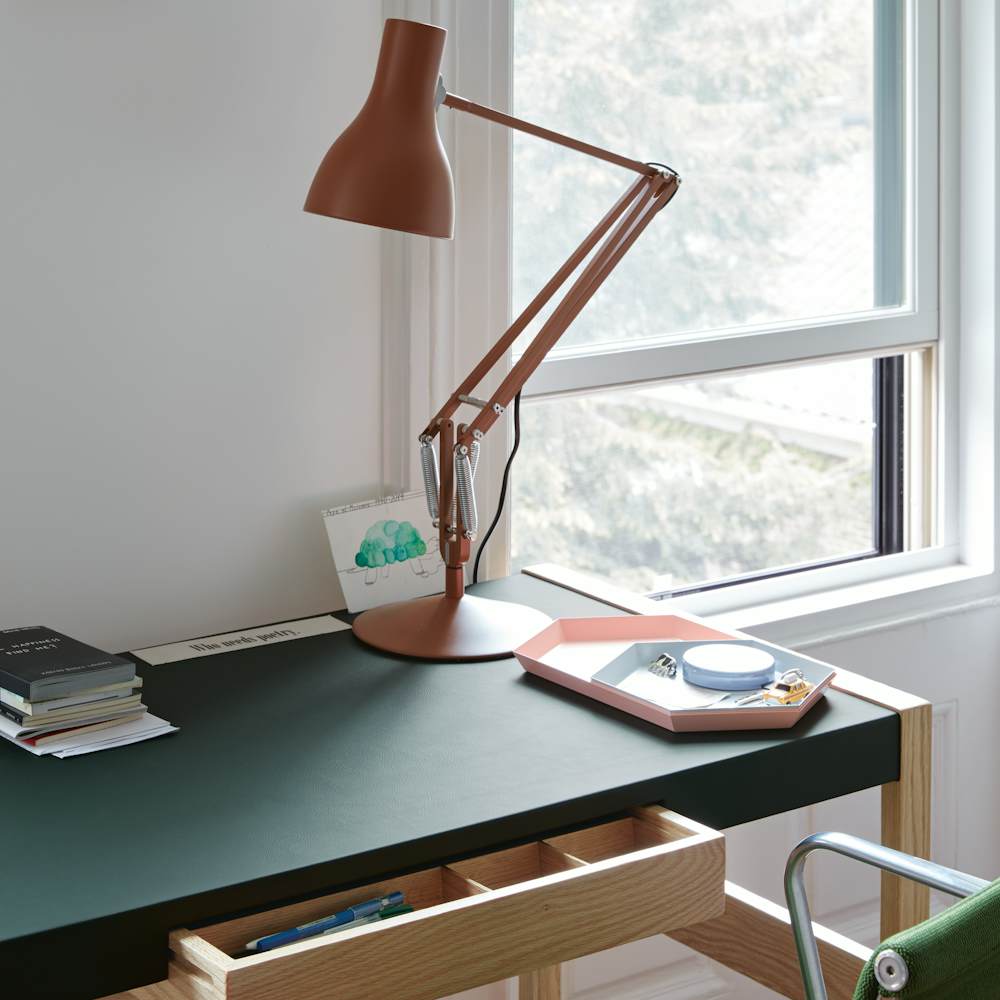 Home Office Lighting
A word to the wise: Don't underestimate the importance of proper lighting. Natural light is ideal because it promotes productivity and well-being. If you have a window near your workspace, use a shade or curtains so that you can control the light. Alternatively, if you don't have natural light, it's best to create indirect lighting so as to avoid eye strain – you don't want a glare on your monitor or laptop screen. Consider an adjustable lamp with a pivoting head so that you can direct light as needed.
Get creative with small home office spaces
If you have a small home office layout, there are countless ways to maximize space. Keep these home office setup ideas in mind.
Opt for a ladder desk with shelves to make the most of a small area.
Hang a mirror on the wall to make the space look and feel bigger.
Use baskets to keep supplies organized.
Minimize the appearance of clutter by storing odds and ends in lidded boxes or jars.
Choose a visually pleasing wastebasket that won't look tacky if your office space is part of a larger living area.
Keep cables and wires in check so they don't pile in a heap on the floor.
Go vertical with storage pieces to maximize space.
Oxygenate your office area with plants.
If your office space is part of your living room, dining room, or guest room, it's often best to choose a desk and chair that coincide with the room's interiors. Consider desk sets to maintain a cohesive aesthetic. On the other hand, if you're outfitting a separate area (a closet, perhaps?), take advantage of the opportunity to get creative with furnishings and decor that reflect your personal aesthetic.
Design a home office space for two
Are you working from home with a spouse, partner, or roommate? Don't worry, designing a shared home office for two is feasible. As with any office, organization is key. If you need a home office desk for two, choose a table desk that can seat people on either side. This way, neither person is distracted by the other's computer screen. If you have ample room, create a dual office desk by arranging two matching pieces in an "L" formation.

To maintain a cohesive aesthetic, opt for two chairs that either match or share the same aesthetic. Remember, streamlined pieces will fit better in small spaces. For storage, select sleek boxes and trays, but play with colors to add personality to each person's workspace.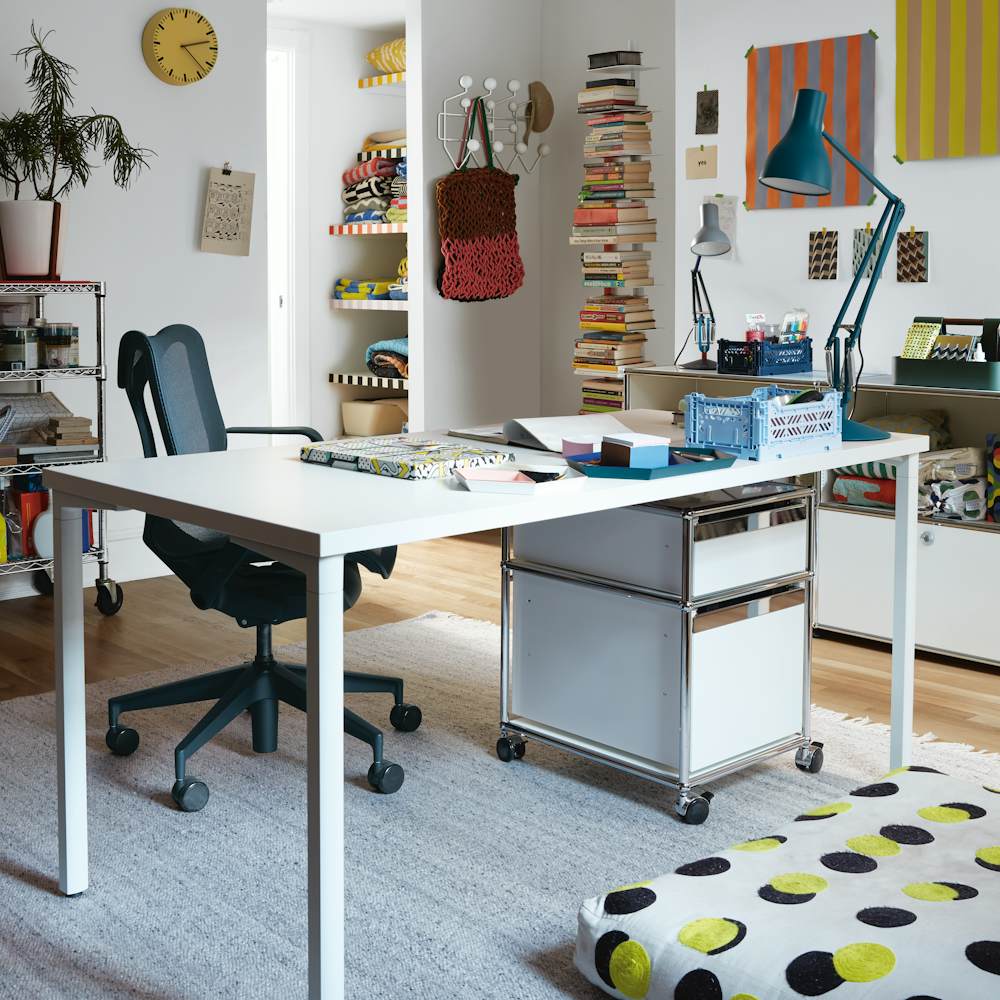 Final tips
Creating a home office – whether for one or two people – shouldn't be a daunting task. In fact, it's a chance to be creative with whatever space you have to spare and put your organizational skills to the test.
Remember…
Whenever possible, choose a separate room or space for your home office to minimize distractions.
Turn any space (spare room and closet alike) into a functional workspace with a proper desk, chair, and lighting.
Make the most of a small office with creative storage solutions and decorating ideas.
Opt for chic yet streamlined pieces when designing a home office for two.