Outdoor dining furniture 101
Dining al fresco is an activity often associated with vacation in a foreign city. However, an international plane ticket shouldn't be a prerequisite for relishing the simple yet luxurious pleasure of eating outdoors. With the right dining table and chairs, your suburban backyard or apartment balcony can easily fit the bill as an al fresco dining spot. In fact, when furnished with well-designed pieces, your outdoor space will be (almost) as transportive as a faraway locale – but thankfully one you can enjoy daily.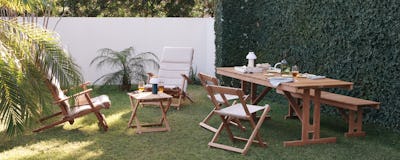 "Dining al fresco is one of life's greatest simple pleasures. Whether you brunch with a friend on your balcony or host a lavish backyard dinner party, it's important to invest in easy-to-maintain outdoor dining furniture that will stand the test of time – in terms of both durability and style." – Marcello, Design Expert, DWR Westport Store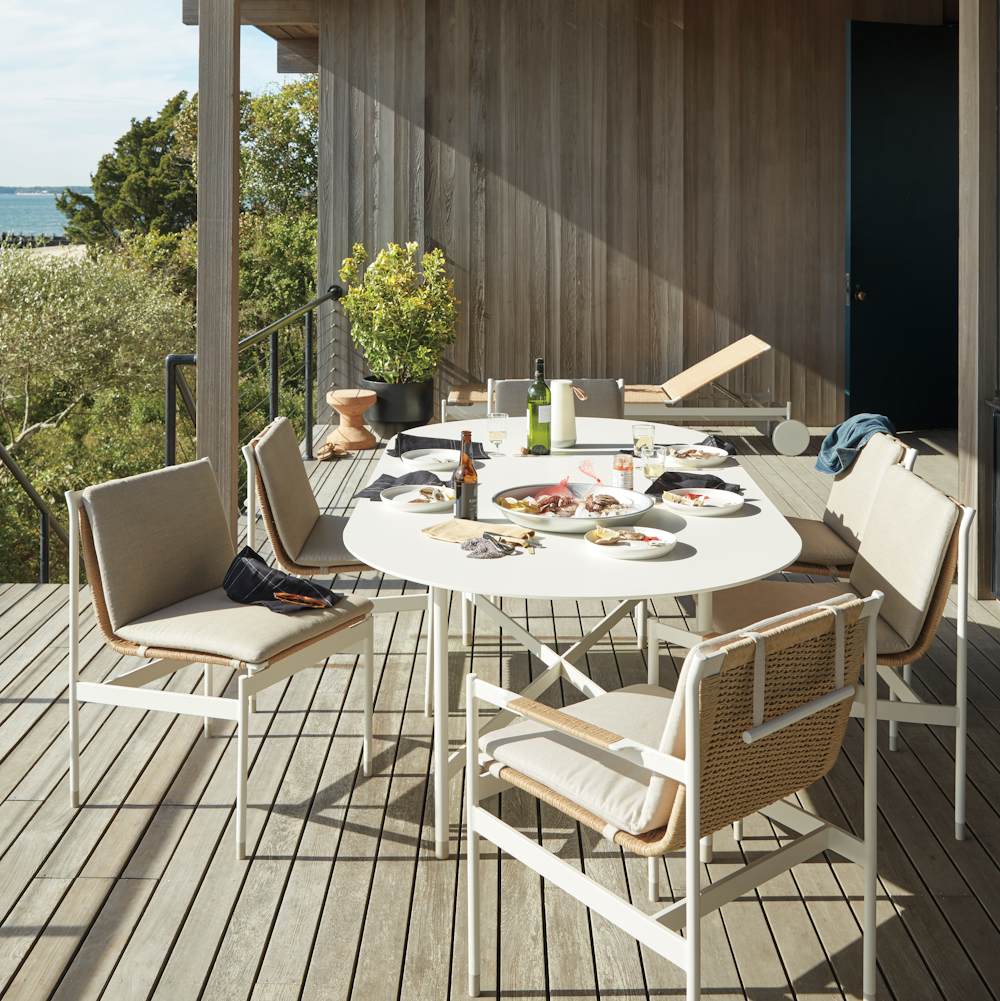 Outdoor dining table ideas
As you browse outdoor dining chairs and tables, think about the size of your space and the number of guests you plan to host regularly.

Before making a purchase decision, we recommend measuring your outdoor space. Remember, it's important to account for chairs when you measure. The rule of thumb is to leave at least three feet of space around the perimeter of the table, which will allow you and your guests to pull out chairs and sit comfortably.

Once you've measured, consider these outdoor dining table ideas, shapes, and styles within the context of your space. Rectangular and oval-shaped tables convey a more formal aesthetic, while square and round versions exude a casual sophistication. Bear in mind, square and round tables seat fewer people compared to their larger counterparts. Also of note, some outdoor patio dining sets feature an extendable table that transforms from a square to a rectangle or from a circle to an oval.

Think about the height of the table, too. Are you looking for a standard-height table to create a traditional dining setting? Or do you want to channel a casual, relaxed ambiance with a low table? These size and style considerations will help you narrow down your choices and find the best pieces for your space.
Outdoor dining chair ideas
If you don't opt for a modern outdoor dining set with matching chairs and table, it's easy to select dining seats that will complement your table of choice. There are a few different types of chairs from which to choose: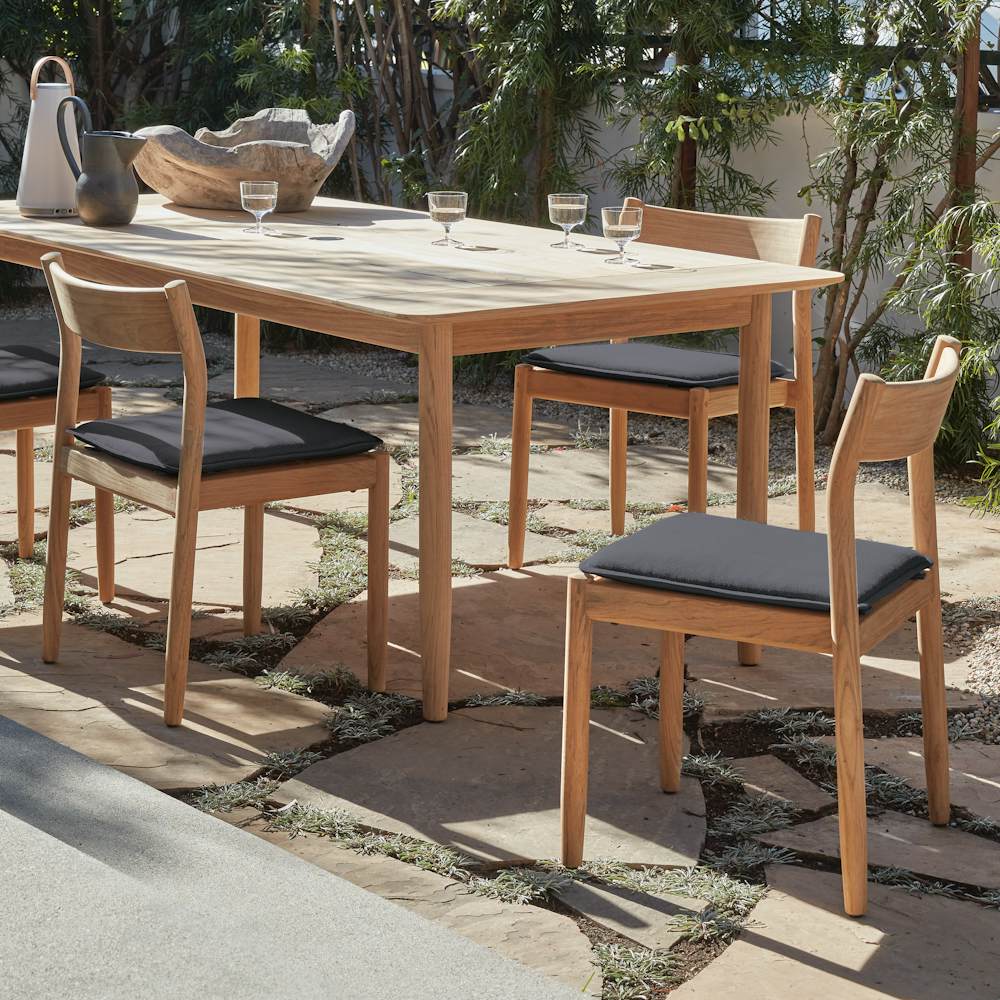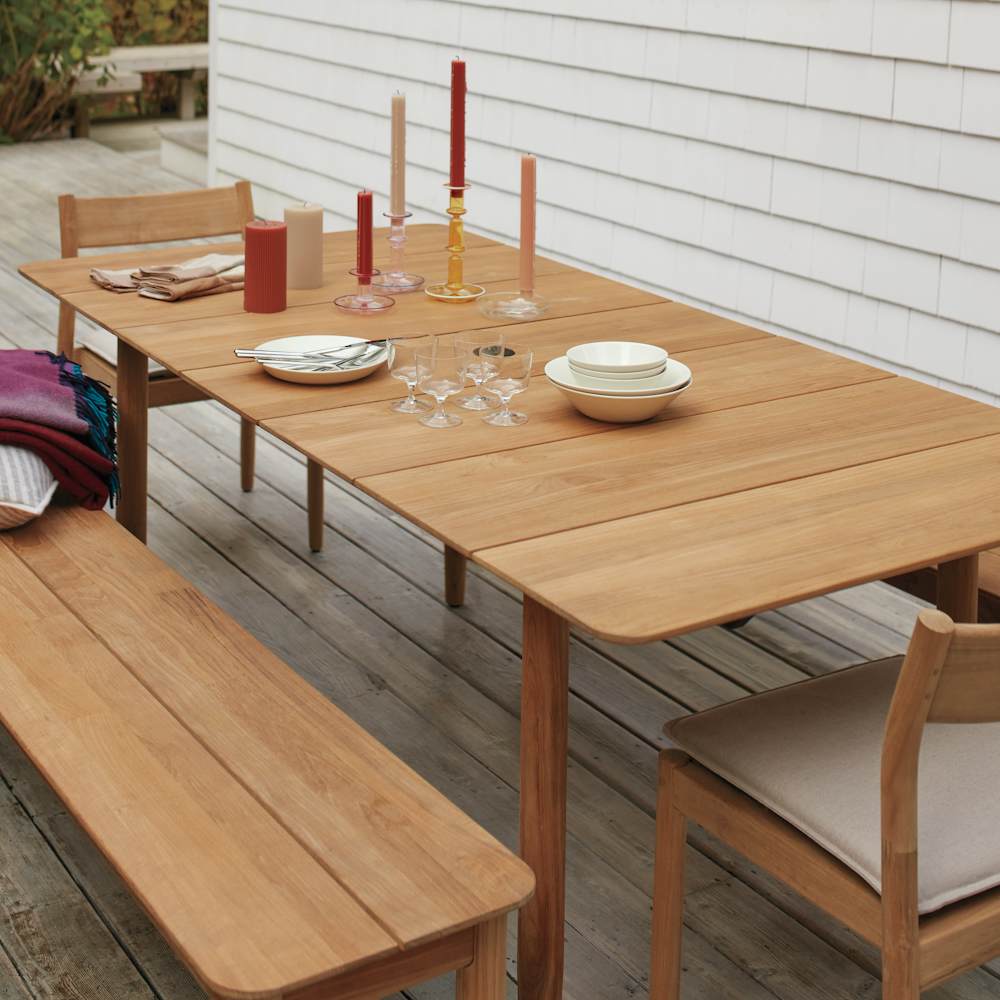 Table and chair heights
If you've chosen a low dining table, team it with cushioned lounge chairs. These are deep-seated, allowing guests to sit back, relax, and dine in a casual manner. For a rectangular or oval-shaped table, mix cushioned or stackable chairs with a bench to accommodate a large party of guests.

No matter the type of seat you choose, it's important to ensure your dining chairs are the right height. Allow for 10"–13" of space between the seat of the chair and the underside of the table.
How to choose an outdoor dining&nbspset
Materials and construction also play an important role in choosing the best furniture for your space. Generate outdoor dining ideas by reviewing these top-rated materials.
Teak is naturally weatherproof and develops a beautiful silvery grey patina over time.
Powder-coated aluminum boasts optimal durability – it's anti-rust and UV-resistant for a finish that won't fade.
Recycled high-density polyethylene is waterproof, fade-resistant, and even maintenance-free. As an added bonus, it's lightweight and easy to arrange.
Woven resin cord mimics the look of wicker. Traditional wicker can't be exposed to the elements, but resin cord wicker is designed to stand up to sun, rain, and frost.
If you have a petite patio or apartment balcony, choose an outdoor folding table crafted from recycled polyethylene. Or opt for a small outdoor dining set, like a round café table and pair of chairs. A bar-height table is an optimal choice for small areas, too. If you have ample space and often host parties, consider large outdoor furniture, like a rectangular teak table or an oval-shaped piece rendered in powder-coated aluminum.

When choosing a table and chairs à la carte, don't be afraid to mix materials and textures. Combine a teak table with woven resin cord chairs. Or encircle lightweight recycled polyethylene chairs around a slatted table designed in powder-coated steel. With a bevy of furniture styles at your fingertips, outdoor dining area ideas are endless.
Outdoor furniture covers and&nbspmaintenance
In months when the weather is temperate and your outdoor furniture is being used extensively, ensure you maintain it so that your dining area is always prepped and ready
for entertaining.
To clean a wood or teak table, wipe it with a soft damp cloth before and after meals. Always avoid using abrasive products on powder-coated aluminum, instead opting for a mild soap solution that can be wiped dry. Recycled polyethylene is essentially maintenance-free. If it accumulates a little dirt, clean it with a mild solution of soap and water, then let it air-dry. Lastly, woven resin cord chairs can be vacuumed with a dust attachment, gently scrubbed with a mild soap solution, or simply
hosed off.
In the off-season, when your outdoor furniture isn't in use, shield it from the elements with a tailored furniture cover. Outdoor furniture cover fabric should be weather-resistant to help preserve and lengthen the life of your furnishings. Consider a solution-dyed all-weather polyester covering, which is resistant to water, mildew, and
sun exposure.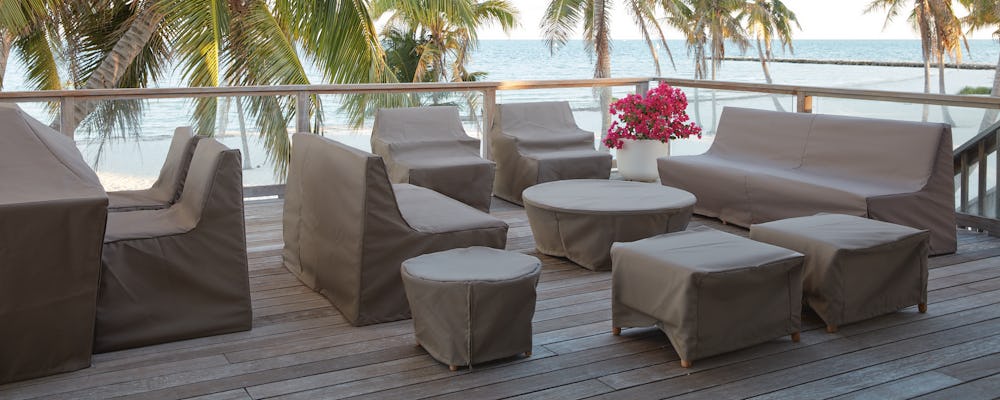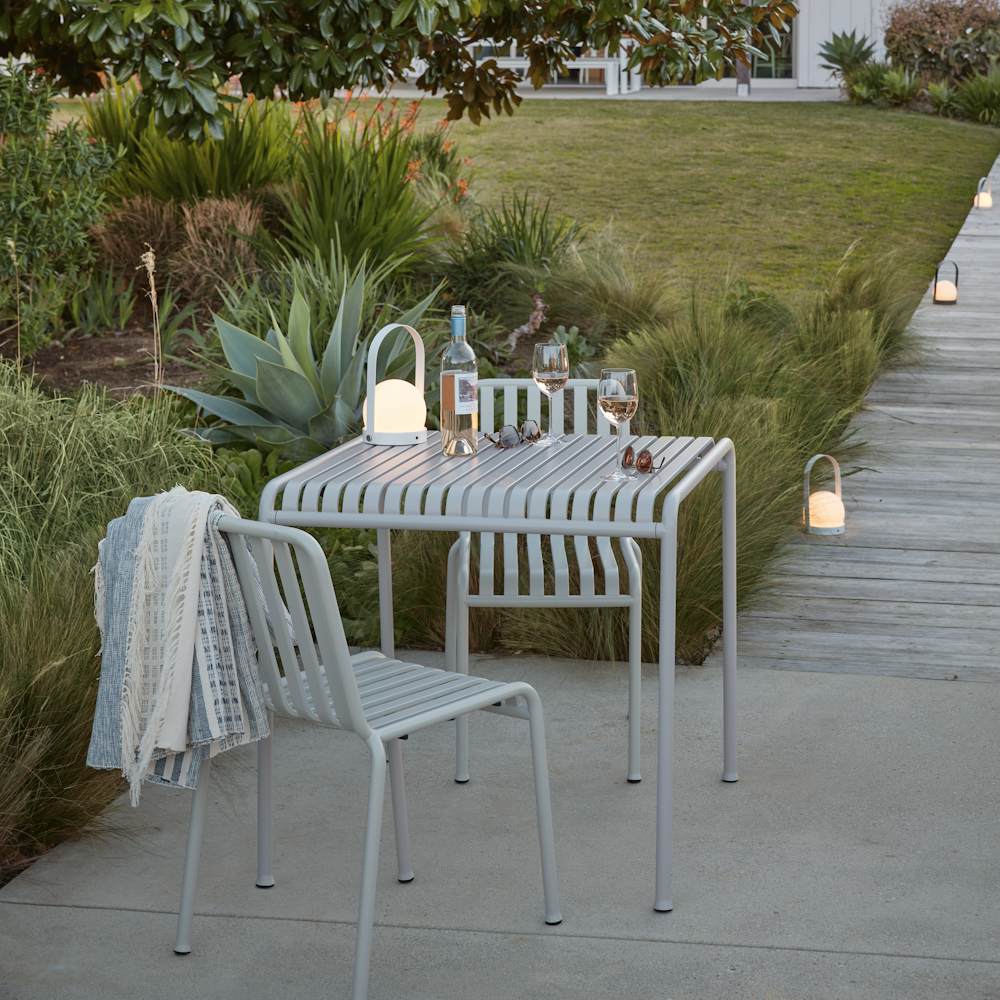 Final thoughts
You're only a dining set away from enjoying every meal outdoors. Keep these final thoughts in mind as you curate a transportive al fresco dining setting in your very own outdoor space:
Choose a table based on the size of your outdoor space and entertaining needs.
Select comfortable chairs that complement your table – either by matching (as a set) or by providing visual contrast.
Opt for weatherproof materials that can withstand the elements.
Maintain your dining furniture by cleaning it regularly and covering it in the off-season.