A guide to creating an outdoor space for entertaining
There's perhaps no better time to enjoy the great outdoors than when the weather is temperate. If you're lucky enough to have usable outdoor space, whether in the form of a small balcony or expansive pool deck, you know it's a boon to both relaxing on your own and entertaining guests. With the right pieces of outdoor furniture and accessories, it's easy to bring the comforts of home outside. Discover outdoor deck ideas, apartment balcony furniture, and more to transform your space into a haven for entertaining.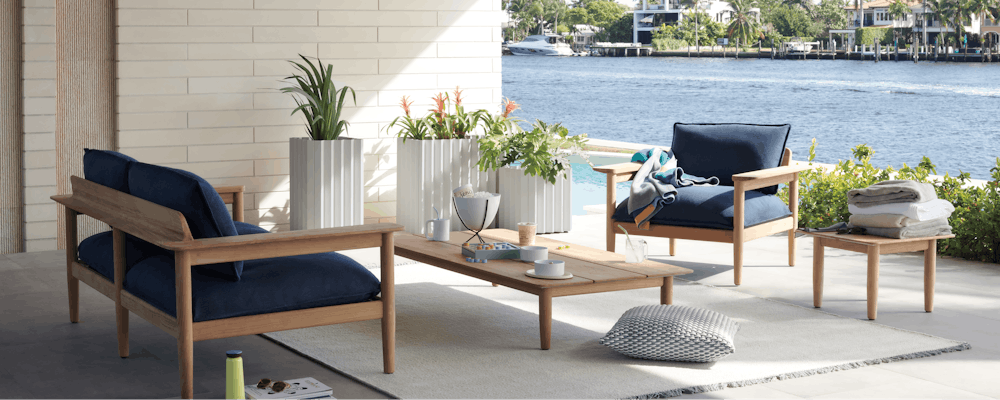 "Temperate weather calls for outdoor entertaining. With just a few pieces of well-designed furniture and thoughtfully chosen accessories, you can easily transform any outdoor space into a lush retreat for guests."
– Gerald, Design Expert, DWR SoHo Store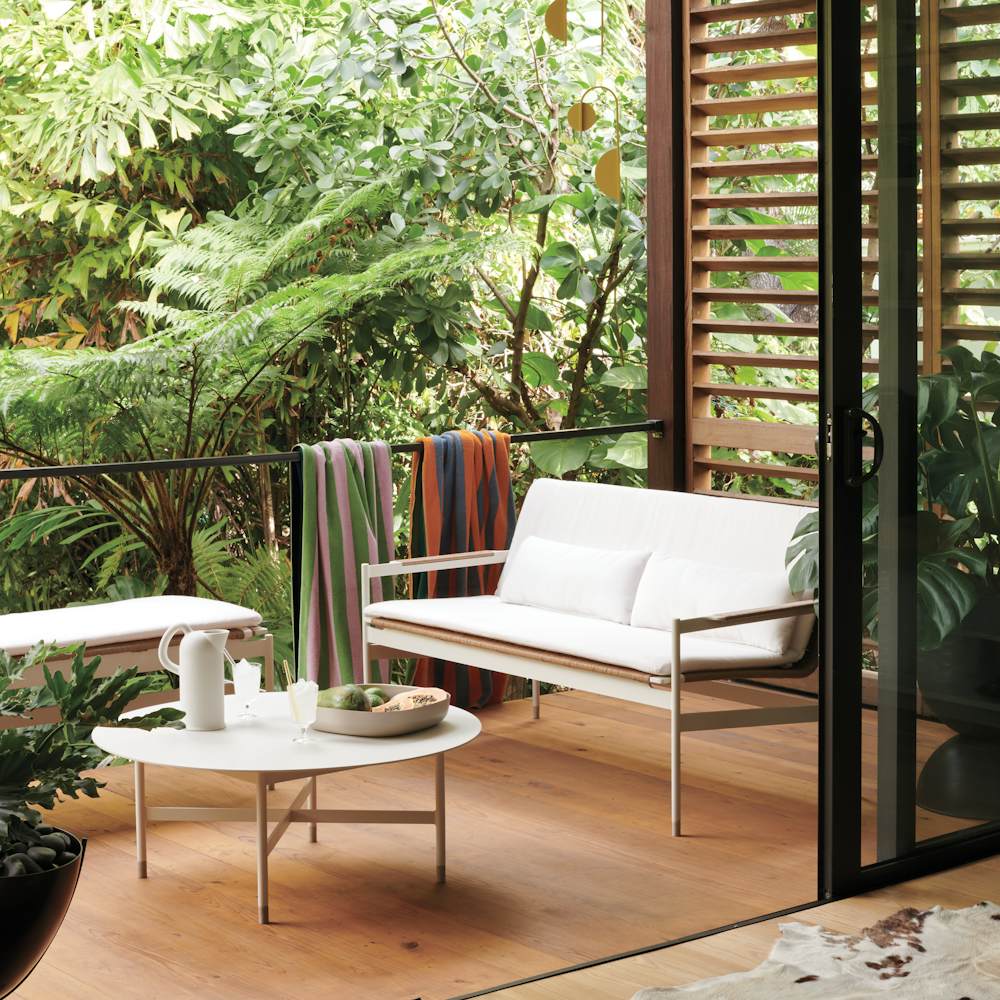 Types of outdoor furniture
Creating a well-designed yet low-maintenance outdoor space has never been easier, thanks to an abundance of weatherproof furniture that doesn't compromise on style. A brief overview of the types of outdoor furniture will help you narrow your search and generate deck and patio ideas.
How to use furniture to transform outdoor spaces
An outdoor space can easily be an extension of your living room, kitchen, or dining room. As such, it's important to choose pieces of outdoor furniture that create fluidity and complement your home's interior design aesthetic.

Always opt for materials that are naturally weather-resistant – for example, teak, powder-coated iron or steel, recycled plastic, and stone, among others. Also be sure to select cushions that are covered in weatherproof fabric.

No matter the size of your space, it's easy to find pieces that create a comfortable environment for entertaining. Looking for a balcony furniture set? Arrange a side table between a pair of streamlined, space-efficient lounge chairs. Or create an outdoor dining area with a café table and two folding chairs.

Deck furniture layout ideas abound, too. Position chaise lounge chairs coupled with side tables around a pool deck to provide a place to relax in the sun during poolside gatherings. For dining al fresco, embrace the casual feel of eating outdoors by mixing bench seating with dining chairs. Backyard firepits are an optimal gathering place to enjoy cocktails. Arrange a sectional and pair of lounge chairs in a semi-circle around a firepit (or a coffee table in absence of a firepit) to create an intimate gathering place for conversation and cocktails.
How to design an outdoor space for entertaining
One of the keys to successful outdoor entertaining is creating comfort for your guests in the great outdoors. Textiles and lighting play an important role in establishing creature comforts.

For a pool patio or uncovered dining area, set up an umbrella to provide shade when necessary. If you're looking for outdoor deck furniture ideas, define your seating arrangement with a rug that lends warmth and tactile appeal. Outdoor rugs are especially ideal for concrete terraces.

Incorporate seat cushions and pillows to help soften firm surfaces and hard lines. Think about adding a throw, too. It will provide much-needed warmth when the evening's events linger into the night, and it can be draped over the arm of a sofa or chair when not in use.

Don't forget about outdoor lighting. Without sconces or lanterns, you're at the mercy of candles when the sun goes down. Portable lanterns are easy to use and create a soft, luminous glow. Depending on the size of your outdoor space, place a lantern or two (or even a handful if the area is expansive) on the outskirts of your seating arrangement. If you have a pergola or trellis, suspend a pendant light from it to illuminate an outdoor dining area.

With these thoughtful touches and design elements, you'll be well on your way to a successful outdoor cocktail hour, backyard movie night, or alfresco dinner party.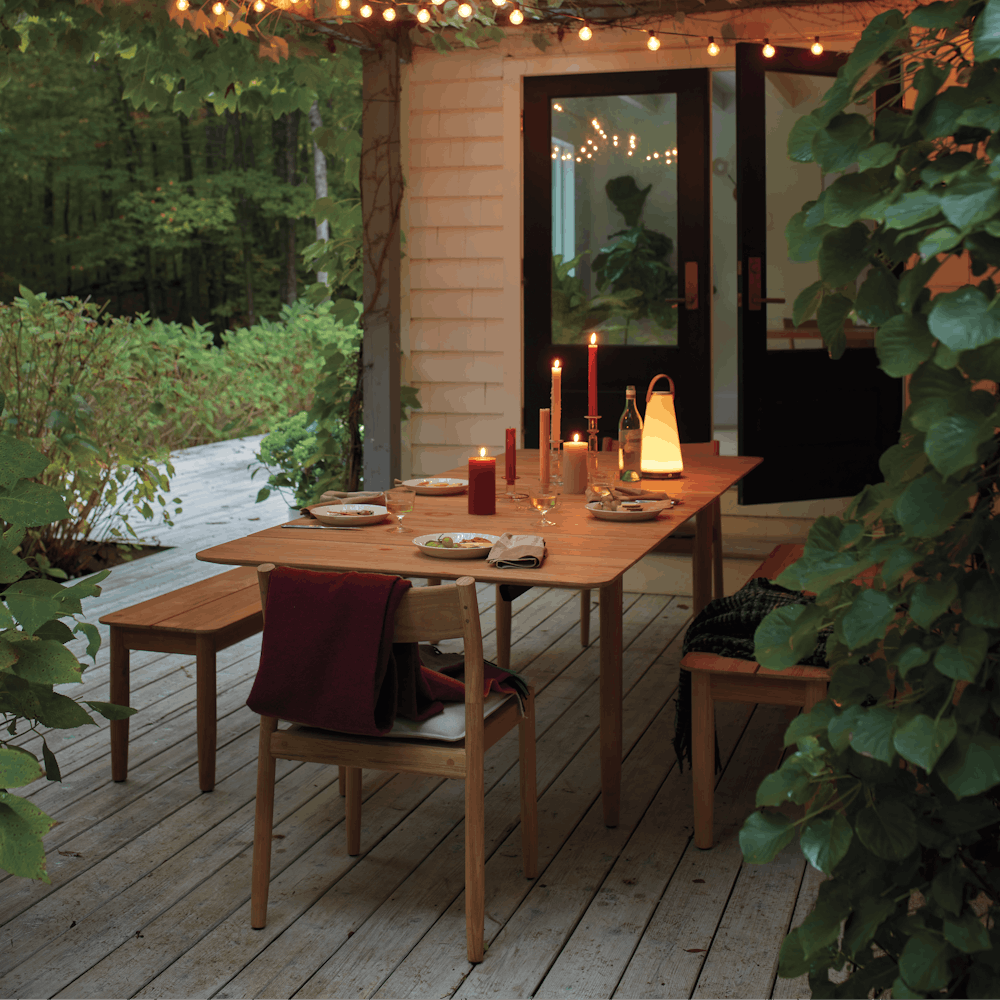 Final thoughts
Creating an outdoor space for entertaining may seem daunting at first, but it can easily come together with stylish yet durable outdoor furniture and accessories. Keep these tips in mind:
Decide which types of outdoor furniture are best for your space in terms of size and style.
Arrange furnishings to create a gathering place that fosters relaxation and conversation.
Incorporate lighting and accessories for added comfort and warmth.