How to make the most of a small outdoor space
A small patio or yard shouldn't prevent you from spending time outdoors. In fact, a balcony, pocket garden, or even side yard can easily be transformed into an oasis – not only for your personal enjoyment but also for entertaining guests. When coupled with thoughtful design elements, modern outdoor furniture for small spaces can help you create a multifunctional area that's suitable for both lounging and dining alfresco. So forget the notion that you need a sprawling backyard or expansive pool deck to enjoy spending time outdoors. Discover tips, tricks, and space-savvy furniture solutions that will help you turn your small but sprightly outdoor space into a haven that rivals even the largest of patios or yards.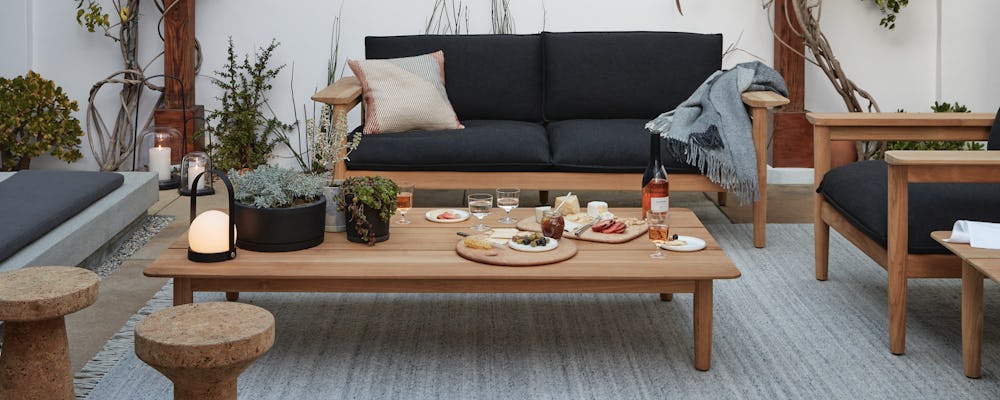 "Small outdoor spaces have so much potential. They're a canvas for creativity and thoughtful design solutions, like multifunctional, space-efficient seating that seamlessly blends form and function." – Rebecca, Design Expert, DWR Houston store
How to shop for furniture for a small outdoor space
There are a few things to keep in mind when shopping for outdoor furniture for small spaces. Here, we've compiled a handful of tips that will help guide you through the process of furnishing your area.
Determine your outdoor area needs
It's important to think about how you intend to use your outdoor space. Do you plan to host alfresco dinner parties? Gather friends for evening cocktails? Create a quiet place to read with a cup of coffee or tea? If you plan to entertain, ask yourself how many guests you'd like to host regularly. These considerations will help you determine what type of furniture to purchase – and how many seats you should be able to provide.


Measure, then measure again
It's imperative to measure your outdoor area before purchasing furniture. We even recommend taking measurements twice. When you measure, remember to account for space around the furniture. For example, the best practice is to leave at least three feet around the perimeter of a dining table. This will give you and your guests ample room to pull out chairs and sit comfortably. Similarly, allow for approximately four feet of space around a fire pit.


Prioritize durability when purchasing furniture
We can't emphasize this enough: Always choose outdoor furniture that has been crafted from weatherproof materials. Here's a roundup of some of the most popular options.


Powder-coated aluminum or steel is equally durable and sleek, channeling a contemporary aesthetic.
Recycled plastic similarly conveys a modern sensibility. It's also fade-proof and easy to clean.
Teak is a naturally weather-resistant wood that develops a beautiful silvery-grey patina over time.
Woven resin cord mimics the look of wicker. However, unlike traditional wicker, resin cord will withstand the elements.

With proper care, weatherproof furniture will stand the test of time and look good for years to come. If possible, store your outdoor furniture in an enclosed area, like a garage or shed, during the off-season. Or opt for furniture covers to protect it from the winter elements.


Bring the comforts of home outdoors
Comfort is essential if you want your outdoor space to function as an extension of your living room or dining room. Bring the comforts of home outside by topping your furnishings with seat cushions and decorative pillows. Choose cushions and pillows that are covered in weatherproof fabric so that they don't fade or mold.


Consider small patio furniture sets
Furniture sets designed for small outdoor areas are an easy choice. To create a space for dining, consider a bar-height table with a pair of barstools, or select a space-savvy café table with matching chairs. Lounge furniture is also available in matching sets of lounge chairs and occasional tables. If you shy away from a matching furniture set, look for a sofa or settee with a streamlined frame and pair it with a coffee table.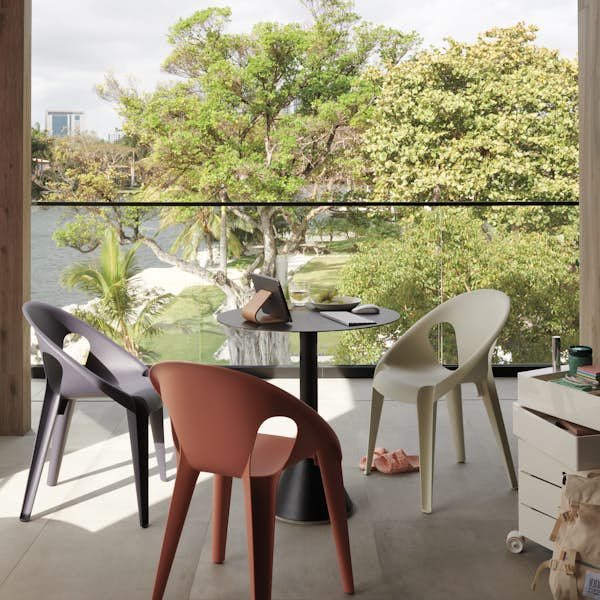 Types of multifunctional outdoor furniture
Not all types of outdoor furniture serve double duty, but the ones that do are optimal for small areas. Discover some of our favorite space-efficient furnishings and how to arrange them.
Convertible
furniture for small
spaces
Convertible furniture is like a chameleon, able to blend in with multiple settings and seating arrangements. Take an ottoman, for example. Place a tray atop an ottoman, and it becomes a cocktail table. Remove the tray, and the ottoman becomes an additional seat. In the same vein, a stool can act as a side table or provide a place to sit around a fire pit, and a bench can act as a coffee table or provide dining table seating in lieu of individual chairs.

Nesting tables function along the same lines, too. They can be nested (no surprise there) to conserve space or placed between seats to provide surfaces for beverages and small plates. These are especially useful if your seating centers around a fire pit, or if space doesn't allow for a traditional cocktail table. Also, opt for a fire pit with a removable top, which allows it to double as a coffee table when not lit.
Foldable outdoor furniture
Foldable furniture epitomizes space efficiency. Prop up a folding table and chairs to host an alfresco dinner. Afterward, put the table away and use the chairs as additional seating around a fire pit while dessert is served. Pro tip: Install hooks on an outdoor wall to hang your folding table and chairs when they're not in use.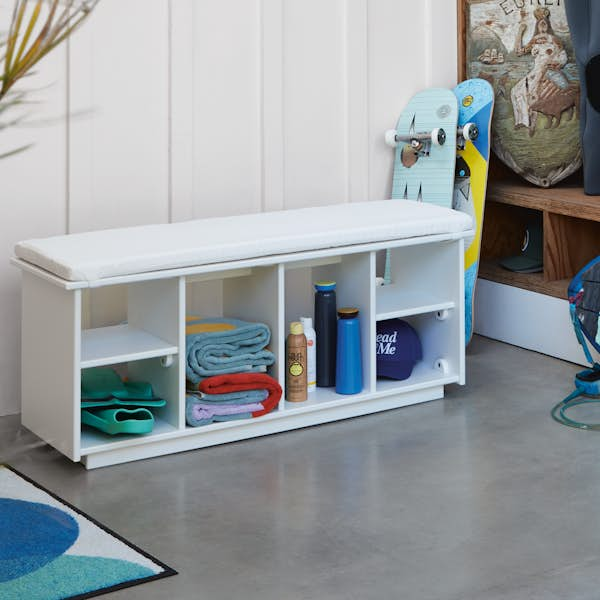 Patio furniture with
storage
A storage bench or ottoman is the ultimate combination of seating and concealed storage. Choose a bench with a hinged lift-up top that opens to ample space for extra pillows, throws, or gardening supplies. Depending on the size of the bench, you may even be able to store folding chairs within it. This type of outdoor patio furniture with storage can help minimize the appearance of clutter, creating an environment that's more conducive to relaxing and entertaining.
How to arrange furniture for multifunctional use
It's no secret that there's an abundance of modern outdoor patio furniture suitable for small spaces. Whether you plan to use your outdoor area primarily for dining or lounging (or both), you can take inspiration from these seating arrangement suggestions.
Create a comfortable yet space-efficient dining area with a round or square pedestal table. This style allows chairs to fully tuck under the table, providing more space around it for lounge seating. Or select an oval-shaped dining table and use bench seating to maximize space.
To create a truly multifunctional environment, consider these small outdoor patio ideas. Position a pair of lounge chairs around a fire pit or cocktail table. Opposite the lounge seating, arrange a folding table with chairs for dining. The folding chairs can also be used as additional seats around the fire pit.
Position a storage bench and individual chairs (ideally stackable seats) around a coffee table to foster conversation. Incorporate side or nesting tables to facilitate casual dining.
Outdoor floor pillows, which can easily be stacked in a corner or placed in a storage bench, are easy-chic seating additions to small space patio furniture arrangements. They work especially well in combination with low lounge chairs.
Finally, don't be afraid to add pops of color to your space. Powder-coated steel pieces and recycled plastic furnishings are available in a wide range of hues. Bright colors can provide energy and visual contrast to natural outdoor settings.
How to style a small patio or yard space
When styling your outdoor area, incorporate thoughtful design elements that not only maximize space but also provide comfort.

An outdoor rug can help ground your furnishings and lend definition to a space. It's also a tactile element that creates depth and warmth. Remember, before purchasing a rug, ensure that it's suitable for outdoor use. For added comfort, incorporate accent pillows and throw blankets.

Lighting plays an important role, too. Set the mood by hanging string lights or placing portable lanterns around your lounge chairs. These will create a soft, luminous glow and inviting ambiance once the sun goes down. Or opt for a Bluetooth sound lantern for both music and lighting – even small design elements that fill multiple roles will help maximize space.

Select planters to surround your seating area with greenery. Elevated planters will add height and provide privacy. These can be especially useful on a balcony. Or if you need to conserve floor space, choose hanging pots instead.

Don't forget to make use of wall space, too. Hang an outdoor tapestry or rug on the wall to add a unique backdrop to your seating arrangement. Or install hooks to hang foldable furniture when it's not in use.
Final thoughts
Even small spaces have the power to make a big impact. No matter the size of your outdoor area, it's possible to create a chic yet functional space – whether you plan to enjoy it for yourself or entertain a handful of guests. Thoughtful planning, creative solutions, and space-efficient furnishings will help you make the most of your little piece of the great outdoors. Keep these final thoughts in mind as you transform your space:
Before purchasing furniture, determine your needs, measure your outdoor area, and prioritize durability and comfort.
Create a multifunctional environment by choosing furnishings that serve double duty.
Incorporate thoughtful design elements that bring the comforts of home outdoors.
Implement these tips and tricks, and you'll be hosting many an alfresco dinner, cocktail party, or movie night in no time. The idiom "good things come in small packages" rings true for well-designed outdoor spaces – especially the small ones.