4 out of 5 Customer Rating








4 out of 5 Customer Rating
Sculpted stool inspired by tractor seats
Sustainably sourced solid wood
Leather-wrapped footrest
Shipping Options
Return Options
Not satisfied with your purchase? We'll work with you to make it right. Contact us within three (3) days of your order's delivery.
Learn more
.
3-year warranty (terms and conditions may vary)
Details
Details
Craig Bassam was working on a project in Switzerland when he found a tractor seat on the side of the road. Impressed by how the backless seat allowed him to sit in an upright, ergonomic position, he set out to make one in wood. The Tractor Stool (2000/2001) is carved out of a block of sustainably sourced ash or walnut and hand finished. Because of the natural variations in wood, each one is unique and will develop a warm patina over time.
Seat sculpted to accommodate sitter
Sustainably sourced solid wood
Leather-wrapped footrest
Hand finished with a wipe-on oil and sealer product
Brand
General Dimensions
Product Weight

16 lbs
Assembly

Comes fully assembled
Warranty

3-year warranty (terms and conditions may vary)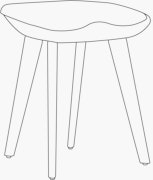 Dining Height
Height (in): 19¼
Width (in): 17¼
Depth (in): 13¾
Weight (lbs): 13
Seat Height (in): 17
Seat Width (in): 14
Seat Depth (in): 12
Weight Capacity (lbs): 250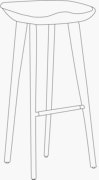 Bar Height
Height (in): 32⅝
Width (in): 17¼
Depth (in): 13¾
Weight (lbs): 16
Seat Height (in): 30½
Seat Width (in): 14
Seat Depth (in): 12
Weight Capacity (lbs): 250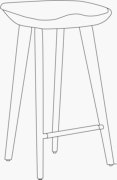 Counter Height
Height (in): 27⅛
Width (in): 17¼
Depth (in): 13¾
Weight (lbs): 15
Seat Height (in): 23⅝
Seat Width (in): 25
Seat Depth (in): 12
Weight Capacity (lbs): 250
Solid ash, ebonized ash, or American black walnut

Sustainably sourced solid wood

Leather-wrapped footrest
Craig Bassam
Following successful solo ventures, architect Craig Bassam and creative director Scott Fellows teamed up in 2003 to form BassamFellows. Their shared vision—to return craftsmanship and beauty to contemporary living—has resulted in iconic pieces pioneering a Craftsman Modern aesthetic. To Fellows: "It's about merging the rationality and clarity of modernism with the warmth and texture of nature."
More on Craig Bassam
Reviews

Questions + Answers