Estimated Arrival:
Available to ship in: 16 weeks
Stark simplicity that makes a statement.
Practical for dining room or office.
Table base is height adjustable.
Shipping Options
Return Options
Not satisfied with your purchase? We'll work with you to make it right. Contact us within three (3) days of your order's delivery.
Learn more
.
2-year warranty (terms and conditions may vary)
Dining, International Style. —
With its industrial materials, elliptical tubular base, and technical finesse of adjustable supports connecting glass and steel, the LC6 Table delivers International Style directly to your dining room or home office.
Details
Details
Architectural lines
A mathematically refined structure of steel and glass, the LC6 Table (1928) has become one of the most important International Style tables of the 20th century. With a welded steel base and Italian glass tabletop, LC6 is practical for use in dining or conference rooms. Each piece is signed, numbered, and as a product of Cassina's Masters Collection manufactured by Cassina under exclusive worldwide license from the Le Corbusier Foundation. Made in Italy.
Stark simplicity that makes a statement.
Practical for dining room or office.
Table base is height adjustable.
Brand
General Dimensions

28.74" H 88.59" W 33.47" D
Product Weight

249.13 lbs
Assembly

Requires Assembly
Warranty

2-year warranty (terms and conditions may vary)
LC6 Table
Height (in): 28.74
Width (in): 88.59
Depth (in): 33.47
Weight (lbs): 249.13
Glass top

Elliptical tubular steel base with polyester-epoxy powder-coated finish
Charlotte Perriand
Charlotte Perriand got her start as a designer in Le Corbusier's studio, including the first tubular steel designs for systematized furnishings known as "Equipement intérieur de l'habitation." She designed buildings, interiors, and furniture, notably a prototype kitchen for Le Corbusier's Unité d'Habitation, the London office for Air France and conference rooms for the United Nations in Geneva.
More on Charlotte Perriand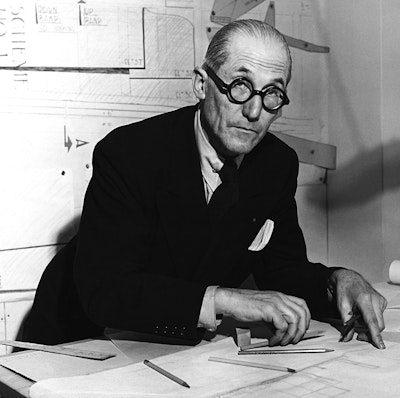 Le Corbusier
Widely considered one of the most influential architects of the 20th century, Le Corbusier (born Charles-Édouard Jeanneret-Gris) is credited with changing the face of urban architecture, bringing it into the technological age. Connecting architecture with revolution, his legacy demonstrates a strong, if utopian, sense of purpose to meet the needs of a democratic society dominated by the machine.
More on Le Corbusier
Pierre Jeanneret
It is the fate of history that architect and furniture designer Pierre Jeanneret will be best remembered for his collaborations with his famous cousin, Le Corbusier. The two began their partnership in 1922 with the Villa Besnus outside Paris. This famous familial duo went on to create some of the most esteemed icons of midcentury modernism, including the Villa Savoye in Poissy, France.
More on Pierre Jeanneret
Reviews
Reviews
Perfect glass table
This took quite awhile to arrive but just before the shutdown our beautiful table arrived. The glass and table are very heavy and well made. The glass sits with gravity and suction on the metal support and couldn't be more sturdy. We use it at its max height with the contour chairs in black leather. It's perfect in our space.