5 out of 5 Customer Rating





5 out of 5 Customer Rating
Gem
Gem -
View Swatch Details
Hopsak
Hopsak -
View Swatch Details
Request free swatches
Arrives in 4-7 business days
Eco-friendly.
Compact.
Authentic George Nelson.
Shipping Options
Threshold Delivery, In-Home Delivery
Return Options
Not satisfied with your purchase? We'll work with you to make it right. Contact us within three (3) days of your order's delivery.
Learn more
.
5-year warranty (terms and conditions may vary)
Details
Details
George Nelson's Pedestal Stool (1954) fits well in casual spaces that require easy-to-rearrange seating. It features the designer's signature clean lines and elegant simplicity and an upholstered seat pad that echoes Nelson's iconic Marshmallow Sofa. Eco-friendly as it is sightly, its polyester upholstery is devoid of antimony, a known industrial pollutant. Self-leveling glides adjust to uneven floor surfaces. This is the authentic Nelson Pedestal Stool produced by Herman Miller.
Eco-friendly.
Compact.
Authentic George Nelson.
Eco-Friendly Description: Indoor Advantage Gold certification is SCS Global Services' highest level of indoor air quality performance for furniture. The certification ensures that furniture products support a healthy indoor environment by meeting strict chemical emission limits for volatile organic compounds (VOCs).
Brand
General Dimensions
Product Weight

10 lbs
Assembly

Comes fully assembled
Warranty

5-year warranty (terms and conditions may vary)
Lifestyle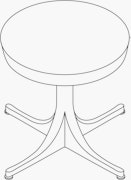 Nelson Pedestal Stool
Height (in): 16
Width (in): 19½
Weight (lbs): 10
Polished or white powder-coated aluminum base

Foam cushion

Fabric upholstery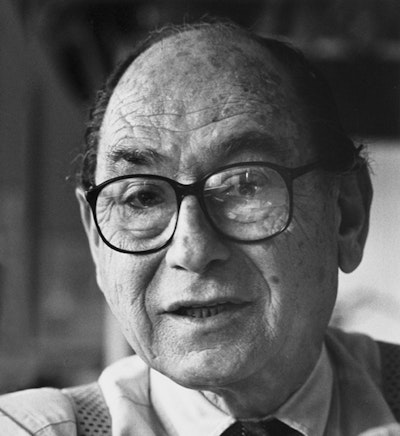 George Nelson
Possessing one of the most inventive minds of the 20th century, George Nelson was the rare person who can envision what isn't there yet. Nelson felt that designers must be "aware of the consequences of their actions on people and society and thus cultivate a broad base of knowledge and understanding."
More on George Nelson
Care & Maintenance
With regular care and maintenance, your Herman Miller product will provide many years of superior performance and satisfaction. To maintain quality, please follow the cleaning procedures outlined here.
The instructions for the care and maintenance of Herman Miller products are provided to you as a service. No warranty is implied since results may vary.
Leather Upholstery
For normal cleaning, vacuum or dust frequently with a clean, dry cloth. If leather is soiled, it can be wiped with a damp soft cloth and a lather of any mild soap and a minimum amount of lukewarm water. Do not spot clean leather; clean the entire surface. Wipe clean with a damp cloth and dry with a clean, soft cloth.
For spots and spills, wipe excess liquid immediately with a clean cloth or sponge; let the leather air dry. If further cleaning is necessary, sponge the entire surface—seat, back, or chair arm—with clean, lukewarm water. Let the leather air dry; never use a hair dryer or other heat source to dry leather.
For stubborn spots and stains, apply a mild, nonabrasive soap solution with a clean, wet sponge. Rinse well and let air dry. For butter, oil, or grease, wipe the leather with a clean, dry cloth and let the remainder of the oil dissipate into the leather. Do not apply water or try to wash a grease spot.
Do not use saddle soap, cleaning solvents, oils, furniture polishes, varnishes, abrasive cleaners, detergents, or ammonia on leather; they will ruin the finish, causing it to become sticky and cracked.
Coated Metal
Routine Maintenance
For normal cleaning, wash coated metal surfaces with a soft cloth soaked in detergent and warm water; rinse thoroughly and dry. Remove scuff marks from low-gloss coatings with pre-softened paste wax, following the manufacturer's instructions. Remove scuff marks and scratches from high-gloss coatings using automotive polishing compounds, either liquid or paste. After polishing, apply a pre-softened automotive paste wax to restore original sheen. For assistance in determining the appropriate color and gloss for Herman Miller touch-up paint, contact your Herman Miller Customer Service Representative.
Reviews

Questions + Answers