5 out of 5 Customer Rating
5 out of 5 Customer Rating
A work stool version of the iconic Aeron Chair.
The chair that introduced the world to the power of ergonomics.
Perfect for architects and designers who sit at drafting tables.
Shipping Options
Threshold Delivery, In-Home Delivery
Return Options
Not satisfied with your purchase? We'll work with you to make it right. Contact us within three (3) days of your order's delivery.
Learn more
.
12-year warranty (terms and conditions may vary)
Details
Details
When Bill Stumpf and Don Chadwick designed the Aeron Chair (1994), they combined a deep knowledge of human-centered design with cutting-edge technology to create a chair unlike any other. In 2016, Don Chadwick evolved Aeron with 20 years' research in the science of sitting, as well as advancements in materials. The result is the perfect blend of ergonomics and comfort. Is it any wonder that more than 7 million Aeron Chairs have been sold worldwide?
The perfect balance of ergonomics and comfort.
You'll sit naturally while also experiencing superior back support.
Breathable fabric keeps you cool and comfortable.
Height-adjustable footrest for comfortable extended sitting.
Height-adjustable plus pivot arms.
Eco-Friendly Description: LEVEL certified and Indoor Advantage Gold certified product. LEVEL® by BIFMA is an evaluation and certification system for environmentally preferable and socially responsible office furniture. The LEVEL program has three performance tiers: LEVEL 1, 2, and 3. The higher the number, the more criteria considered and met across 4 key areas: materials, environmental impact, human health, and social responsibility. Indoor Advantage Gold certification is SCS Global Services' highest level of indoor air quality performance for furniture. The certification assures that furniture products support a healthy indoor environment by meeting strict chemical emission limits for volatile organic compounds (VOCs).
Brand
Collection
General Dimensions
Product Weight

50 lbs
Assembly

Comes fully assembled
Warranty

12-year warranty (terms and conditions may vary)
Lifestyle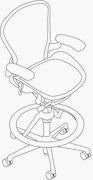 Counter Height
Height (in): 49¼
Height Min (in): 45⅝
Width (in): 27
Depth (in): 17
Weight (lbs): 50
Seat Height (in): 29¼
Seat Height Min (in): 24¾
Seat Width (in): 20¼
Seat Depth (in): 17
Weight Capacity (lbs): 350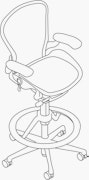 Bar Height
Height (in): 54½
Height Min (in): 49
Width (in): 27
Depth (in): 17
Weight (lbs): 70
Seat Height (in): 34¼
Seat Height Min (in): 28
Seat Width (in): 20¼
Seat Depth (in): 17
Weight Capacity (lbs): 300
Powder-coated or polished die-cast aluminum frame and base

8Z Pellicle elastomeric suspension seat and backrest

Seat tilt mechanism

Adjustable back with PostureFit SL™ hardware or lumbar support

Standard polyurethane foam arm pads

Standard 2.5-inch carpet casters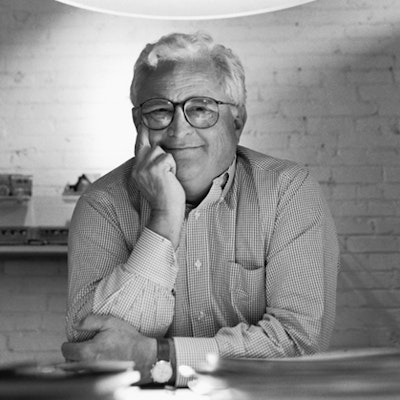 Bill Stumpf
Bill Stumpf once said that he liked to collaborate with other designers the way a jazz trio improvises, playing together with no fixed destination. The approach requires complete attention, and you have to trust your instincts. Design should make room for spontaneity and discovery, said Stumpf, "blending the pleasure and pain of life into something wonderful."
More on Bill Stumpf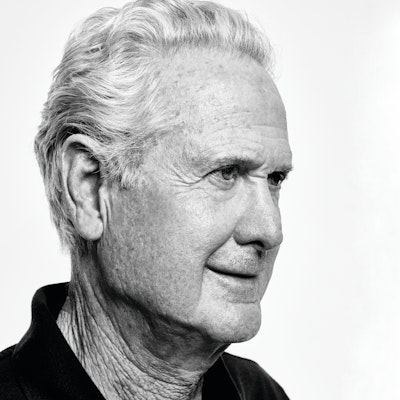 Don Chadwick
Chairs are for sitting on. It sounds obvious, but there are designers who seem to miss that point. Not Don Chadwick, however, who has developed some of the best chairs on the market – including the Aeron Chair with Bill Stumpf – by emphasizing the body and the fact that bodies move.
More on Don Chadwick
Care & Maintenance
With regular care and maintenance, your Herman Miller product will provide many years of superior performance and satisfaction. To maintain quality, please follow the cleaning procedures outlined here.
The instructions for the care and maintenance of Herman Miller products are provided to you as a service. No warranty is implied since results may vary.
Aeron Care and Maintenance Guide
Aeron Adjustment Guide
Reviews

Questions + Answers