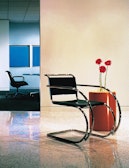 Estimated Arrival:
Available to ship in: 18 weeks
Shipping Options
Return Options
Not satisfied with your purchase? We'll work with you to make it right. Contact us within three (3) days of your order's delivery.
Learn more
.
5-year warranty (terms and conditions may vary)
Details
Details
Ludwig Mies van der Rohe's MR Chair was designed in 1927 as part of his contribution to the Weissenhof exhibit in Stuttgart, Germany. The chair's cantilevered design uses tubular steel, then a technological novelty, to create an intuitively accessible and ergonomic seat. (When asked why he created chairs with generously sized seats, Mies van der Rohe allegedly replied that he designs chairs he'd be most comfortable sitting in.) The MR Armchair, still made to his specifications, is perfectly balanced, featuring the material innovation and lack of ornamentation that epitomize the International Style. It was awarded the Museum of Modern Art Award in 1977 and the Design Center Stuttgart Award in 1978. The frame of this piece is stamped with the KnollStudio logo and Mies van der Rohe's signature. This is the authentic MR Chair produced by Knoll. Made in U.S.A.
Brand
General Dimensions
Box Dimensions
Assembly

Comes fully assembled
Warranty

5-year warranty (terms and conditions may vary)
MR Armchair
Height (in): 31
Width (in): 21
Depth (in): 27.25
Polished tubular stainless steel frame

Spinneybeck BL full-grain aniline leather sling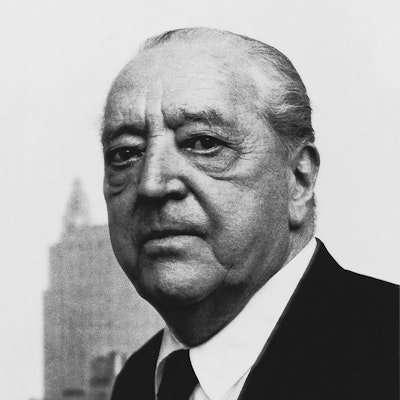 Ludwig Mies van der Rohe
The modern city, with its towers of glass and steel, can be at least in part attributed to the influence of architect Ludwig Mies van der Rohe. Equally significant, if smaller in scale, is Mies' daring design of furniture, pieces that exhibit an unerring sense of proportion as well as minimalist forms and exquisitely refined details. In fact, his chairs have been called architecture in miniature.
More on Ludwig Mies van der Rohe