3.3 out of 5 Customer Rating




3.3 out of 5 Customer Rating
This is an authentic Herman Miller Eames Chair.
Comfortable waterfall seat edge reduces pressure on thighs.
Can be ganged together and stacks up to 14 high.
Shipping Options
Return Options
Not satisfied with your purchase? We'll work with you to make it right. Contact us within three (3) days of your order's delivery.
Learn more
.
DWR honors a one (1) year warranty on all products. Brand-specific warranties may extend to longer periods.
Details
Details
Designed by Charles and Ray Eames, this iconic modern chair appeared as a prototype in MoMA's 1948 International Competition for Low-Cost Furniture Design, and it's been in continuous production – and enjoyed in homes, offices, and restaurants worldwide – since 1950. The Eameses believed that "design is a method of action," and they continually updated their work as new materials became available. Continuing their legacy, in 2013, Herman Miller safely brought back the fiberglass shell – which had been discontinued decades earlier due to environmental concerns – thanks to a new proprietary production process. Today's fiberglass chair is made of 99% recyclable materials and covered by Herman Miller's take-back program for environmentally sound recycling. "The chair that Charles and Ray were designing," says grandson Eames Demetrios, "is the chair that's made tomorrow."
This is an authentic Herman Miller Eames Chair.
Comfortable waterfall seat edge reduces pressure on thighs.
Eco-fiberglass made of 99% recyclable materials.
Can be ganged together in a row or stacked up to 14 high.
Comes with Authenticity Certificate.
Eco-Friendly Description: Indoor Advantage Gold Certified - Indoor Advantage Gold certification is SCS Global Services' highest level of indoor air quality performance for furniture. The certification assures that furniture products support a healthy indoor environment by meeting strict chemical emission limits for volatile organic compounds (VOCs). 
Brand
Collection
General Dimensions
Product Weight

20 lbs
Assembly

Comes fully assembled
Warranty

DWR honors a one (1) year warranty on all products. Brand-specific warranties may extend to longer periods.
Lifestyle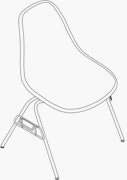 Fiberglass
Height (in): 31½
Width (in): 18½
Depth (in): 21¾
Weight (lbs): 20
Seat Height (in): 17¾
Chrome-plated steel base

Fiberglass-reinforced plastic, made of 99% recyclable materials

Note: Fiberglass may have tiny cavities in its surface, or faint shadows where base meets shell

Leveling floor glides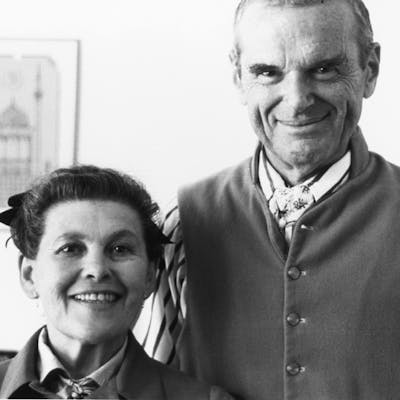 Charles and Ray Eames
Design is for living. That maxim shaped a widespread shift in design during the 1940s and '50s. It was a revolution of form, an exciting visual language that signaled a new age and a fresh start – and two of its prime movers were Charles and Ray Eames. This husband-and-wife team's unique synergy led to a whole new look in furniture. Lean and modern. Sleek and simple. Beautifully functional.
More on Charles and Ray Eames
Care & Maintenance
With regular care and maintenance, your Herman Miller product will provide many years of superior performance and satisfaction. To maintain quality, please follow the cleaning procedures outlined here.
The instructions for the care and maintenance of Herman Miller products are provided to you as a service. No warranty is implied since results may vary.
Chrome
For normal cleaning, wet cheesecloth in a nonabrasive cleaner, like liquid dish soap, and rub the chrome component lightly until the original luster reappears. Dry the component with a soft cloth to remove any soap residue.
Fiberglass
For normal cleaning, wash fiberglass-reinforced polyester surfaces with a soft cloth soaked in detergent and warm water. Rinse thoroughly and dry with a soft cloth. Do not use solvents or abrasive kitchen cleaners.
For removing scuff marks and stubborn dirt, use a soft bristle brush with detergent and warm water. Rinse thoroughly and dry with a clean soft cloth. After cleaning or if finish appears dull, apply a pre-softened automotive paste wax to restore original sheen. Do not use abrasive cleaners that may damage the finish.
Wood & Veneer
This includes Herman Miller products finished with wood veneer or recut wood veneer, except the oiled Eames Lounge Chair and Ottoman with Rosewood, Oiled Walnut, or Oiled Santos Palisander veneer unless specifically noted.
Normal Cleaning
Dust regularly with a slightly damp, soft, lint-free cloth. Wipe dry with a dry, soft cloth in the direction of the wood grain. Spills should be immediately wiped up with a damp cloth.
Once a month
Clean the surface with a soft cloth dampened with a quality cleaner formulated for wood furniture. Wipe the surface in the direction of the wood grain to remove dirt and fingerprints. Wipe dry with a clean, dry cloth.
Twice a year
Apply a good quality furniture polish with a soft cloth. Do not use aerosol-powered cleaners or polishes. Also, do not use polishes containing waxes or abrasives, or polishes that are oil based.
Stains
Herman Miller veneers meet strict testing standards for resistance to wear, light, stains, water, and pressure. To reduce the risk of damage, take some precautions: Use coasters for glasses and mugs. If a glass top is added to the veneer surface, be sure it rests on felt pads. Don't place a potted plant on a veneer surface unless it's in a water-tight container or in a drip tray. Don't let vinyl binders stay on a surface for very long. Use protective pads under equipment with "rubber" cushioning feet. Some chemical compounds used in the feet on office equipment, such as printers and monitor stands, may leave permanent stains or marks.
Minor repair of water rings, stains, and scratches
Rub the surface lightly in the direction of the wood grain using No. 000 steel wool. Apply a scratch-removing polish with a color and value that simulate the veneer. If the scratches are deep, consult a professional furniture refinisher.
Other Damage
Wood is susceptible to bruising and scratching from heavy office equipment, so we encourage a protective surface is placed underneath. Objects should be lifted instead of dragged across a surface. Protective pads should be used under items with a rough bottom, like pottery. Denting, caused by extreme pen pressure when writing, can also damage veneer. Use desk pads or some other protection where a lot of paperwork is done. Sunlight can damage veneer as well, so veneer surfaces should not be in direct sunlight. To help a surface age evenly, users can periodically move items on their desks so that the entire surface is exposed to an even amount of light over time. In addition to light, extremely high or low humidity is a damaging environmental factor. Herman Miller suggests maintaining a relative humidity of 35-65 percent.
Seating Fabrics
For normal cleaning, vacuum upholstery fabric as needed, using an upholstery attachment. If further cleaning is needed, dry-clean or spot clean fabric with solvent cleaner.
Do not brush fabric or use a vacuum attachment with a rotary brush. Brushing may permanently damage the nap or change the character of the fabric.
Do not apply water or any liquid solution. Wetting the fabric with any liquid solution may result in permanent damage.
Reviews

Questions + Answers