Frank Gehry is one of the most sought-after, internationally recognized and prolific architects and designers in the world today. His work defies categorization but has made him an icon of current architecture with such projects as the Vitra Museum in Weil am Rhein, Germany; the Guggenheim Museum in Bilbao, Spain; the Frederick R. Weisman Art Museum in Minneapolis; and the Walt Disney Concert Hall in Los Angeles. Gehry's newest architectural projects include a cottage-like hospital annex in Dundee, Scotland, and an extension to the Art Gallery of Ontario in Gehry's birthplace of Toronto. In addition to designing over 30 existing buildings, Gehry has distinguished himself with a handful of furniture designs, created throughout his career.

After studying architecture at the University of Southern California and spending a year at the Harvard Graduate School of Design, Gehry established his own architecture office in 1962, in Los Angeles. Ten years into his career, Gehry launched the value-based Easy Edge chair series, constructed from laminated cardboard. However, he soon withdrew the Easy Edge chairs from production, fearing that his popularity as a furniture designer would detract from his reputation as an architect.

In the 1980s, Gehry returned to furniture design and created his Experimental Edges furniture, again out of corrugated and laminated cardboard. The Experimental Edges series was "art furniture," in many ways similar to the work of Ron Arad and Tom Dixon, who used materials such as corrugated iron, plaster, industrial girders and wicker. The concept was an indication of Gehry's affinity for exploring structural strength and form in uncommon materials through mastery of engineering.

The early 1990s brought the development of Gehry's sculptural and gallery-ready Cross Check series for Knoll International. This collection of bentwood tables and chairs was a radically inventive use of materials: The chairs were made of "woven" strips of maple –taking inspiration from wooden apple crates – and required no additional structural support. Gehry also designed a series of Fish Lamps using ColorCore Formica, which are now in private and museum collections.

In early 2004, Gehry completed his year-long collaboration with Emeco to create the Superlight™ Chair, a dynamic new aluminum design that debuted at Milan's 2004 Salone Internazionale del Mobile. Weighing in at just 6.5 pounds, the Superlight blends strength with fluidity and comfort by gently moving with the sitter. Inspired by Gio Ponti's Superleggera Chair, the Superlight illustrates Gehry's architectural fascination with aluminum as both structure and skin and his proficiency in meshing components of engineering and design to create innovative, user-friendly furniture.

Gehry has received numerous prestigious prizes and awards, including the Pritzker Prize in 1989.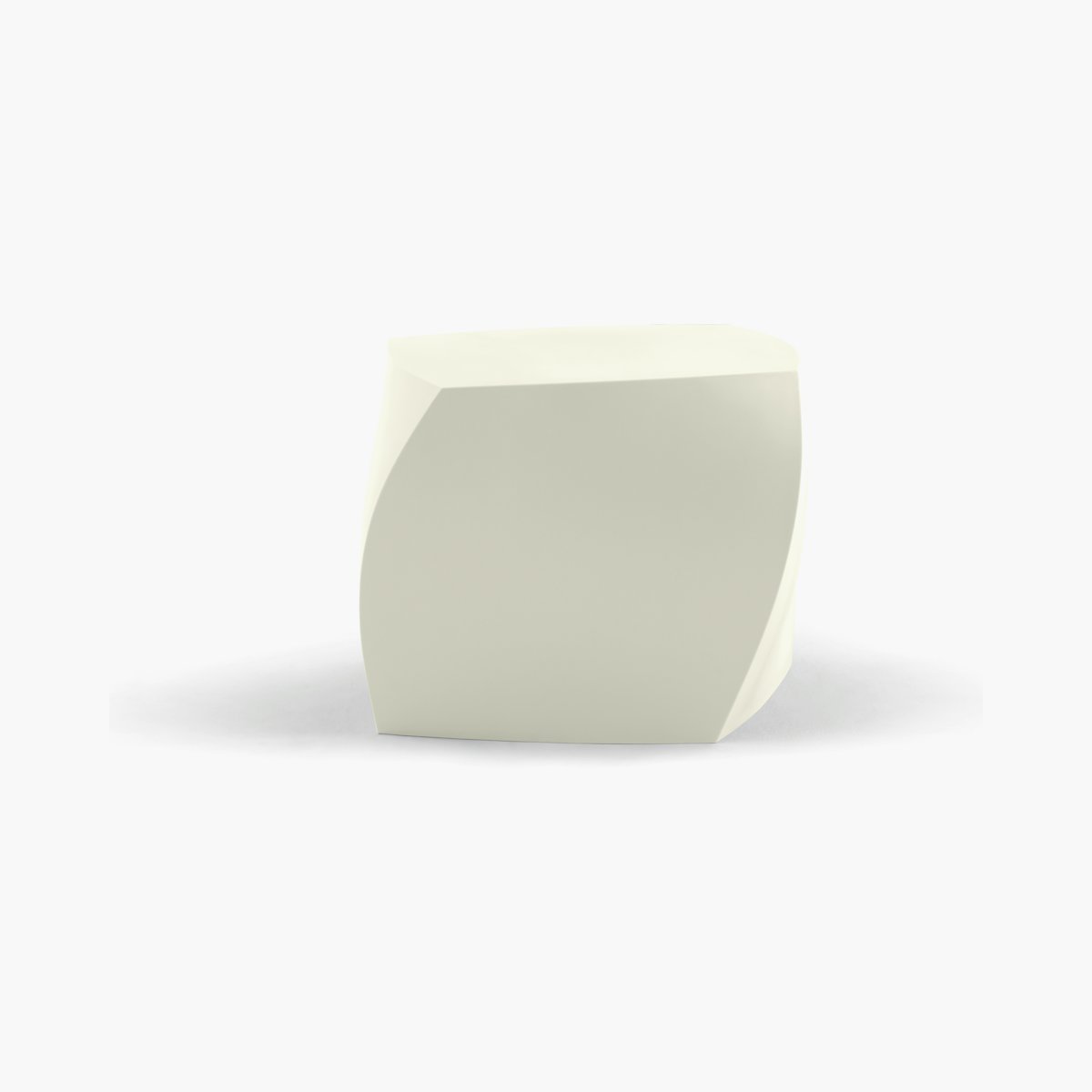 Frank Gehry Left Twist Cube
Heller®