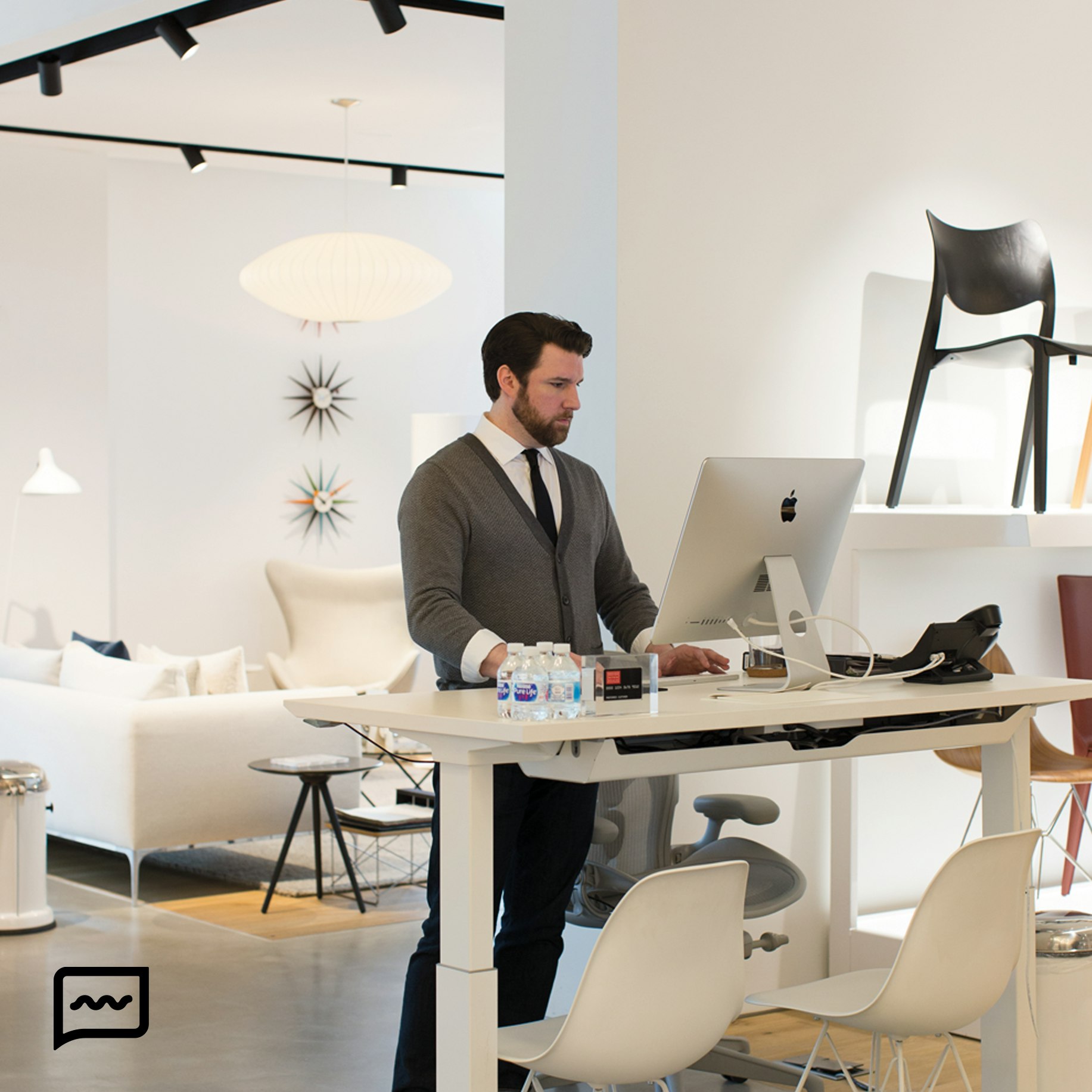 Any questions so far? We can help.
Complimentary design services including expert design consultations, in-home measuring and 3-D renderings of your rooms.
Modern Credenzas, Sideboards & Buffet Tables 
In the same category of dining room storage are three very similar pieces of dining room storage furniture: credenzas, sideboards, and buffet tables. All three are large storage units commonly found in kitchens and dining rooms, with cabinets and other storage compartments ideal for drinkware, dinnerware, and other entertaining essentials. But what's the difference between a buffet and a sideboard, and how do you choose between a credenza vs. a sideboard vs. a buffet table? 
What Is a Sideboard?
A sideboard, also called a sideboard buffet or sideboard cabinet, is a piece of storage furniture commonly used in the dining room for storing tableware and serving dishes. Sideboards typically feature large cabinets or cupboards with swinging doors and other storage compartments, like drawers or shelves. Their broad, flat surfaces are usually used for displaying or serving food, drinks, and desserts. Sideboards may also be called buffet tables for the buffet style of dining they're commonly used for – typically, a host will display tableware and platters of food atop a sideboard so diners may serve themselves as they please.

Where traditional sideboards and buffet cabinets often featured dark wood finishes, intricate inlays, and ornate wood carvings, modern sideboards and modern buffet tables forego embellishment in favor of minimalist simplicity. Mid-century modern sideboards and buffets showcase straight, clean lines (particularly in slatting), subtle recessed cabinet and drawer pulls, and warm wood finishes, like oak or walnut. For their versatility and high storage capacity, modern sideboard cabinets have also found their way into other rooms in the home, acting similarly to console tables in living rooms, entryways, and home offices.
What Is a Credenza?
A credenza is a type of decorative sideboard distinguished by its low, narrow stature and broad cabinets, which may have ornate wood or glass doors that swing or slide open. The word "credenza" comes from the Italian word for "trust" or "confidence," as during the Italian Renaissance, servants would sample food and drink on credenzas to test it for poison before serving it to their employer.

Nowadays, credenzas are used just like sideboards: for storing dinnerware and serving up food and drink for all to enjoy, buffet-style. Though the two types of dining room storage furniture are now almost indistinguishable from each other, credenzas are typically longer and lower to the ground than sideboards – some low credenzas don't even have legs. Modern credenzas are mostly unembellished, with sleek sliding doors and warm wood finishes. Contemporary storage credenzas are functional in more rooms than just the dining room; office credenzas are great for storing office supplies or serving happy hour drinks; living room credenzas can act as TV stands or media storage; bedroom credenzas pair well with mirrors as makeshift mid-century modern vanity dressers.
Credenzas vs. Sideboards vs. Buffet Tables: How to Choose
Because most of what differentiates a credenza from a sideboard buffet is height, width, depth, and whether the cabinet doors swing or slide open, choosing a piece of dining room storage furniture comes down to choosing a cabinet unit that will fit in your space, suit your needs, and look the part.

If you have limited space but would still like a handsome piece of functional storage furniture in your dining room, living room, or home office, consider a low credenza with sliding cabinet doors. With sliding doors, you won't need to account for swing space around your modern credenza. For a larger piece of dining room storage furniture, opt for a taller sideboard with ample surface space. If you're an avid entertainer, that extra surface space will come in handy around mealtimes, when it may be more convenient to have additional tableware and serving dishes within reach.

Some sideboards and credenzas are designed for specialized use, like wine bars, which have built-in racks for safely storing wine glasses and wine bottles. Some kitchen sideboards and credenzas have shallow, compartmentalized drawers made for silverware and other dining utensils. You can also look out for sideboards with soft-close hardware that cuts down on the sound and impact of drawers and cabinet doors closing.

Design is another consideration not to forget when choosing a modern sideboard or credenza. Though modern credenzas and sideboards share similar characteristics – minimalist silhouettes, warm wood finishes, slatted paneling – you can fine-tune your list of options by leg type, cabinet, hardware, and surface material, and more. At Design Within Reach, shop louvered and slatted wood credenzas made of solid walnut, oak, or ash (among others). Discover black sideboards with marble tabletops and solid brass hardware alongside brightly colored dining room cabinets with reeded glass doors.