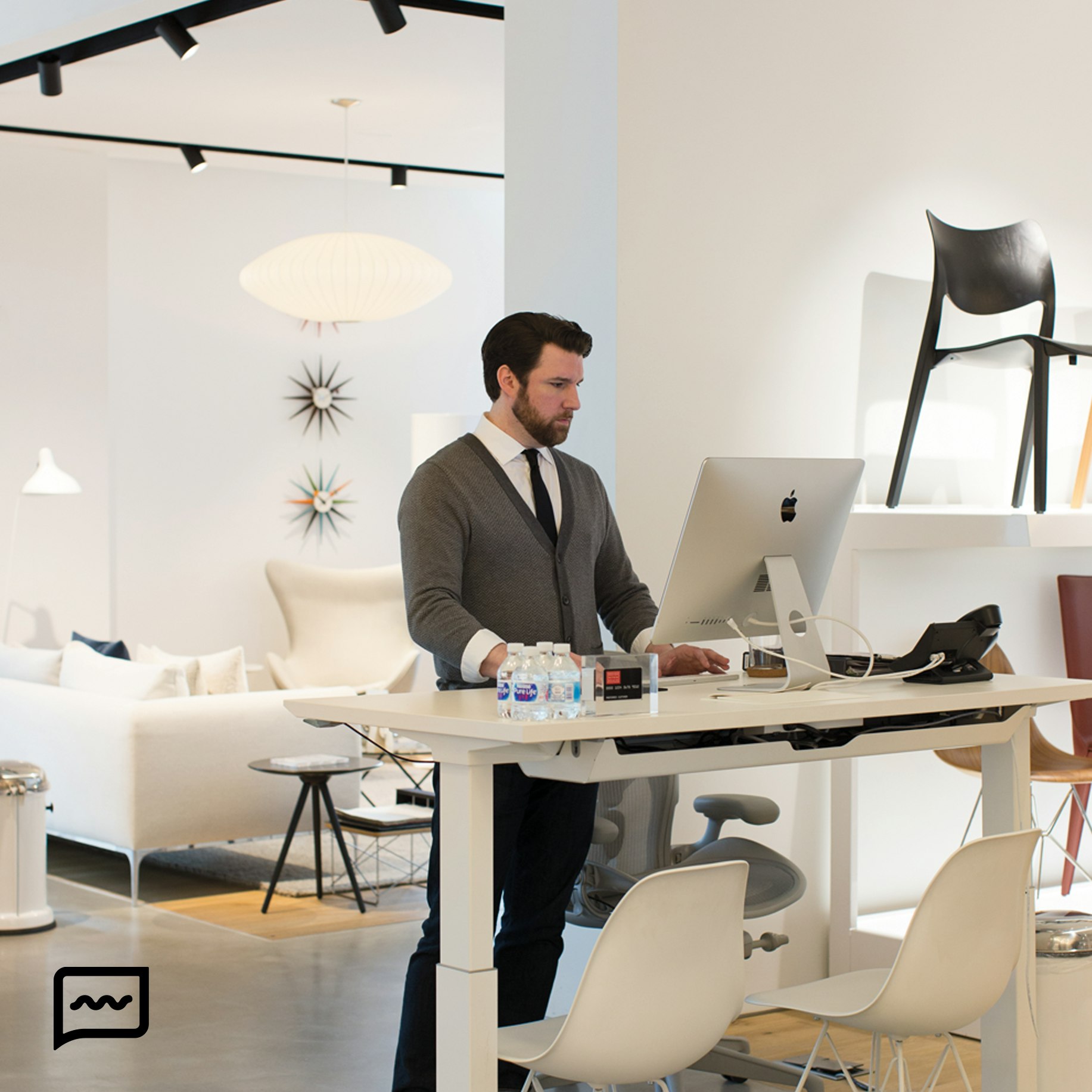 Any questions so far? We can help.
Complimentary design services including expert design consultations, in-home measuring and 3-D renderings of your rooms.
Modern Ceiling Fans
Ceiling fans: Are they the unsung heroes of the home? Energy efficient, versatile, customizable – contemporary ceiling fans boast a plethora of benefits.

By circulating a gentle breeze, indoor ceiling fans can make a room feel three to four degrees cooler. They can be especially useful in a lofted room or upstairs bedroom where warm air has risen. Alternatively, some ceiling fans also feature a reverse switch to keep warm air circulating, which is ideal during the winter months. No matter the season, this type of fixture is exceptionally energy efficient.

Modern ceiling fans with lights play double duty: they circulate air while simultaneously providing overhead light. When a chandelier or pendant fixture doesn't quite fit the lighting bill for your bedroom or office, opt for modern ceiling fans with light. At Design Within Reach, shop modern ceiling fans with lights that will keep your space cool and bright in style.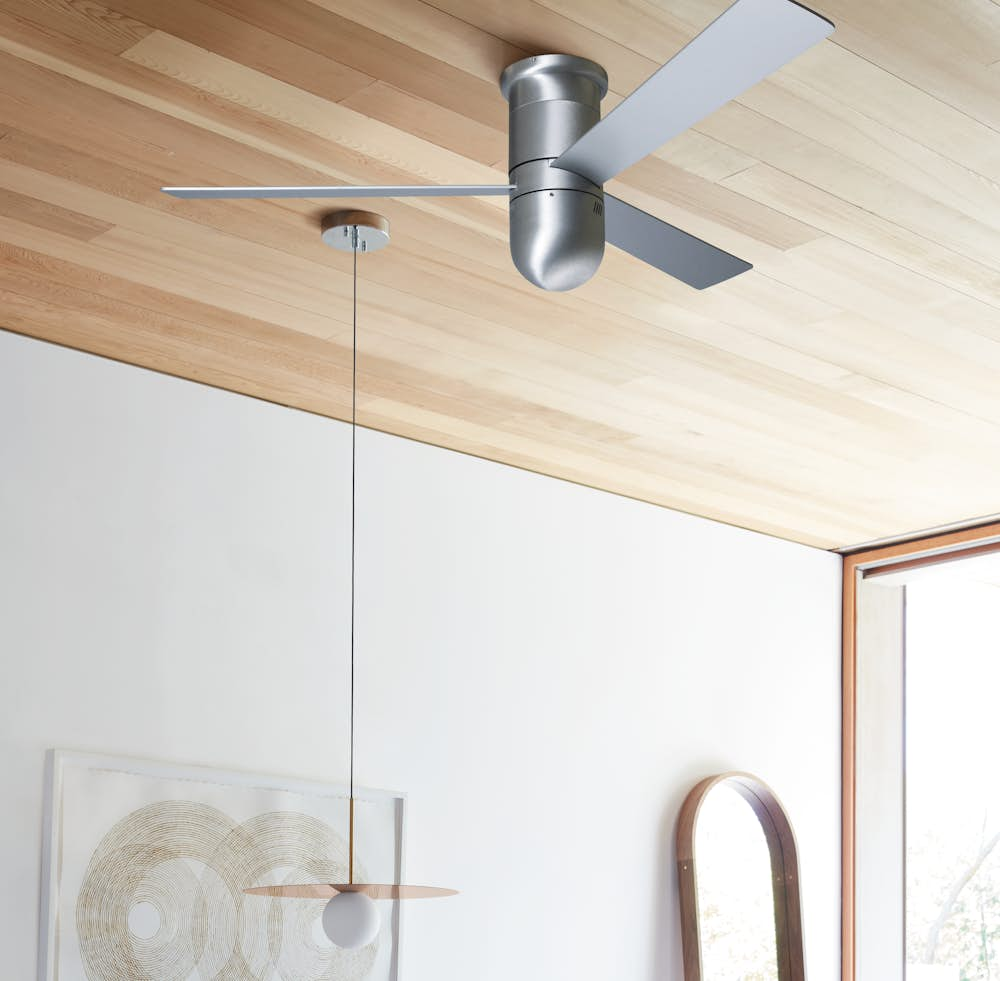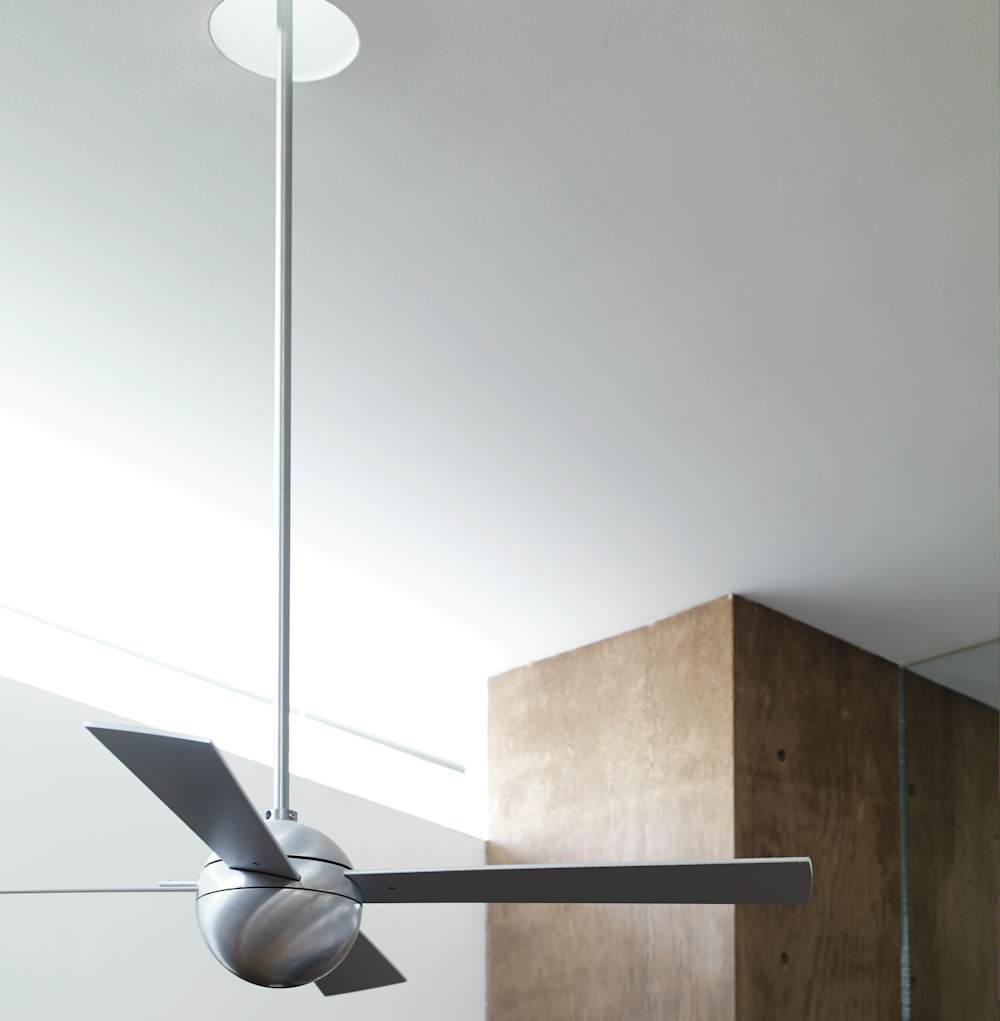 How to Choose a Ceiling Fan
Ceiling fan sizes vary depending on their design. If you're wondering how to measure ceiling fan size, there are two important ceiling fan dimensions to keep in mind: height and diameter.

Height is measured from the top of the fixture (where it mounts to the ceiling) to the bottom of the fixture. A ceiling fan's diameter is ever-so-slightly more difficult to determine. If the fan has an odd number of blades, calculate the diameter by measuring from the center of the fixture to the tip of one blade, then multiply that number by two. If the fan has an even number of blades, measure the distance between opposite fan blades.

If you're looking for ceiling fans for small rooms with low ceilings, consider a flush-mount ceiling fan. This type won't occupy too much air space in the room, nor will it be too low to walk beneath. As a general rule, it's best to select a flush-mount design if the height of your ceilings is eight feet or lower. Choose an extended ceiling fan, or one with a down rod, if your ceilings are nine feet or higher. Contemporary ceiling fans for small rooms and modern extended fans are equally sophisticated.

When equipped with a bulb or LED array, fans instantly become modern ceiling lights, making them an easy choice for living rooms, bedrooms, and offices alike. Rendered in rich materials with luxe finishes — like brushed aluminum, powder-coated steel, and solid wood — ceiling fans add an element of functional yet contemporary design to any room in the home.

What ceiling fan direction is best?
Wondering which way your ceiling fan should spin? The right ceiling fan direction will change depending on the season and purpose you'd like your fan to achieve. A ceiling fan spinning counterclockwise will create a downdraft, which is effective for circulating cool air on hot summer days. A ceiling fan spinning clockwise will create an updraft, which is great for circulating warmer air during the winter. For a cooling effect, opt for counterclockwise; for a warming effect, set your fan to spin clockwise.

At Design Within Reach, we're here to answer questions and more, with complementary design services to support you at every step of your interior design journey. Our staff of in-store design professionals can give advice and recommendations via chat, photos, and live video. They can also do 3-D renderings of your rooms so you can see how an arrangement might work. Look for the black chat icon at the lower right of webpages.