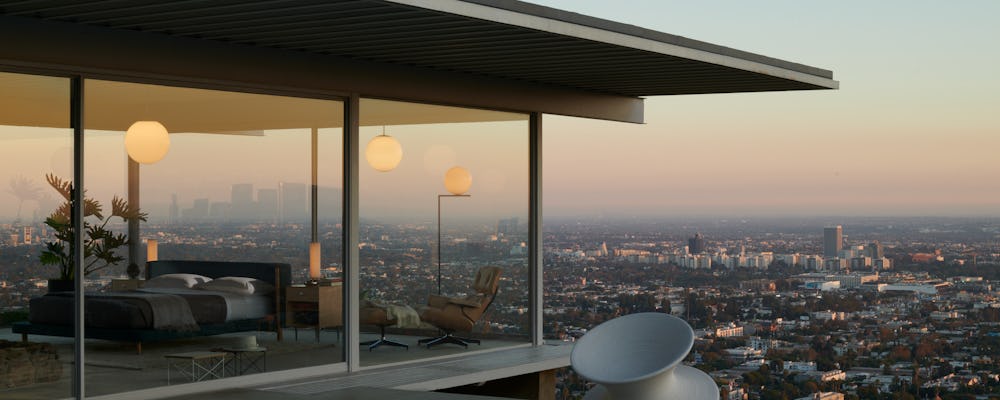 Modern Lighting & Modern Ceiling Fans
Illuminate your space with functional, design-forward modern home lighting. Through the innovative use of materials, modern light fixtures create welcoming pools of light or offer a warm, ambient glow – without producing glare or harsh shadows. While function is a primary tenet of modern light fixture design, it's also common to find Bauhaus industrial influence and elements of Scandinavian design in midcentury modern lighting.

It's no surprise that some of the most well-known midcentury modern lighting designers – Arne Jacobsen, Poul Henningsen, and Hans Wegner, to name a few – came from Nordic countries. Long, dark Nordic winters drove designers and architects to design light fixtures that produced artificial lighting, which was critical in the absence of natural light.

Similarly, modern ceiling fans combine form and function. Designed with sleek, minimalist silhouettes, the best modern ceiling fans are quiet, efficient, and contribute to a cohesive modern design scheme. At Design Within Reach, explore an assortment of modern light fixtures and ceiling fans that represent the best in modern design. But first, learn more about the types of light fixtures to find what's right for your home.
How to Choose Light Fixtures
Consider lighting types.
To choose the right light fixture for your home, consider the type of lighting your space requires. The two primary types of lighting are ambient light and task light.

Ambient lighting is ideal for illuminating large areas. Flush- and semi-flush mount ceiling lights, wall lights, chandeliers, and modern pendant lights are optimal for illuminating large areas of your home. You can also use smaller ambient light fixtures, such as floor lamps and table lamps, to supplement the lighting in spacious rooms, like a large living room or open concept floor plan. Chandeliers are an excellent choice for living rooms, bedrooms, and dining rooms. Similarly, pendant lights are ideal for living and dining areas; these are commonly hung alone or in multiples above a seating arrangement or dining table. Wall lights and wall sconces are frequently installed in pairs, with one on either side of a central feature of a room, like a mantel, buffet table, or bed.

Task lighting illuminates small areas, usually a workstation or desktop. A floor lamp next to a lounge chair can provide light for reading or laptop work, while desk lamps are ideal for home offices or other workspaces throughout the home.

Consider modern light fixture materials.
Midcentury modern designs emphasize accessibility and ease of production. As a result, many midcentury fixtures are crafted of modern lighting materials that are easy to produce, including metals such as brass, stainless steel, and polished or powder-coated aluminum. Modern light fixtures often feature a minimal aesthetic, but they're not devoid of artistic elements. From a linear design to organic shapes and traditional fabric shades to sculptural diffusers in frosted or sandblasted glass, modern lights come in a diverse array of styles. Like modern light fixtures, modern ceiling fans are crafted of easy-to-produce materials, featuring metal, solid wood, or lightweight plywood fan blades.

Should light fixtures match throughout the house?
Light fixtures don't need to match throughout your home. However, you should try to choose light fixtures that contribute to a cohesive design scheme. Whether they're made in the same style, incorporate similar materials, or have similar shapes, cohesive light fixtures can make your home feel unified and complete.

Where to buy light fixtures?
For the best in authentic modern lighting and ceiling fans, shop at Design Within Reach.