Modern Rugs + Runners
A carefully chosen modern rug can completely transform your space. Functional bathmats, doormats, and rug runners add softness, color, and character to high-traffic areas. On a larger scale, indoor and outdoor area rugs ground more spacious areas of your home and complement the rest of your furniture and decor.

Many modern area rugs incorporate artistic design elements, including abstract and organic shapes, monochromatic color palettes, color blocking, and playful motifs. In bright colors, a modern area rug can infuse a space with vibrant character. Or, in muted hues, a contemporary rug can serve as a quietly sophisticated backdrop for the furniture within a space. At Design Within Reach, discover a wide range of designer rugs for myriad settings – but first, learn how to choose the right rug sizes and materials.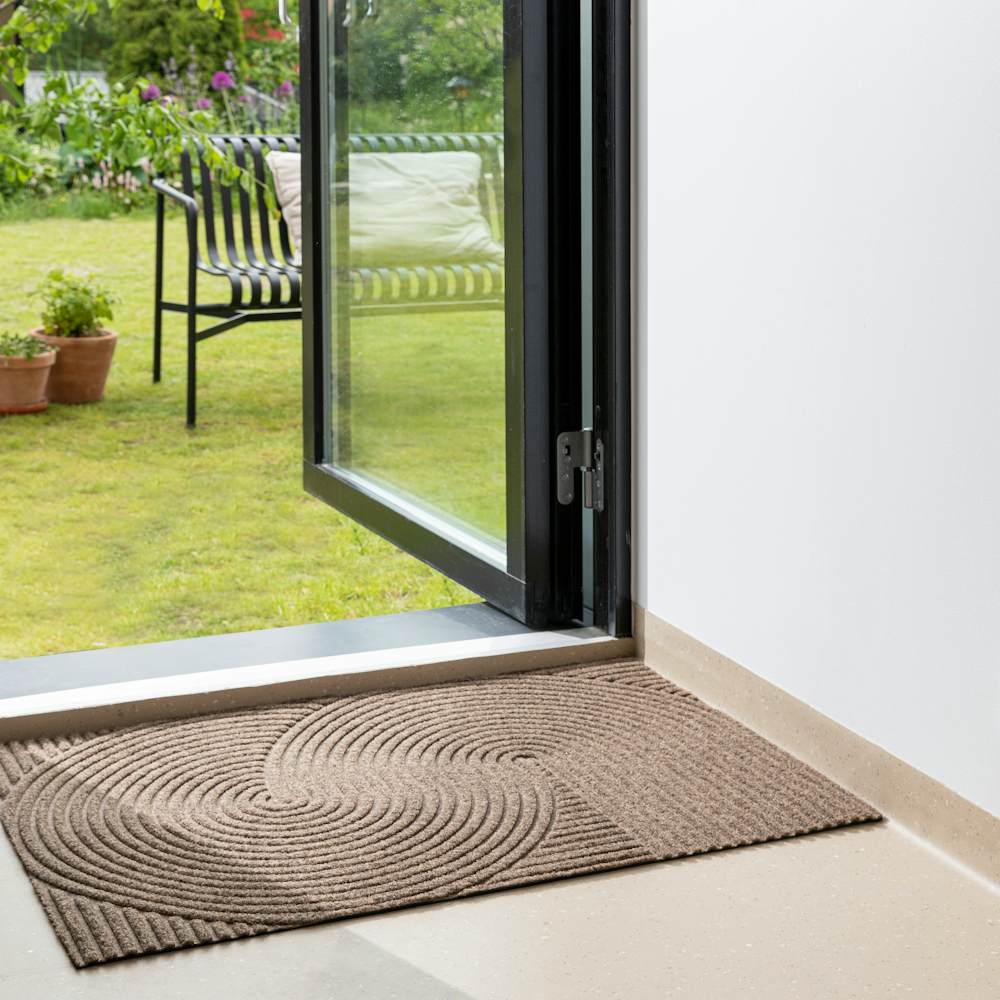 How to Choose the Right Rug Size
Choosing the right area rug size is essential for maximizing the visual and functional impact of your rug. A floor covering that is too large or too small can throw off the proportions of your space, which may in turn diminish the impact of the rest of your furniture and decor.

For a living room with a standard conversation set, consider an area rug that fits the entire conversation set with no overhang, or one that fits just the front legs of your sofa and any armchairs. In the first case, choose a large living room rug that extends at least eight inches beyond each side of the conversation set. In the second case, choose a living room rug that will fit under at least one-third of each chair. But be mindful that it doesn't extend to the wall – as a rule, there should be about 10 to 24 inches of floor space between your rug and the wall.

In a bedroom with a standard setup, you can choose a bedroom rug that will ground the entire furniture set, a rug that grounds most of the bed and just the front legs of the nightstands, or a rug that grounds the lower two-thirds of the bed and doesn't reach the nightstands. In each case, you want a bedroom rug that centers underneath the bed with overhang at the foot of the bed, and spans as wide or wider than the furniture positioned on either side of the bed.

A dining room rug should be large enough to fit all four legs of each piece of furniture, including the table and chairs. Ideally, you should choose a dining room rug that mirrors the shape of your dining table (i.e. a round rug for a round table) and is at least two feet wider on all sides than the dining table. This will give you ample space to pull out chairs.

What size rug for a living room?
The right living room rug size will depend on the size of your space, but typically, large area rugs – like 12'x15', 9'x12', and 8'x10' options – are great for living rooms.

What size rug is best for a queen bed?
For maximum impact, a rug should be 12 to 18 inches wider than the bed. When placed perpendicular to the bed, a rug under a queen bed should be at least seven feet long.

What size rug is best for a king bed?
A rug under a king bed should be at least eight to nine feet long.

Where to buy rugs?
With a variety of different materials and sizes available, Design Within Reach is a reliable source for buying modern rugs online.