Modern Bath Accessories
Just because bathrooms are some of the most functional areas of the home doesn't mean they're exempt from the principles of good design. Like any other room, a bathroom should be equipped with beautifully crafted yet pragmatic accessories that enhance decorative appeal and organization. In fact, with the right bath accessories set, you can create a spa-like experience that rivals the luxurious bathrooms of five-star hotels.
Matching bath countertop accessories not only tie a space together, but they also promote organization. These modern home accessories can even help streamline your morning and evening routines by keeping your necessities within easy reach. Opt for a contemporary bath accessory set to infuse your bathroom with sleek design elements. Or choose a set crafted from cork to incorporate more natural materials.
Although it takes more than a set of matching towels to enhance your bathroom, it's easy to choose designer bath accessories. Ultimately, your bathroom should reflect your home's interior design aesthetic. It should incorporate thoughtfully chosen pieces that elevate your space, promote organization, and inject your bathroom with a sense of style. Remember, no space is too small to incorporate elements of good design. Here, we're sharing different types of bath accessories and tips on how you can use them to freshen up your space.
Home Bath Accessories
There are a few different types of bath accessories that can help transform your bathroom into an oasis — and a functional one at that. To enhance organization, choose a bathroom vanity tray or counter caddy. These often feature a compartmented design with sections for various countertop necessities. They're often crafted from recycled plastic, cork, or even bamboo fiber, all of which are easy to wipe clean.
Bathroom storage bins are also ideal countertop accessories. Lidded boxes and jars provide concealed storage space for cotton balls, swabs, and other daily essentials. These also help promote a clutter-free surface. Complete your counter with a toothbrush holder and modern soap dispenser. Opt for matching pieces to create a visually pleasing, streamlined look.
To further minimize the appearance of clutter, select a modern laundry hamper. This will help prevent clothes from piling up on the floor. Save time sorting laundry by choosing two hampers (if space permits): one for dark clothes and one for lights.
Select a small modern bath mat to place outside your shower, and choose a runner to span the length of the floor beneath your sink. Quick-drying cotton is an optimal choice for a bathroom, or go for a teak mat which naturally resists moisture and germs. Finally, opt for a modern towel rack to keep your towels dry. A towel ladder, hooks, or even dots are easy to install and occupy little wall space, allowing plenty of room for hanging towels to air-dry. Remember, a few thoughtfully chosen bath accessories will instantly elevate your space, making it not only a functional place but also a well-designed room in your home.
At Design Within Reach, we're here to answer questions and more, with complementary design services to support you at every step of your interior design journey. Our staff of in-store design professionals can give advice and recommendations via chat, photos, and live video. They can also do 3-D renderings of your rooms so you can see how an arrangement might work. Look for the black chat icon at the lower right of webpages.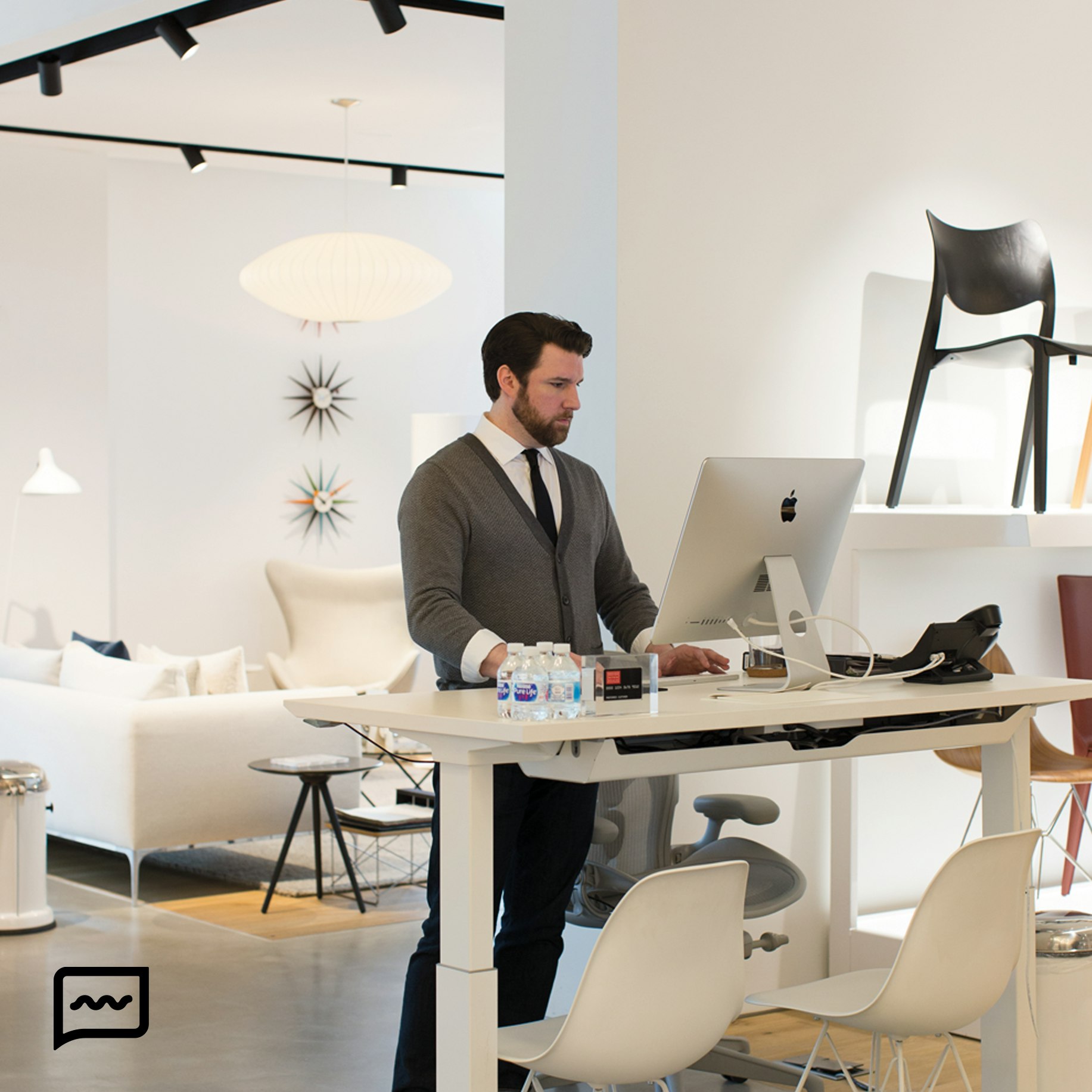 Any questions so far? We can help.
Complimentary design services including expert design consultations, in-home measuring and 3-D renderings of your rooms.
Modern Bathroom Accessories 
In a bathroom, comfort and cleanliness are key. The right bath towels and bathroom accessories can transform your bathroom from a cold, damp, cluttered place of business to a cozy, organized haven where you can take care of yourself comfortably. For a simple upgrade, exchange your old towels or bathmat for a crisp new set that will keep you warm and dry, or, for a more intensive bathroom transformation, implement new shelving units and storage systems for all your bathroom essentials. At Design Within Reach, shop modern bathroom accessories that will put the coziest finishing touches on your modern bathroom.