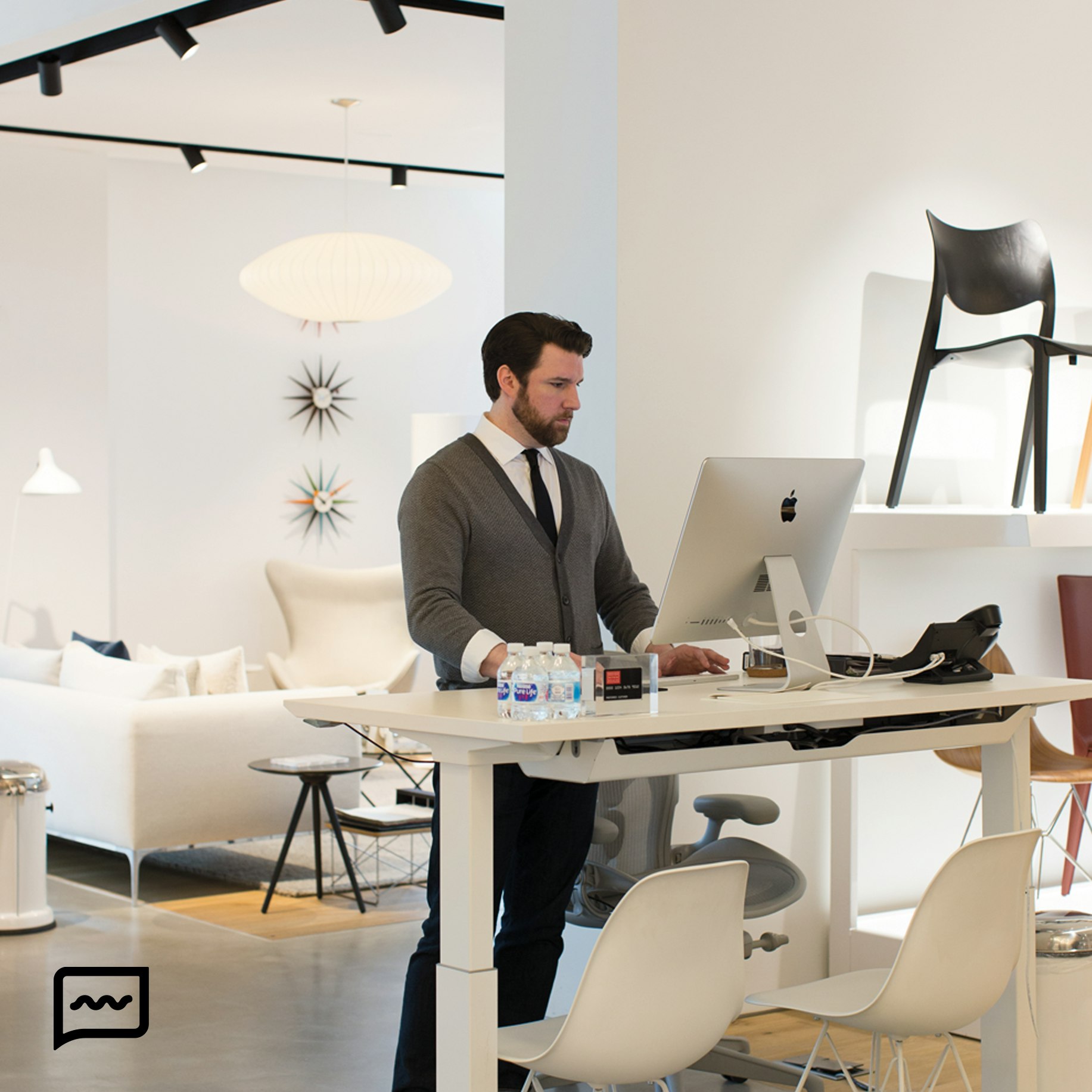 Any questions so far? We can help.
Complimentary design services including expert design consultations, in-home measuring and 3-D renderings of your rooms.
Modern Bar & Counter Stools
It has been said that the kitchen is the heart of the home. It should come as no surprise, then, that family members and guests alike tend to gravitate toward that area. Bar stools are a natural choice for casual kitchen counter seating, allowing people to easily converse without impeding traffic flow in the kitchen.

Although this seat is casual by nature, it isn't exempt from the principles of good design. A bar stool should combine compelling design elements with high-quality materials. Consider clustering mid-century modern counter stools around your kitchen island; or choose contemporary swivel bar stools to provide versatile seating between a bar top and living area.

Whether you choose bar stools with backs or opt for a backless silhouette, this type of seat tucks neatly under the counter for ultimate space efficiency. Depending on the height of your countertop, opt for either modern counter stools or contemporary bar stools.

Choosing modern dining furniture may seem like a daunting task, but with the right guidance it's a simple and fun step toward a well-designed home.
How to Choose a Bar Stool
As you begin your search, keep these bar stool dimensions in mind. Standard counter height is approximately 34"-36." For this height, select stools that range from 23" to 27" high. On the other hand, a standard bar top is slightly higher than a counter, measuring 40" to 42" high. To sit comfortably at this level, the best bar stool height is between 28" and 33" tall. Remember, it's best to leave roughly 10" to 13" of space between the seat of the stool and the underside of the counter. This gives guests and family members ample space to cross their legs.

Bar stools are available in a variety of shapes and materials that convey vastly different styles. If your interiors skew mid-century modern, choose wooden bar stools crafted from oak, walnut, or black ash. Or opt for a velvet- or leather-covered seat atop wooden legs.

For a minimalist interior, consider see-through ghost stools or metal bar stools rendered in polished aluminum for a sleek, high-shine finish. Plastic bar stools play well with a range of interior design styles, from Bohemian-chic to contemporary. Select a molded plastic chair atop metal or wooden legs. Don't be afraid to mix colors and materials for a playful yet sophisticated look.

For traditional interiors, opt for a wooden bar stool with a curved back and cane seat that evokes Parisian café furnishings. If comfort is a high priority, be sure to choose bar stools with padded seats. Or consider adding cushions to bar stools that don't feature an upholstered seat. Finally, when browsing bar height stools, select a style with a footrest so that your feet don't dangle uncomfortably. Once you've chosen well-designed pieces, your kitchen bar stools just might become some of your favorite seats in the house.