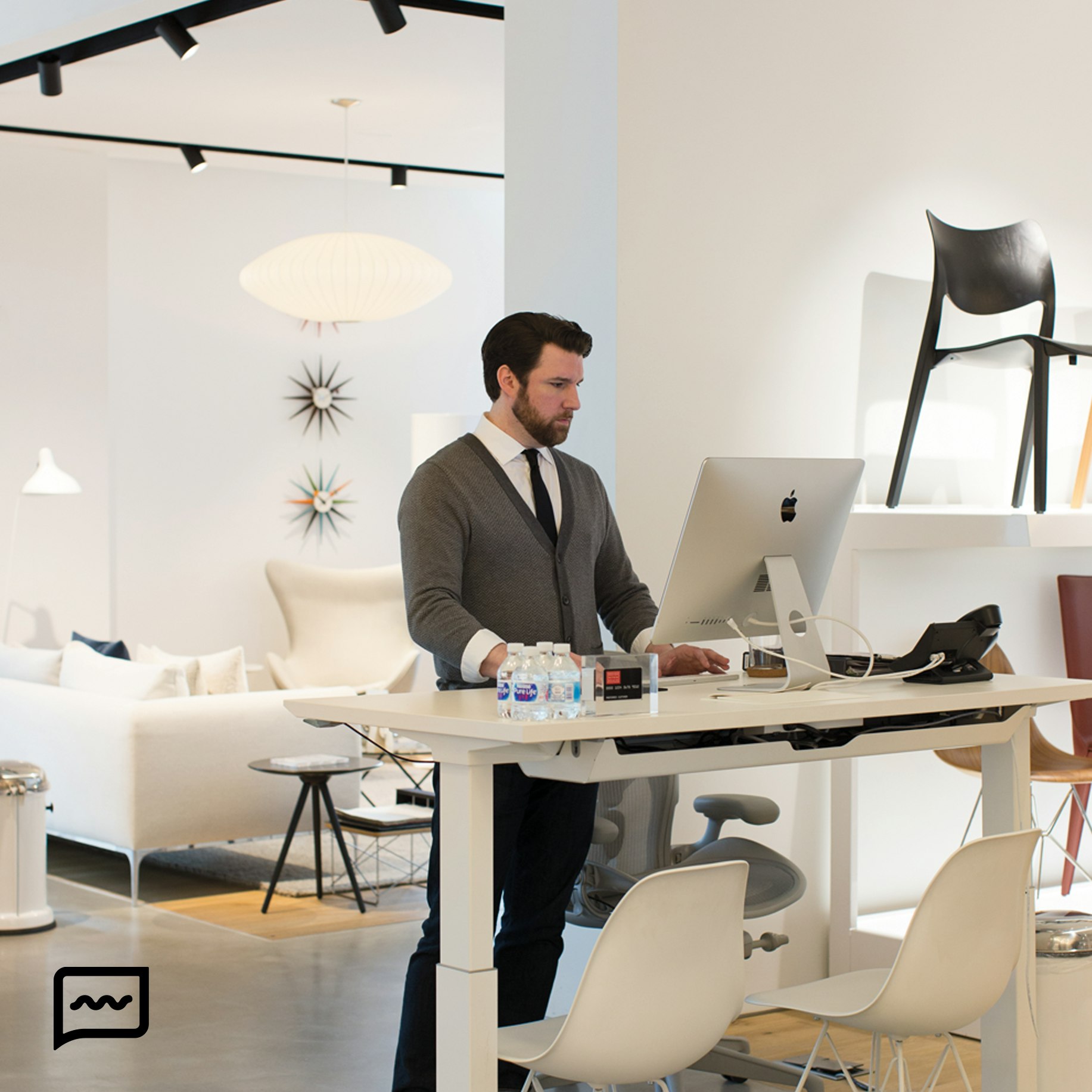 Any questions so far? We can help.
Complimentary design services including expert design consultations, in-home measuring and 3-D renderings of your rooms.
Modern Lounge Chairs & Armchairs
After the sofa, the lounge chair is the next most important piece of modern furniture in most living rooms, and together they form the core of living room design and function. A typical configuration might place a sofa across from a fireplace or other focal point of a room and then a mid-century modern lounge chair to the left and a modern armchair to the right. Place a coffee table in the center of the group and a well-chosen rug under that, and you have the makings of a great spot for entertaining. If a sofa is thought of as a good place for an afternoon nap, the living room accent chair is the place to curl up with a book or crossword puzzle.
How to Choose a Lounge Chair 
Consider lounge chair dimensions.
When choosing an accent chair, it's good to consider size, comfort, and style all at once. Choosing a comfortable lounge chair should always be top priority, but it's also important to choose a stylish chair with suitable dimensions for your space. Though almost all accent chairs are designed for a single sitter, there are no standard dimensions to reference – lounge chairs can vary widely in size from piece to piece. Be aware of how much space you have for accent chairs in your living room and pay particular attention to the dimensions of the chairs that catch your eye while shopping.

Opt for comfortable materials.
It's important to be thoughtful when choosing an upholstery material for your lounge chair. As with other upholstered chairs, there are two primary material options to choose from: leather and fabric.

Leather Lounge Chairs: Upholstery materials and the function of a chair are important considerations. A leather lounge chair is a dream to mid-century modern collectors and contemporary interior designers alike. High-quality leather is durable, impressive, and handsome, becoming even more so over time. Leather is excellent at retaining heat, making leather chairs some of the warmest and most enveloping accent chairs available.

Fabric Lounge Chairs: Fabric lounge chairs are softer to touch and more breathable than leather options. Many modern fabrics come with superior durability and are available in a wide range of colors and textures. Many accent chairs and armchairs available at Design Within Reach can be upholstered in a number of fabrics including leather.

Style is of course an essential piece of the puzzle, but durability and ease of cleaning are also necessary considerations – especially if you live in a household with children or pets. For durability, think about leather, cotton, linen, wool, and some synthetic fabrics. But beware: leather can scratch easily. When shopping for accent chairs at Design Within Reach, click the question mark beside a material's name for information on its content, durability, ease of cleaning, and more.

Don't forget an ottoman!
Modern ottomans provide a finishing touch and add that extra bit of comfort – a place to put your feet up after a long day. They also can add an informal extra seat when you have a roomful of guests. Whether you choose a recliner, chaise lounge, or a leather armchair, Design Within Reach offers a wide assortment of comfortable options.