Game-changing comfort
Advance the way you work or play – in collaboration with the experts at Logitech G, Herman Miller is bringing groundbreaking comfort to the world of gaming. Set yourself up for success with the world's most advanced gaming products, from best-in-class, research-backed chairs to innovative accessories – all designed for better health and better play.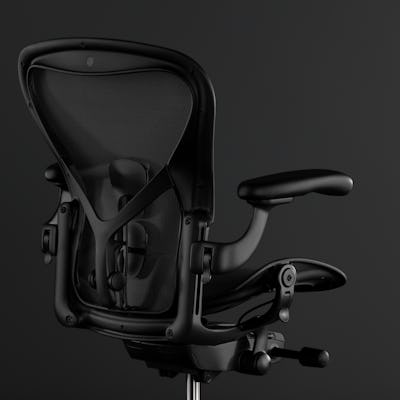 Play in an icon
Aeron Gaming Chair
More than 25 years ago, the Aeron Chair brought ergonomics to the office, forever redefining what we expect a task chair to do. Today, it brings the same game-changing engineering to gaming setups with this special edition of the iconic Aeron Chair, optimized to deliver maximum comfort for maximum performance – and updated in an all-black colorway to match your gaming setup.
Next-level comfort
Embody Gaming Chair
Enduring, durable design
Herman Miller gaming chairs are made in the U.S. with best-in-class, sustainable materials. Each one is rigorously tested and backed by an industry-leading 12-year warranty. Unlike other gaming chairs on the market, these are made to last – you won't have to replace them every few years.