SUNDAY SUPPER WITH GINA CORRELL AGLIETTI
Chosen family
Most Sunday afternoons, you'll find Gina Correll Aglietti cooking for a group of close friends and colleagues. As a co-founder of YOLA Mezcal, a women-run Oaxacan mezcal brand, Gina and her team work out of her home, so there is a natural fluidity between work, life, and entertaining, especially because her home happens to be a notable 1934 R.M. Schindler house that looks out over Silver Lake in Los Angeles. "My house became the go-to for outdoor dining during Covid," says Gina. "Because I'm fortunate enough to live in this architecturally significant property, it's something I love to share with people."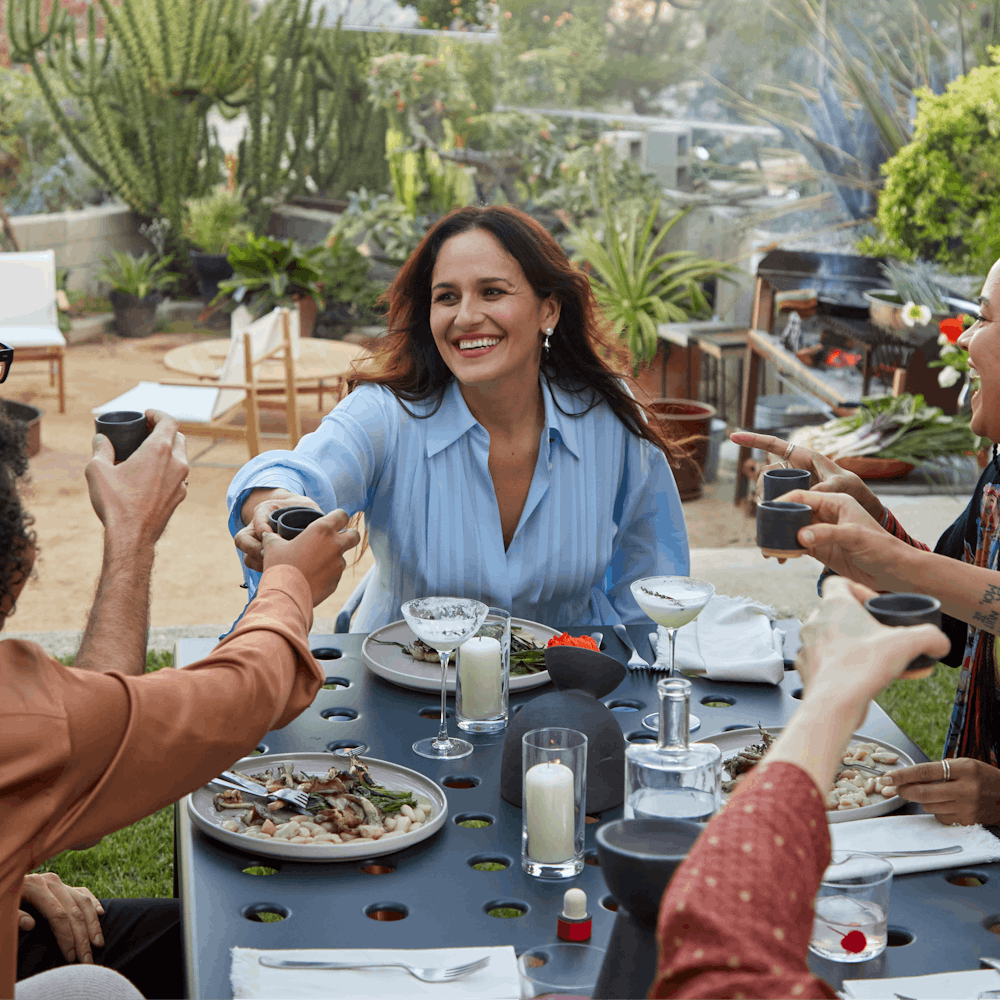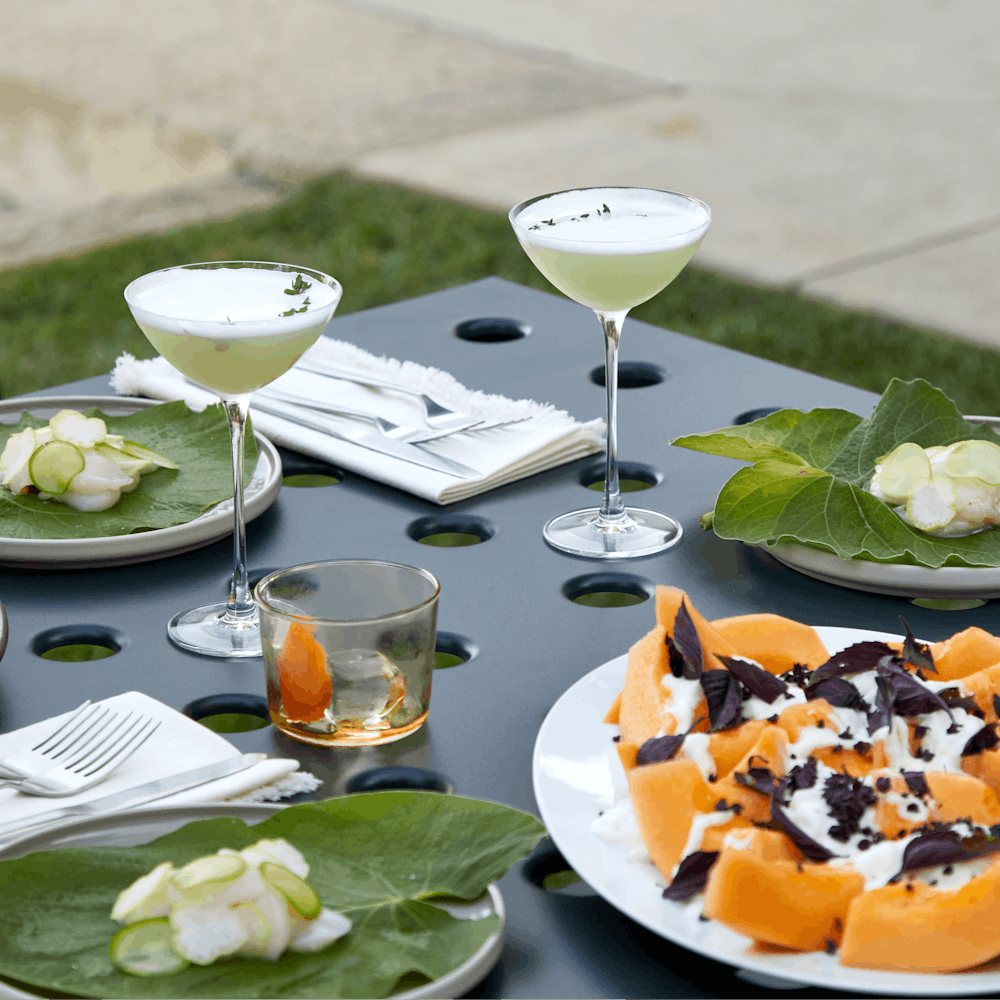 Keep it simple
and fresh
A cook and stylist, Gina likes to prepare meals that are "ingredient-focused, as fresh as possible, and simple enough to let flavors speak for themselves." For this leisurely Sunday afternoon hang, she served a pescatarian meal of heirloom tomato salad, cantaloupe with burrata, scallop crudo, and grilled fabada beans with oyster mushrooms.

For drinks, YOLA mixologist Magna Howard whipped up a variation on a white negroni made with mezcal and chartreuse, frothed with an egg white. The vibe is always relaxed, and the table is set simply with flowers or foliage from the garden. "My style is quite minimal – I don't like overly fussy decor that gets in the way," says Gina. "The beauty of nature and being together is healing."
"It's less about entertaining, and more about nourishing each other. I always want guests to leave feeling like family, even if they're newcomers." —
Gina Correll Aglietti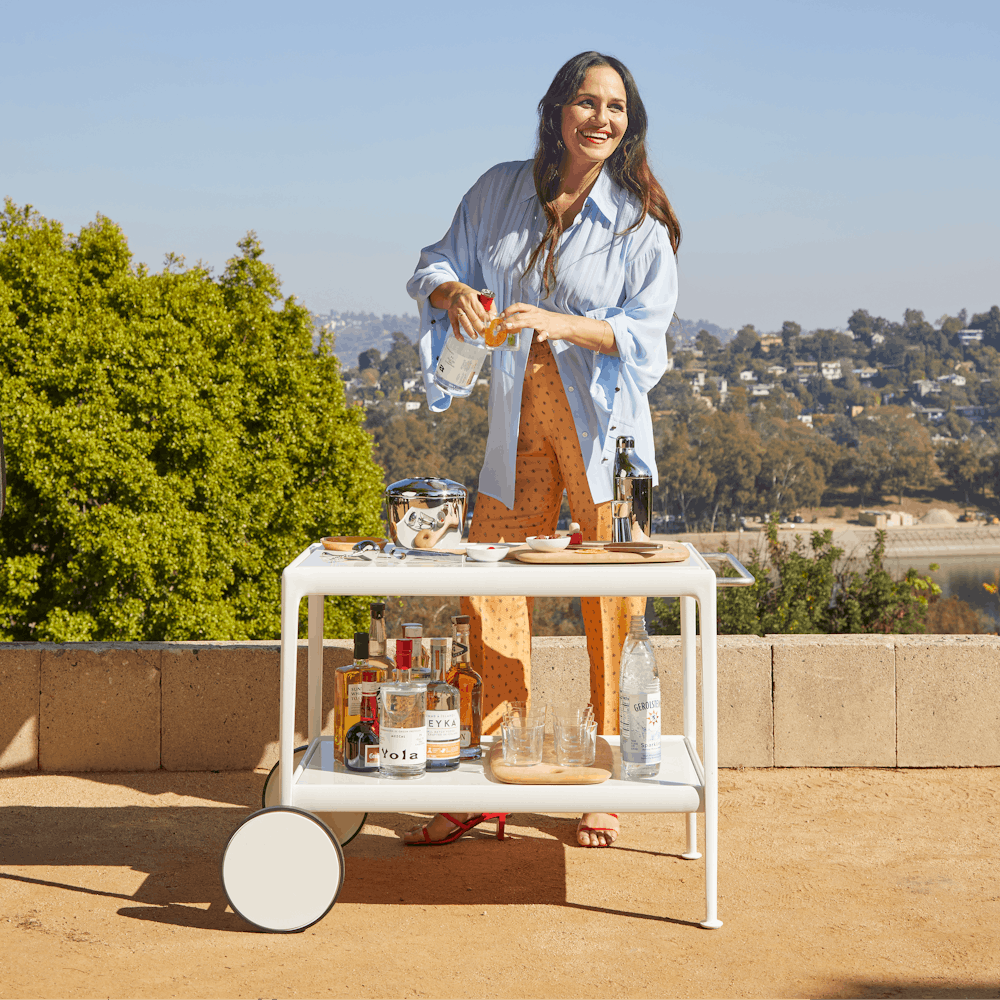 Creating an intentional
community
"As female founders of YOLA, we're working to create a different, more familial company," says Gina. "We're thinking about how we want our workday to feel. Since my home doubles as our office, there's an easy mix of work with play, and my friends have also become part of my work family.

"When I entertain, I like it to be relaxed – 'come when you can' – not doing lots of prep ahead of time, just letting people hang out with me in the kitchen. I tend to serve things that just need assembling and don't require a high degree of attention. I like dishes you can share, which encourages people to interact with each other. The most important ingredient is your own enjoyment – then the food will taste good."
Melon and Burrata
Serves 6–8

Ingredients:
2 medium-size cantaloupes or sweet melons
½ ball of burrata cheese
1 bunch of wild opal basil (substitute: fresh basil)
Sea salt
Extra virgin olive oil

1. Slice melon into 3-inch wedges.
2. Break up burrata by hand and spread among melon slices.
3. Wash basil and remove leaves from stems. Gently tear and sprinkle over melon.
4. Sprinkle with sea salt and drizzle with a tiny bit of extra virgin olive oil.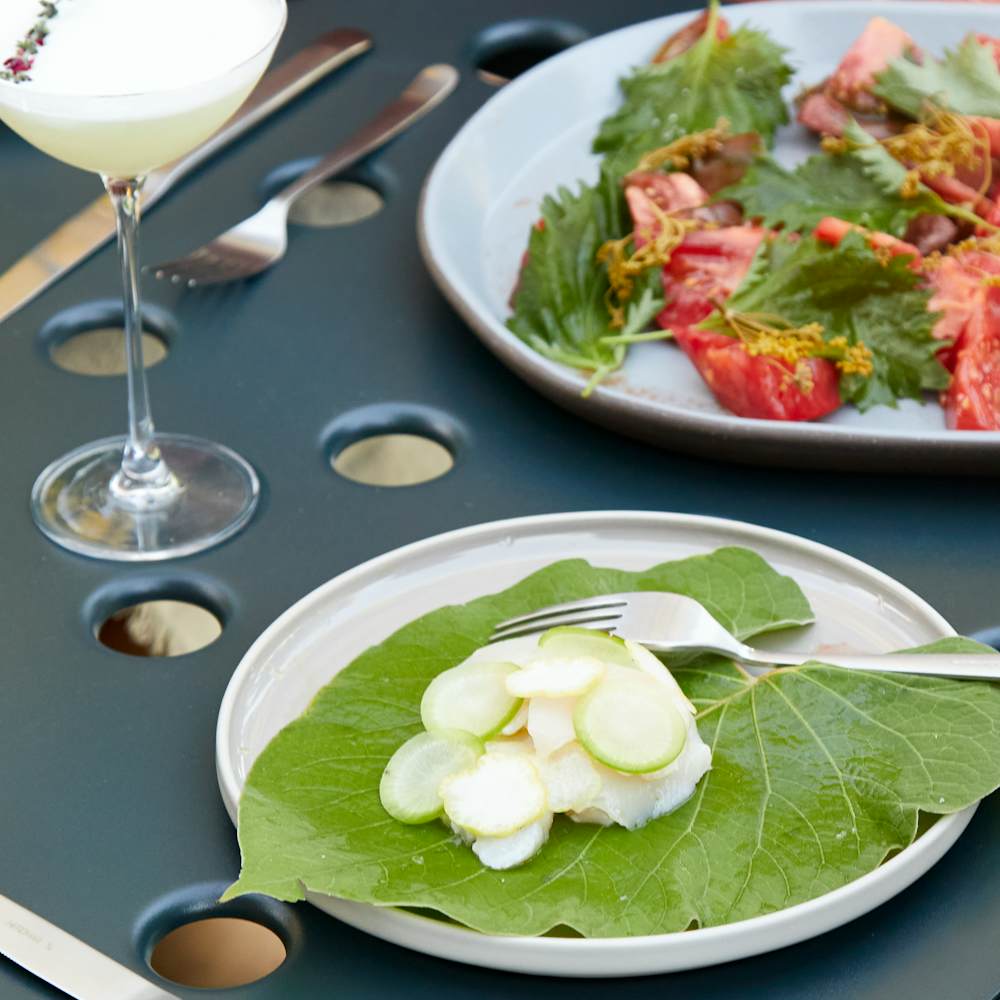 Scallop Crudo
Serves 6–8

Ingredients:
6–8 hoja santa leaves (substitute: banana or fig leaves)
10–12 medium-size sea scallops
1 Buddha's hand citron (substitute: small citrus fruit, such as kumquat, lime, or lemon)
1½ tablespoons olive oil
Juice of 1 lemon
Sea salt

1. Place one hoja santa leaf on each plate.
2. Slice scallops into ¼-inch rounds and place 5–6 pieces atop each leaf.
3. Very thinly slice Buddha's hand or cut with a mandoline into sheer rounds and place atop scallops.
4. Combine olive oil and lemon juice and stir until smooth. Drizzle a small amount over scallops and finish with a sprinkle of sea salt.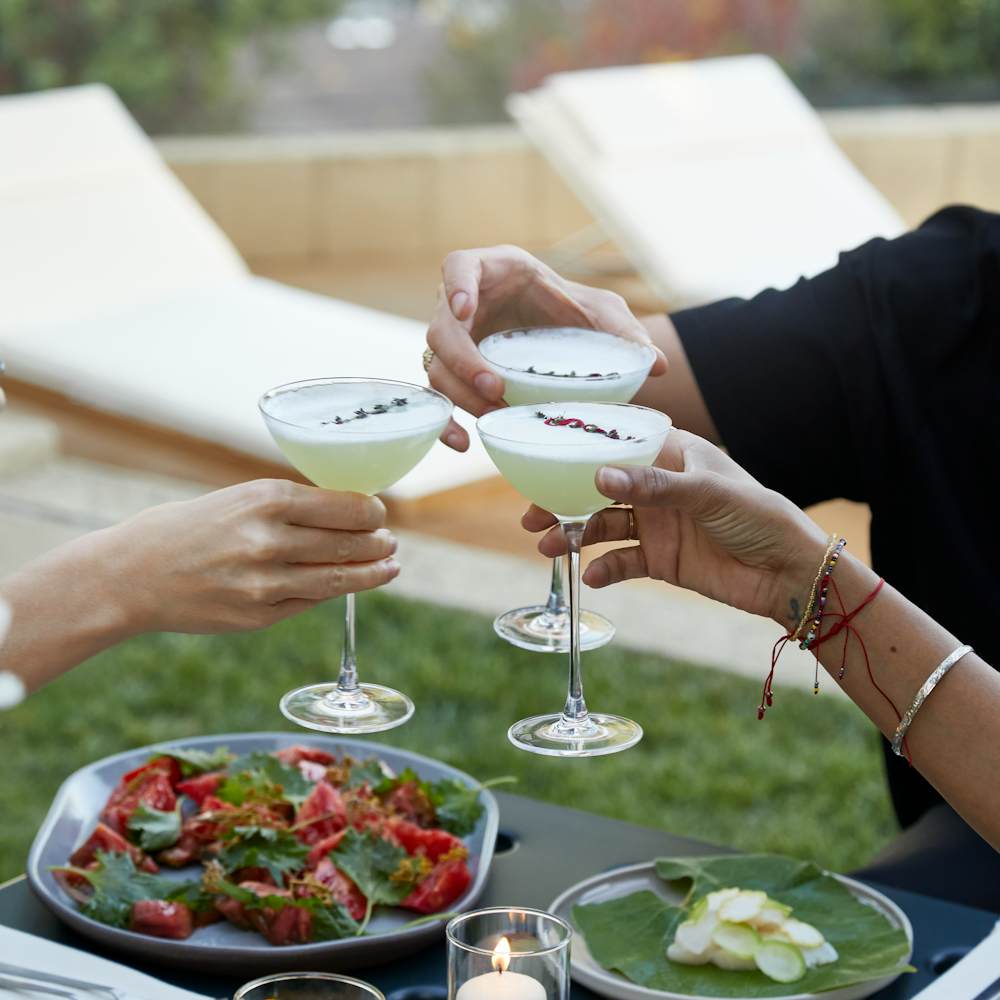 YOLA Mezcal Basil Cocktail
Makes 1 drink

Ingredients:
1 egg white
1½ oz. mezcal
3/4 oz. fresh-squeezed lime juice (one lime yields about an ounce)
½ oz. chartreuse
2–3 basil leaves
½ oz. simple syrup

1. Separate egg white, place in a cocktail shaker (without ice) and shake until frothed. Set aside.
2. Add mezcal and basil leaves to shaker and muddle together.
3. Add lime juice, chartreuse and simple syrup into basil and mezcal mixture. Add ice and shake.
4. Add frothed egg white and pour into a coupe glass.
5. Garnish with a basil leaf.