Tips for decorating your outdoor space with accent pieces
The key to a well-designed outdoor space lies not only in thoughtfully selected furniture but also in purposeful decor. Decorative accent pieces have the power to elevate your outdoor area, making it an aesthetically pleasing and comfortable space for lounging, dining, and entertaining. What good is an outdoor dining table and chairs without lighting and dinnerware? Or what good is a sofa without cushions, pillows, and an outdoor rug? It's been said that "it's all in the details" – and this is certainly true of outdoor settings. Accessories, textiles, planters, and more will instantly enhance your space. Read on to discover patio design ideas and how to style your outdoor area for maximum comfort and style impact.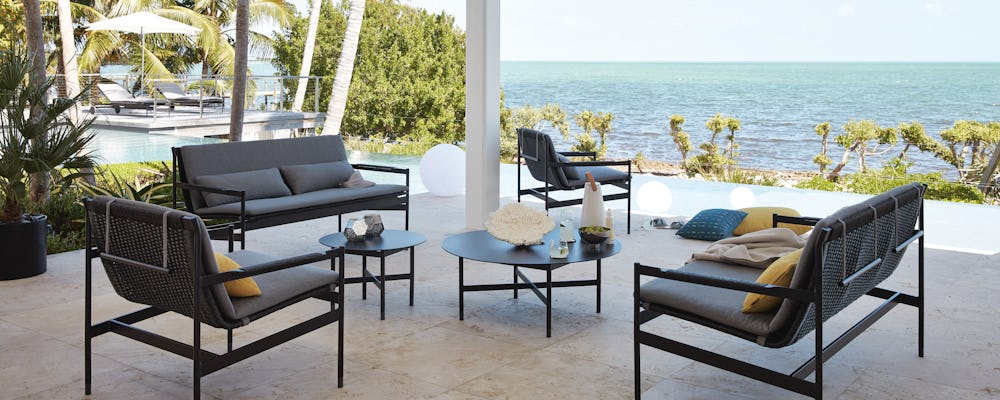 "Decorative accent pieces and accessories are a must-have for any outdoor area. No matter the size of your space, these thoughtful touches will lend comfort, function, and style to outdoor dining and lounge settings alike." – Rebecca, Design Expert, DWR Houston store
How to style a modern patio with
outdoor accessories
Decorative elements and functional accessories are the difference between a good outdoor area and a great one. Here, we've compiled a list of patio and porch decor ideas that will lend both beauty and pragmatism to your space.
Dinnerware
Place a tray atop a cocktail table or ottoman for serving drinks and appetizers. If your outdoor space surrounds a pool and you're hesitant to use glassware, invest in chic yet durable melamine dinnerware or BPA-free plastic dishes. Consider incorporating an outdoor bar cart, too. Keep your bar cart paired down to the essentials, and store dinnerware and linens on the bottom shelf. As an alternative to an outdoor bar cart, use a garden bench as a serving area for beverages.
Lighting
Set the mood with warm, soft lighting. Decorate your outdoor dining table with sculptural candleholders, incorporate outdoor hanging décor with string lights, or surround your seating arrangement with a few globe lanterns.
Sound system
Install a sound system to play music and host outdoor movie nights. Or opt for an easy-to-use Bluetooth sound lantern that offers both light and a portable speaker.
Curtains
Curtains add a tactile element to outdoor spaces, and they can help create privacy. They're especially easy to hang on a porch or covered patio.
Umbrella
A foldable umbrella is an ideal accessory for a patio or deck that gets direct sunlight. It offers shade throughout the day and can be collapsed for better views of the sky at night.
Heat lamp
To extend the use of your patio into the cooler months, choose a heat lamp. This type of accessory is optimal for outdoor dining arrangements or lounge seating that doesn't surround a fire pit.
Water feature
A fountain or pond adds a visually intriguing element to outdoor areas. Today's options are relatively simple to install and make for easy deck decorating ideas.
Wall decor
Outdoor patio wall decor will instantly elevate your outdoor area. Shelves are an effective way to maximize vertical space and provide a place to display potted succulents or herbs. If your patio has a petite footprint, hang a mirror to reflect light and make the area feel bigger. Finally, install hooks on an outdoor wall to hang towels, hats, and light jackets.
How to choose outdoor cushions,
pillows, and throws
Cushions, pillows, and throws help soften outdoor furniture, adding dimension and warmth to a space. Always choose pieces covered in weatherproof materials. For example, select pillows covered in UV- and mildew-resistant Sunbrella fabric and floor cushions crafted from waterproof woven silicone cord.

These accessories can – and should – speak to the overall design aesthetic of your outdoor area. Striped cushions and pillows convey a more traditional coastal style, while solid versions read contemporary. Mix prints and patterns for a Bohemian-inspired look. The beauty of cushions and pillows is that they can easily be swapped out seasonally or depending on the occasion at hand, such as a child's birthday celebration or an evening cocktail party.

Consider these backyard accessories ideas for enhancing your space with outdoor textiles. Top outdoor sofas and lounge chairs with streamlined seat cushions, and incorporate plush pillows for added comfort. Remember, large pillows can double as floor cushions when extra seating is needed. However, ensure that your pillows aren't so large that they overwhelm your seating.

Play with sizes and silhouettes by combining square pillows with rectangular and even round styles. It's easy to create visually pleasing, symmetrical pillow arrangements on your outdoor sofa. Start by placing large pillows in the far corners, then add smaller pillows in descending sizes toward the middle of the sofa. Finally, drape a throw over the arm of a sofa or accent chair. When not in use, keep the throw in a storage ottoman or bench to protect it from the elements.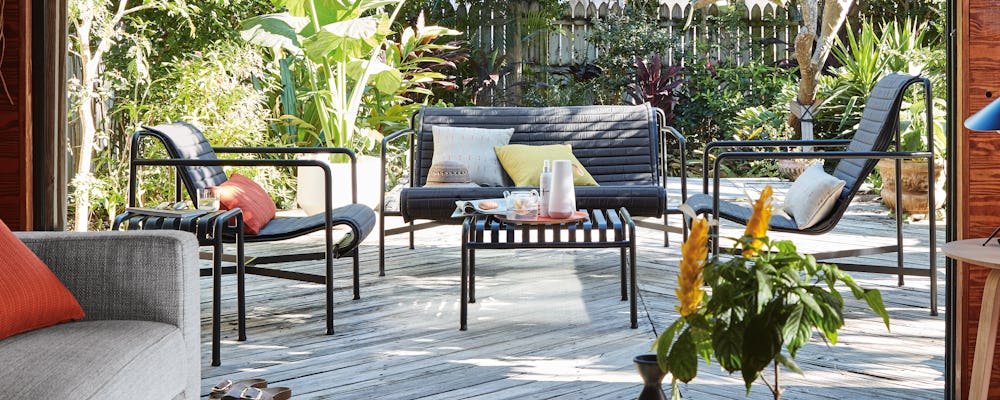 How to choose outdoor rugs and mats
Outdoor rugs not only provide comfort underfoot but also define outdoor spaces. For example, an outdoor accent rug can help designate separate dining and lounging settings within a large area. Within smaller areas, this type of accent piece can help ground furnishings.

Available in a variety of sizes, colors, and patterns, outdoor rugs blend durability with sophistication. They're often crafted from polyester or polyethylene to withstand the elements, and they're easy to maintain. Most types can simply be vacuumed or hosed off. Complement solid seat cushions with a patterned rug. On the other hand, opt for a solid rug to juxtapose printed and patterned pillows.

Generally, there are three ways to incorporate a rug into a seating arrangement:
Choose a rug large enough for all furniture to be positioned on top of it.
Choose a mid-sized rug that allows you to position the front legs of the furniture on top of it.
Choose a small rug that grounds the center of your seating arrangement and can be placed under the coffee table.
If your seating centers around a fire pit, consider placing a runner between the sofa and fire pit. Outdoor mats are also an ideal choice for smaller areas and doorways, allowing you and your guests to wipe off your feet before entering and exiting the outdoor space.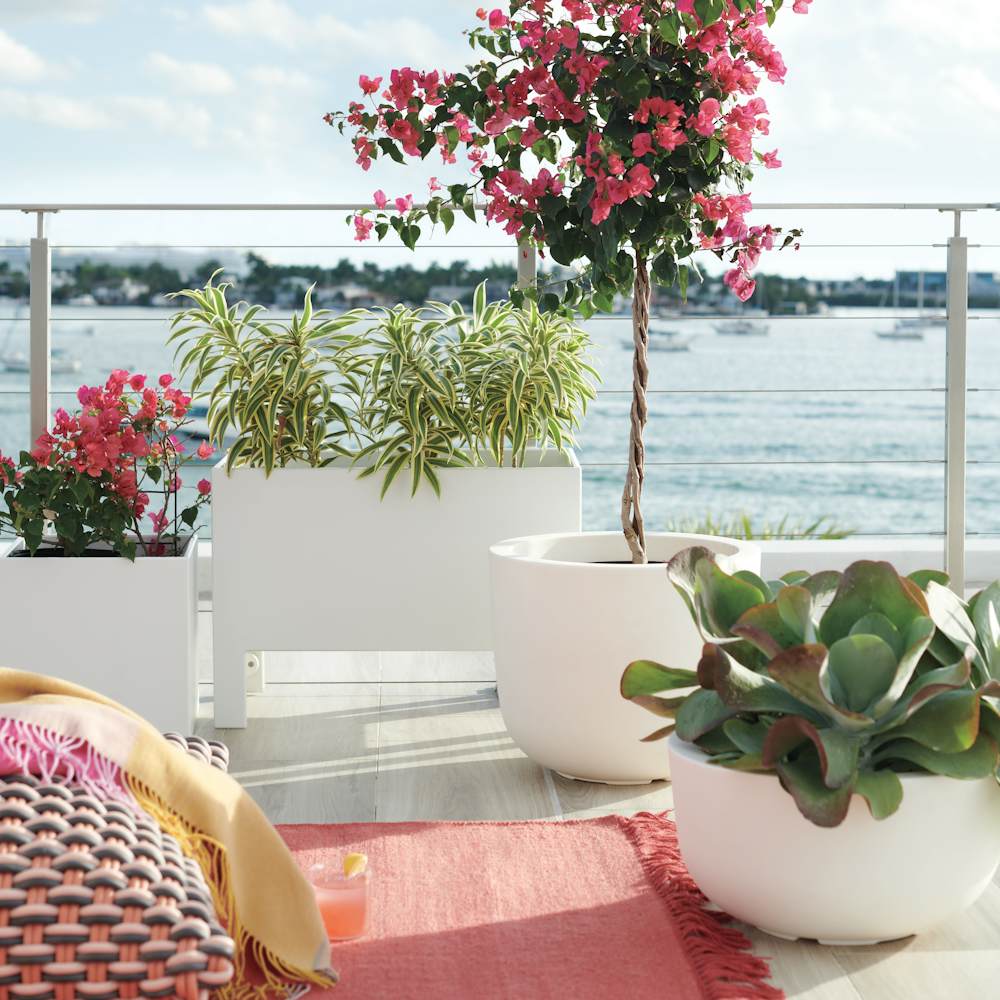 How to choose outdoor planters and pots
Greenery will instantly infuse your outdoor space with life and vibrancy – and planters are the perfect home for your favorite foliage. As with all outdoor furnishings, it's important to choose planters crafted from high-quality materials, like UV- and weather-resistant recycled plastic, waterproof powder-coated aluminum, and durable matte-glazed earthenware.

While natural materials such as earthenware blend in with the environment, planters designed in colorful recycled plastic or powder-coated steel offer a visually pleasing contrast to natural settings. Be sure to look for planters with a removable drainage plug, which keeps excess water from pooling at the base and helps prevent root rot.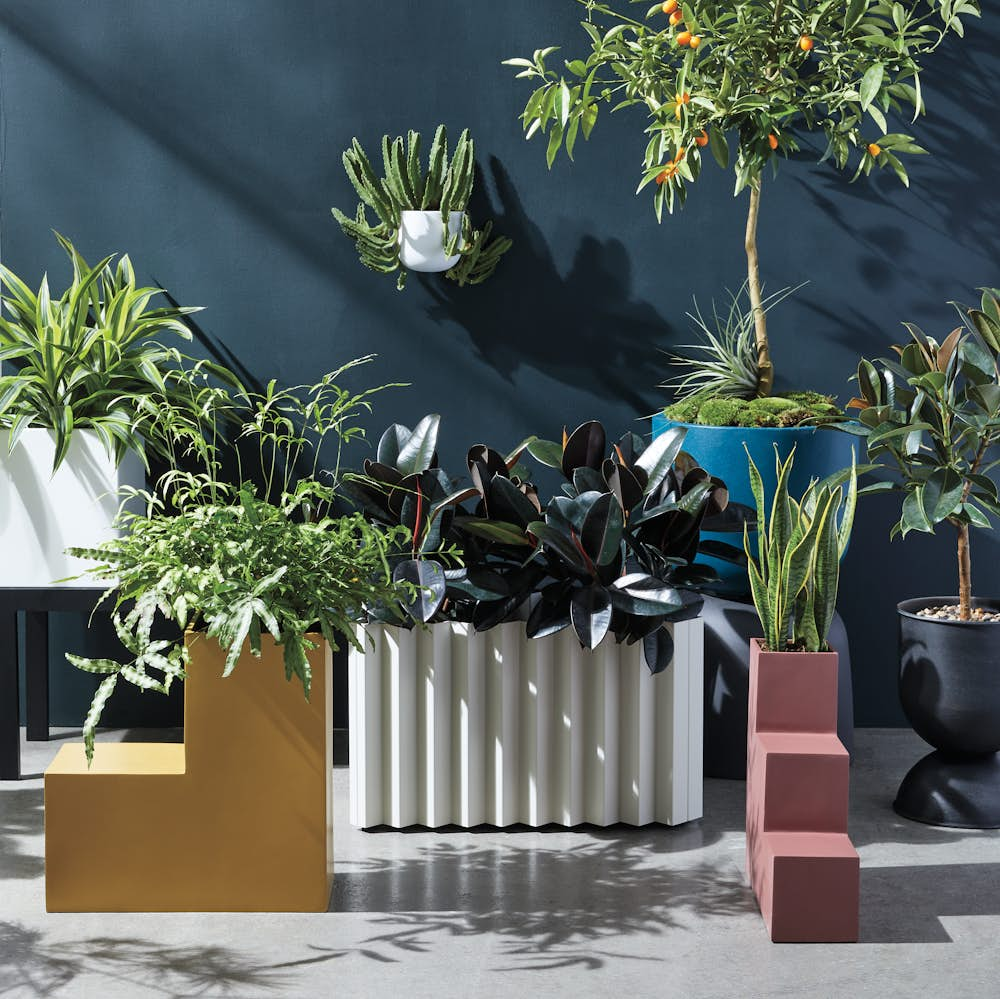 To maximize space in your outdoor area, choose vertical or wall-mounted planters. Pot small trees in vertical planters, and strategically position them around your seating arrangement so that the plants get enough light. Or mount wall planters on an exterior wall above your sofa or dining table, and fill them with small flowers to add pops of color to the space. A trellis planter is ideal for making use of vertical space, too. Use it to hang small individual pots of herbs and succulents, or plant ivy in its base and let it grow from the trellis onto an outside wall or fence.

If you're looking for outdoor plant stand ideas, consider using tall planters to create privacy on your patio or balcony. By potting lush foliage in a tall planter, you can easily shield your outdoor space from any neighbor's view. Or opt for hanging planters, which can offer just as much greenery and privacy as a plant stand in tight areas without taking up valuable space.

Planters can serve double duty, too. If you're not sure what type of plants you intend to purchase, choose an hourglass planter that offers two different sides (and sizes) to accommodate various plants. You can even use an empty planter as an impromptu ice bucket to serve drinks when dining alfresco. Incorporate outdoor garden decor by keeping a chic watering can and gardening tools on a shelf, or house them in an outdoor storage bench for quick access.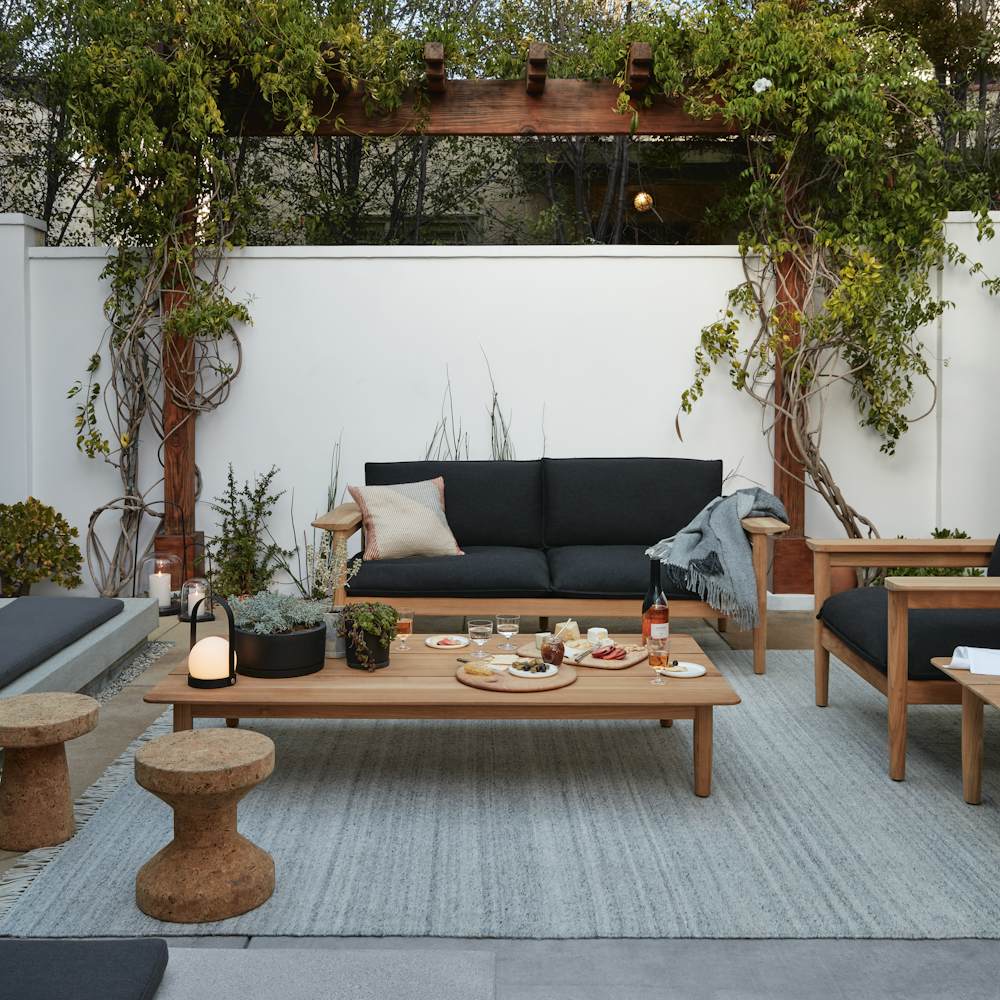 Final thoughts
The right accessories and decor will complement your outdoor furnishings and enhance the space for better functionality and style. As warm weather approaches, ensure that your outdoor area is equipped with thoughtfully selected and pragmatic pieces for endless entertaining – whether you host an alfresco dinner, gather friends around a fire pit for cocktails, or have an impromptu family movie night under the stars. Keep these final thoughts in mind as you shop accent pieces:
Choose accessories that help set the mood and create a functional space for enjoying time outdoors.
Soften outdoor furniture with cushions, pillows, and throws – these bring the comforts of home outside.
Ground your furnishings and establish defined areas with a durable outdoor rug.
Incorporate planters to infuse your space with greenery and create privacy.