AT HOME WITH JULIA SHERMAN
Easy summer lunch
Surrounded by fruit trees and a bountiful vegetable garden at her 1960 Pasadena home, Julia Sherman – artist, cook, photographer, author of Salad for President and the upcoming Arty Parties – lives the California life we fantasize about. Lunch and much of dinner are often gathered from her garden, mixed with finds from the farmers' market, and composed in a way that looks effortless but is both thoughtful and flavorful. Julia, her husband Adam Katz, and their two-year-old daughter Red like to entertain friends and family for relaxed lunches that become what she describes as "all-afternoon hangs." Her take on Salade Niçoise is easy to prepare ahead of time and won't wilt in summer heat (see the recipe below).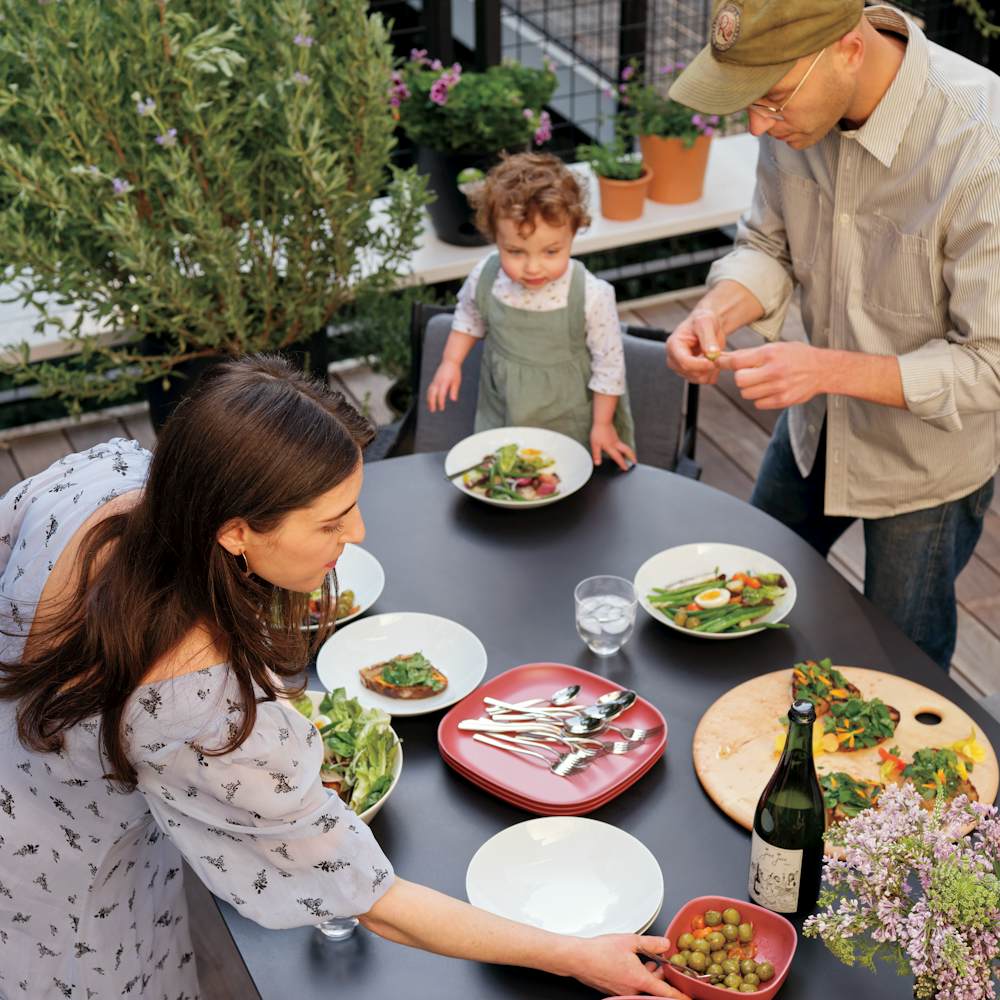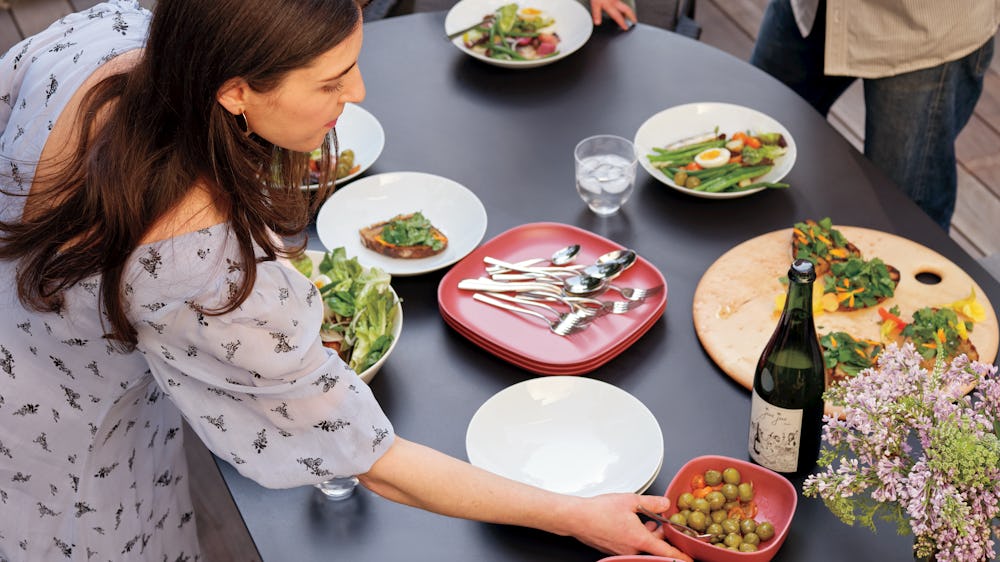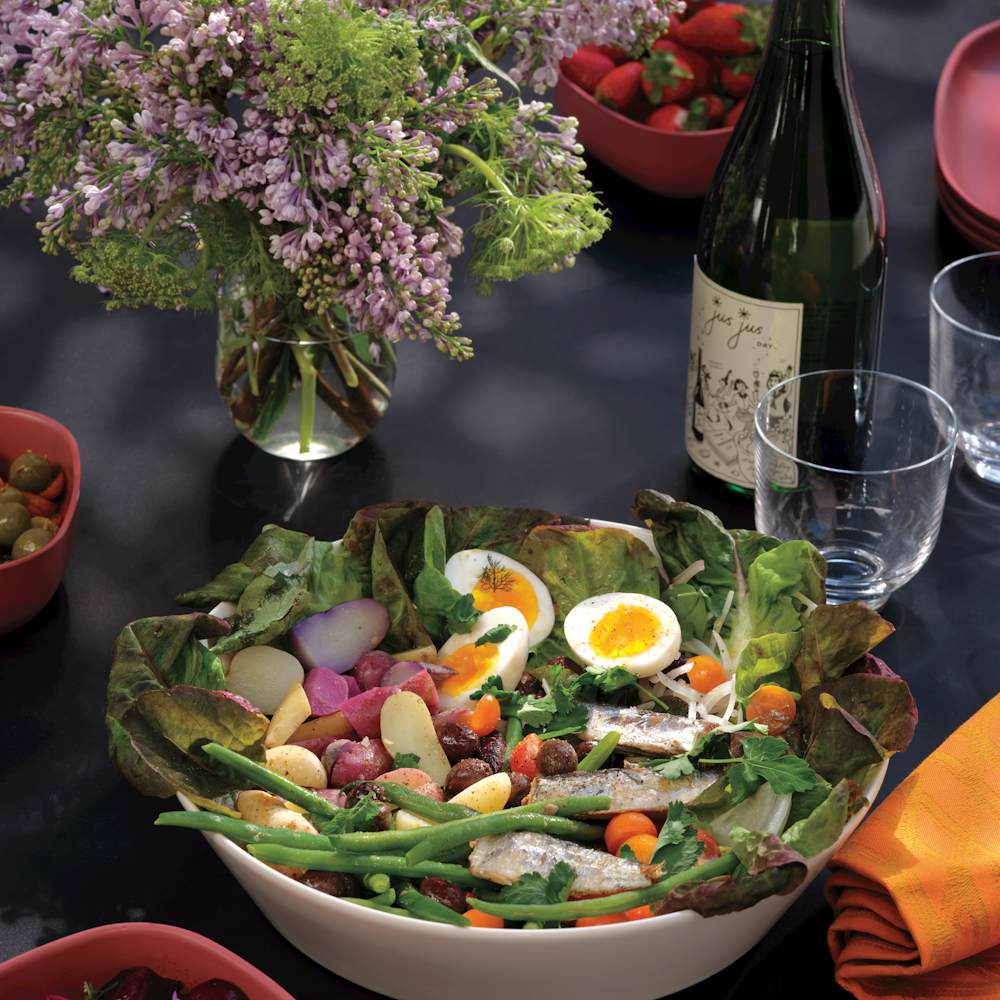 Julia's Fancy Sardine Niçoise
Fancy Sardine Niçoise

"A Niçoise salad is a fixture in the salad canon, but there are infinite variations on this salade composée. The defining characteristic of this salad is that it is assembled, not tossed. My Niçoise is pretty classic until we get to the fish. Once in a blue moon, I splurge on the shockingly expensive oil-packed tuna in a precious glass jar. But in general, I opt for small fish, which are lower in mercury and far more abundant in our imperiled ecosystem. Purchase the fanciest domestic brands on the shelf or imported sardines from Spain or Portugal, countries where canned seafood is elevated to a religious experience. The tomatoes make this a summer dish, but if you have a hankering for Niçoise any other time of year, simply omit the tomato and you've still got a winning main course."
SERVES
2 people

PREP TIME
45 minutes

For the dressing:
3 oil-packed anchovy fillets
2 teaspoons white wine vinegar
1/2 teaspoon Dijon mustard
3 tablespoons olive oil


For the salad:
1 tablespoon kosher salt
3 small Yukon Gold potatoes
4 ounces haricots verts, ends trimmed
1 large organic egg
4 leaves Bibb lettuce
4-ounce can oil-packed sardines, drained
1/4 cup niçoise olives (halved and pitted halved pitted Kalamata olives)
1 tablespoon very thinly sliced Vidalia onion
1 heirloom tomato, cut into wedges (optional)
Maldon salt and cracked black pepper


1. Make the dressing. Mince the anchovies and smear into a paste using the side of a broad kitchen knife. Put in a small bowl and whisk in the vinegar, mustard, and oil until emulsified.

2. Make the salad. Bring a 1-quart saucepan of water and the kosher salt to a boil. Fill a large bowl with cold water and ice. Drop the potatoes in the boiling water and boil for 20 minutes. Remove the potatoes with a slotted spoon and put in the ice water. Add the haricots verts to the boiling water. Cook for 30 seconds, then remove with a slotted spoon to the ice water.

3. Add the egg to the boiling water and cook for 8 minutes. Remove with a slotted spoon to the ice water and let cool completely. Peel and cut into quarters.

4. Cut the potatoes into quarters and haricots verts into halves.

5. Arrange the lettuce leaves on a platter. Compose the potatoes, haricots verts, egg, sardines, olives, onion, and tomato in rows on top. Spoon the dressing over the salad, season with Maldon salt and cracked pepper, and serve.
"The better the food is, the less you have to do to it. It's about not obscuring the food, but being smart and intentional about flavor combinations." —

Julia Sherman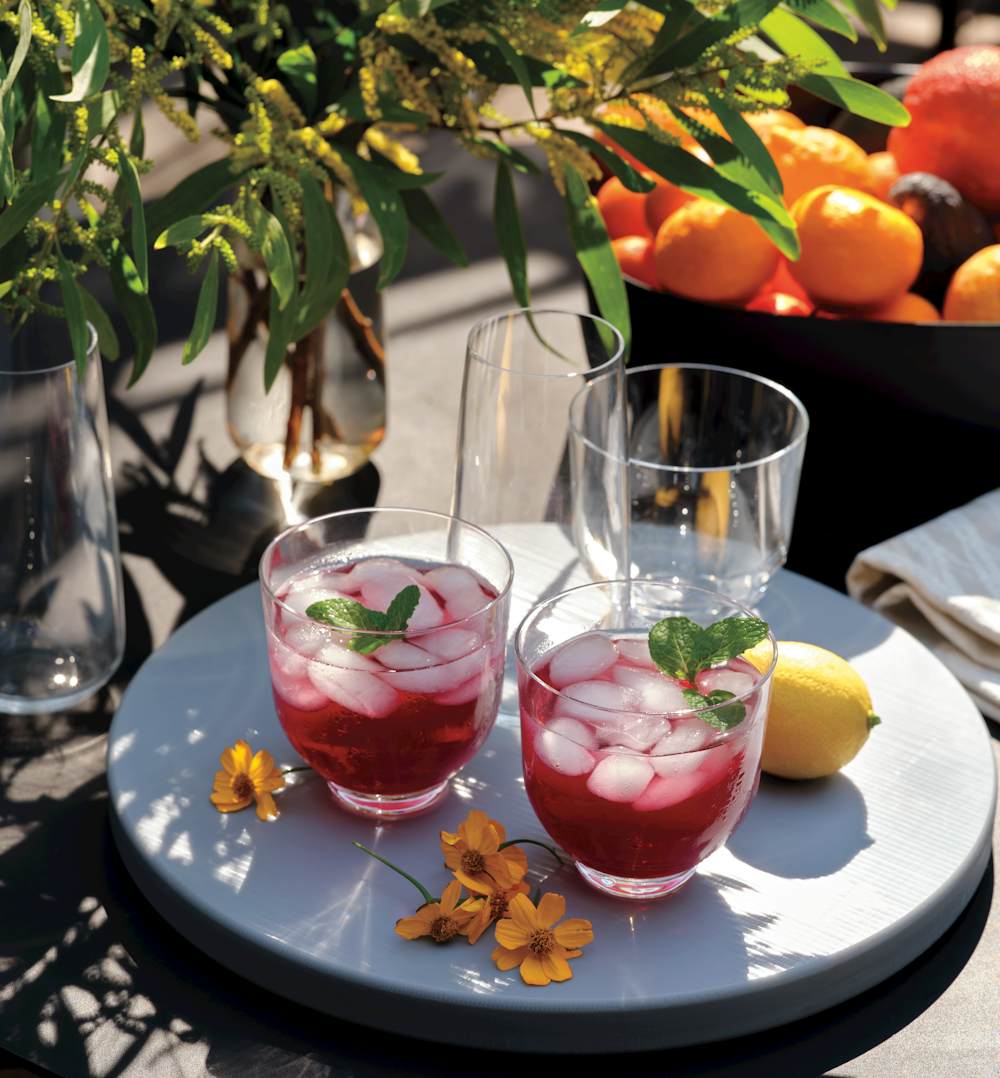 Julia's tips for outdoor entertaining
Serve room-temperature foods. "They work well if people arrive at different times," she says.


"I like to make things that I start and guests can finish, like sweet potatoes that I've already cooked, which people can warm on the fire and assemble with toppings."


Avoid dishes like green salads that may wilt in the heat. "With a Niçoise salad, the green beans and potatoes will just marinate, not wilt."


Serve dressings and sauces on the side rather than premixing.