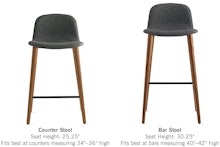 Request free swatches
Arrives in 4-7 business days
Estimated Arrival:
Available to ship in: 6 weeks
Elegant yet durable.
Crafted with 3-D molding technology for impressive comfort.
Crushproof padding increases overall comfort.
Shipping Options
Return Options
Not satisfied with your purchase? We'll work with you to make it right. Contact us within three (3) days of your order's delivery.
Learn more
.
DWR honors a one (1) year warranty on all products. Brand-specific warranties may extend to longer periods.
Rest stop —
With its elegant, 3-D molded silhouette and choice of tubular steel or solid wood legs, the Bacco Stool redefines modern seating. Generous padding adds the coziness and comfort craved for momentary breaks and extended stays.
Details
Details
Toast to relaxation
"In Italy, we love to stay at the table for a long time to eat, drink and relax," says Omar De Biaggio. "So when I design a stool, I focus on comfort and helping the sitter stay relaxed. It's not just to sit in front of a dish of spaghetti." With this in mind, Omar named his Bacco Collection (2013) after Bacchus (Bacco in Italian), the Roman god of wine. "This is a multipurpose, modern and elegant stool," he says, "with soft lines and, above all, a cozy shape, thanks to 3-D molding technology." Made in Italy.

Please note: Bacco in Angel fabric is not available in locations where flame-retardant chemicals in residential upholstery are banned. For more information, please contact customer service.
Elegant curved shell looks delicate but withstands frequent use.
Padded with crushproof rubber foam for additional comfort.
Choice of tapered solid wood or slim tubular steel legs.
Suited for residential, contract, and hospitality settings.
Made in Italy.
General Dimensions
Product Weight

16 lbs
Box Dimensions
Assembly

Comes fully assembled
Warranty

DWR honors a one (1) year warranty on all products. Brand-specific warranties may extend to longer periods.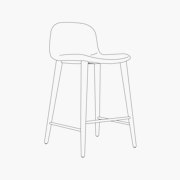 Counter Height
Height (in): 34.5
Width (in): 19.3
Depth (in): 19.7
Weight (lbs): 16
Seat Height (in): 25.9
Seat Width (in): 18.1
Seat Depth (in): 16.14
Back Height (in): 9.45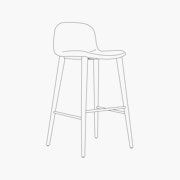 Bar Height
Height (in): 40
Width (in): 20.5
Depth (in): 20.5
Weight (lbs): 16
Seat Height (in): 30.25
Back Height (in): 9.45
Solid walnut, oak, black ash, or tubular steel legs

3-D molded plywood and steel frame

Polyurethane foam padding

Angel fabric (100% polyester), Shock fabric (100% polypropylene), or leather upholstery
Omar De Biaggio
"My philosophy is to create objects where you can touch the authenticity and the warmth of materials, and comfort remains for me the key," says Omar De Biaggio. For De Biaggio marries a feeling of calm along with the sense of inspiration that comes from interacting with a utilitarian object housed in beautiful packaging. He seeks to replicate that emotional connection with his furniture.
More on Omar De Biaggio
Reviews
Reviews
Love
The stools took about 2 months to arrive, but they were worth the wait. It is a beautiful piece of furniture and very comfortable.
Order only if you have time
We ordered these counter stools on April 22, 2020 - at the start of the pandemic. Our hope was to get some new comfortable stools for working from home (WFH). It has been almost 7 months, and we are still waiting for our stools to arrive. I guess the pandemic has really affected manufacturing and shipping times, causing significant delays. DWR should be cautious when promoting new furniture for WFH -- by the time we get our stools, we may very likely be back in the office full time. I hope, when they do arrive, that they will be worth the wait.