Price reduced from

$495.00

to
$420.75
Price reduced from

$495.00

to
$420.75
Estimated Arrival:
Estimated Arrival: August 22 - August 24
Provides soft, glowing light.
Translucent plastic polymer shade with visible steel infrastructure.
Organic shape.
Shipping Options
Return Options
Not satisfied with your purchase? We'll work with you to make it right. Contact us within three (3) days of your order's delivery.
Learn more
.
DWR honors a one (1) year warranty on all products. Brand-specific warranties may extend to longer periods.
Bubbling up —
With their steel infrastructures and translucent plastic-polymer shades, George Nelson's Bubble Lamps combine ingenuity with material innovation. Each provides a warm, welcoming glow.
Details
Details
Playful enlightenment
While outfitting his office, architect and Herman Miller design director George Nelson discovered a silk-covered Swedish hanging lamp that he coveted but found too expensive. He then recalled seeing a photo in the paper of Liberty ships being mothballed "by having the decks covered with netting and then being sprayed with a self-webbing plastic," which got him thinking. "And then, Whammo!" Inspiration struck, and by the next night, Nelson had designed his first Bubble Lamp (1952) by spinning a skeleton of steel wires on a turntable and shooting it with translucent plastic until it was covered in a smooth, washable film. "When you put a light in it, it glowed," he said. This is the authentic Bubble Lamp, produced in partnership with the George Nelson Foundation. Bulb (not included): LED, CFL or incandescent; E26 base; 60W max for small, 150W max for others. UL Listed. Made in U.S.A.
Provides soft, glowing light.
Translucent plastic polymer shade with visible steel infrastructure.
Organic shape.
Brushed, nickel-plated steel details..
| | |
| --- | --- |
| Brand | Herman Miller |
| General Dimensions | 16.54" H 10.24" W 17.72" D |
| Product Weight | 7 lbs |
| Box Dimensions | 17.72" H 15.35" W 15.35" D |
| Assembly | Requires Assembly |
| Warranty | DWR honors a one (1) year warranty on all products. Brand-specific warranties may extend to longer periods. |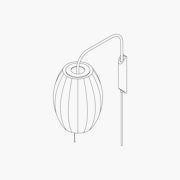 Nelson Cigar Wall Sconce
Height (in): 16.54
Width (in): 10.24
Diameter (in): 18
Depth (in): 17.72
Weight (lbs): 7
Cord Length (in): 12
Shade Diameter (in): 10.5
Max/Min Wattage: 150
Steel frame

Translucent plastic polymer shade

Brushed, nickel-plated steel details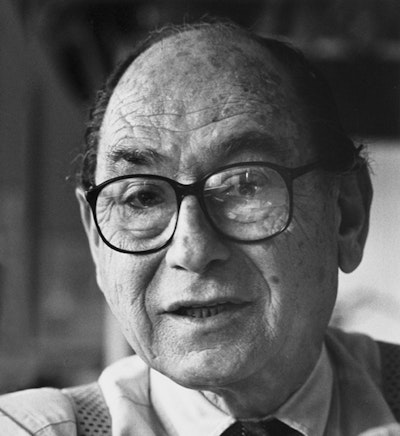 George Nelson
Possessing one of the most inventive minds of the 20th century, George Nelson was the rare person who can envision what isn't there yet. Nelson felt that designers must be "aware of the consequences of their actions on people and society and thus cultivate a broad base of knowledge and understanding."
More on George Nelson
Care & Maintenance
With regular care and maintenance, your Herman Miller furniture will provide years of superior performance and satisfaction. To maintain the finish quality of your Herman Miller product, please follow the cleaning procedures provided below.
The instructions for the care and maintenance of Herman Miller products are provided to you as a service. No warranty is implied since results may vary.
Plastic Polymer (Lamp)
Normal cleaning
Use a feather duster, a clean soft white cloth, or vacuum with a clean soft brush attachment as needed. For stubborn stains, clean the surface using a soft clean white absorbent cloth with a solution of mild soap and warm water. Wipe down surfaces with the damp cloth and dry with a clean soft white cloth.
Avoid using glass cleaners, abrasive cleaning compounds, ammonia, or bleach; they may damage the surface of the plastic and result in discoloration. Make sure cleaning materials are free of grit and other foreign materials.
Coated Metal (Brushed Nickel Base)
Normal cleaning
Wash coated metal surfaces with a soft cloth soaked in detergent and warm water; rinse thoroughly and dry. Remove scuff marks with pre-softened paste wax, following the instructions on the label. After polishing, apply a pre-softened automotive paste wax to restore original sheen.
Do not use abrasive, acid, alcohol–based, or solvent–based cleaners; they may damage the paint finish.
Wood & Veneer (Walnut Base)
Normal cleaning
Dust furniture with a slightly damp, soft, lint-free cloth. Wipe dry with a dry, soft cloth in the direction of the wood grain. Spills should be immediately wiped up with a damp cloth.
Once a month
Clean the surface with a soft cloth dampened with a quality cleaner formulated for wood furniture. Wipe the surface in the direction of the wood grain to remove dirt and fingerprints. Wipe dry with a clean, dry cloth.
Twice a year
Apply a good quality furniture polish with a soft cloth.
Do not use aerosol-powered cleaners or polishes. Also, do not use polishes containing waxes or abrasives, or polishes that are oil based.
Minor repair of water rings, stains, and scratches
Rub the surface lightly in the direction of the wood grain using No. 000 steel wool. Apply a scratch-removing polish with a color and value that simulates the veneer. If the scratches are deep, consult a professional furniture refinisher.
Reviews
Reviews
Stuck with mismatched lamps
We purchased two of these for our bedroom through DWR. While the lamps are mostly very nice, the wood mounting portion of the lamps differ greatly in color. One is dark, while the other is much lighter. I know woods vary, but this is substantial.

We asked only for a partial refund to cover the cost of having one or both stained to match. After 5 months of back and forth with DWR, product support advised we should leave the darker one in the sunlight in the hopes it would lighten. At this price? And as if that might work? They also refused to replace them, saying that the replacements might not match.

Zero effort on their part. I expected the company to be more reputable.
Love, Love, Love em'
These Nelson Cigar Wall Sconces are so beautiful! I have one on each side of my bed. The shades provide just the right night-time light. They are well-made and easy to wipe clean. The walnut is finished nicely. (I read the previous review and mine have no odor.)
Strong smell of plastic does not go away
The lights are beautiful mid-century classics. Unfortunately, the shades emit a strong smell. I have been airing them in an empty room for a month, since I opened the package. The smell in that room is strong; nobody should live with this. I can only wonder what chemicals will be in the air if the light warms the shade. For the smell, it's one star.
November 21, 2019
Purchased
10 months ago
Response from Design Within Reach
Thank you for sharing this feedback with us. We're sorry to hear about your experience with the Nelson Cigar Wall Sconce. We want to make sure all of our customers are totally happy with their purchases, so thank you for giving us an opportunity to fix this.