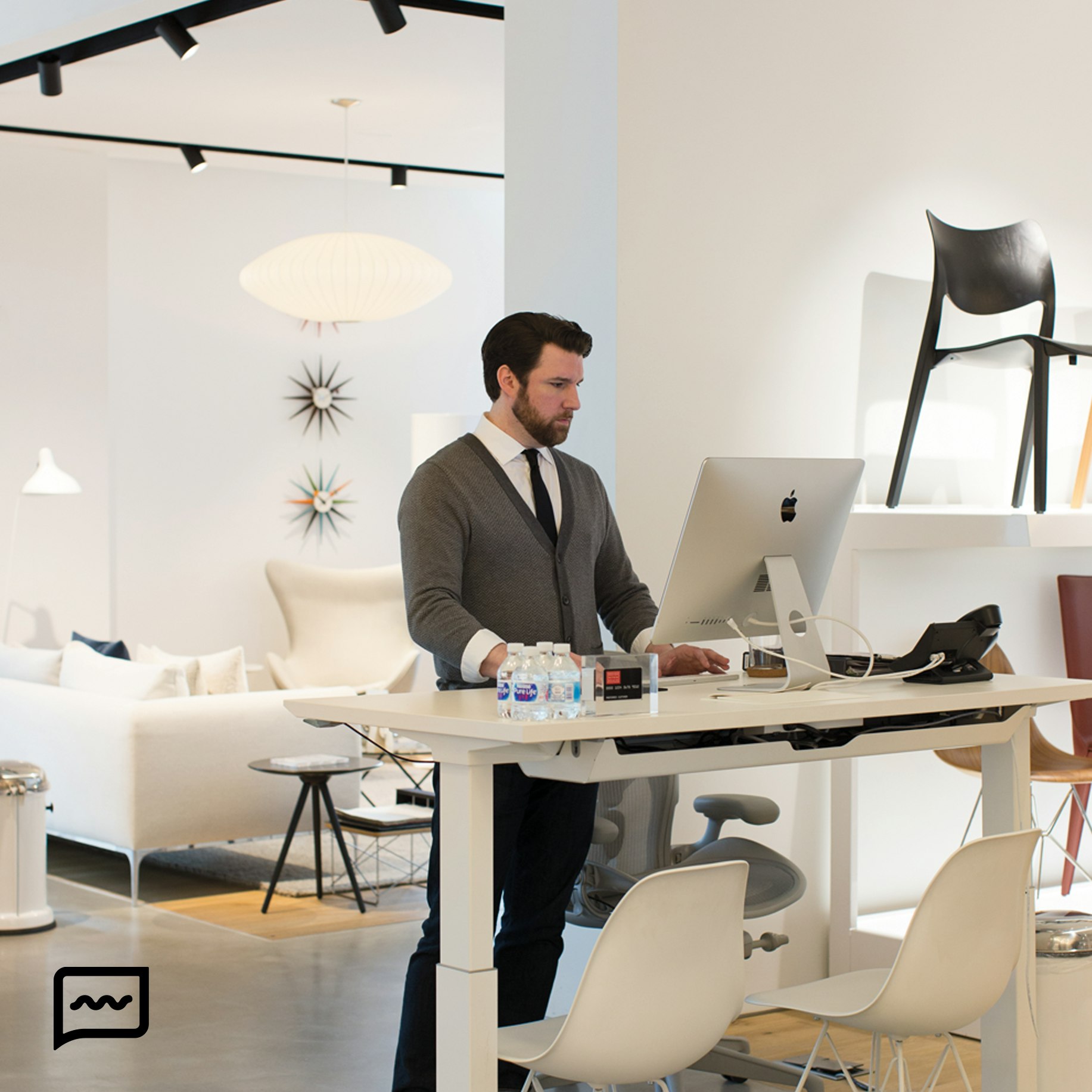 Any questions so far? We can help.
Complimentary design services including expert design consultations, in-home measuring and 3-D renderings of your rooms.
Modern Ottomans, Footstools & Poufs
The perfect companion to any modern sofa, sectional, or lounge chair, a modern ottoman invites you to stretch out and take full advantage of your lounge furniture. Ottomans are armless, backless pieces of living room furniture that sit at (or just below) sofa seat height. They make excellent footstools or additional seating. Plush and comfortable, ottomans are often fully upholstered, with stout legs that maximize stability. Living room ottomans are available in a wide variety of shapes, sizes, and materials, some offered alongside matching lounge chairs, others available individually. Some modern ottomans have unique additional features that further increase their functionality and versatility.

At Design Within Reach, find the perfect modern ottoman, footstool, or pouf to complement your lounge furniture and complete your living room. Plus, shop iconic designer ottomans you can't find anywhere else.
How to Choose an Ottoman
Select an ottoman shape you like.
Because ottomans come in so many different sizes, it can be a good idea to start your search by narrowing your options by shape. There are two primary categories of ottoman shapes: round ottomans and rectangular ottomans.

Round Ottomans: Round ottomans, comprising drum-shaped ottomans, cylindrical ottomans, and oval ottomans, are smooth, inviting pieces of furniture. A round ottoman can be a compelling living room center point that anchors the surrounding furniture. It can also create contrast with pieces of furniture and decor that feature straight lines and sharp, geometric shapes. 

Rectangular Ottomans: Conversely, a square or rectangular ottoman can pair well with hard-lined furniture and establish a sense of unity in a sleek space. Rectangular ottomans are perfect as makeshift chaises when placed flush with a sofa, especially if the ottoman is from the same furniture collection and upholstered in the same material as the sofa. 

Choose an ottoman that is proportional to your space.
More important than ottoman shape is ottoman size – a too-small or too-big ottoman can throw off the balance of your space. Consider ottomans that are proportional to your existing living room furniture. If you have a long sectional sofa, choose a large ottoman long enough to accommodate everyone who might be seated at once. A small ottoman would pair well with a single-seat lounge chair or armchair rather than a sofa or sectional. For long chairs, choose an ottoman that spans at least two-thirds of the length of the sofa or sectional; for single-seat chairs, choose a small ottoman that is not wider than the chair.

Pick durable, comfortable materials.
Next, consider ottoman materials. To select the ottoman materials that are right for your home, consider your household's lifestyle and your aesthetic wishes for your space. If you have children or pets, it's best to avoid hard-to-clean upholstery materials (suede and velvet, for example) in favor of durable, easy-to-clean ottomans. Cotton ottomans, leather ottomans, and synthetic ottomans (like microfiber ottomans) are durable, cleanable choices for an active home. It's also good to lean toward dark colors that may disguise stains, unless you have light-haired pets, whose hair would show up very obviously against the fabric.

In a living room that might experience less wear and tear, you have more freedom to choose ottoman materials that suit your aesthetic preferences. For a clean, intentional look, consider an upholstered ottoman that matches your existing seating furniture. Or choose an ottoman that incorporates contrasting shapes, colors, and textures for an eclectic, dynamic look. Leather ottomans are favorites in mid-century modern living rooms, while sleek fabric ottomans that match the sofa or sectional are common in minimalist spaces.

Keep an eye out for additional features.
To get even more out of your living room ottoman, look for ottomans with additional features. Ottomans with storage, usually contained inside their bases under lift tops, can provide covert storage for throw blankets, toys, magazines, and more. Multipurpose storage ottomans are ideal for small or busy spaces that can use as much covert storage as they can get.

For an ottoman that can double as a coffee table, keep an eye out for ottoman trays. Some fabric ottomans come with ottoman trays designed to fit snugly over their tops and convert them into ottoman coffee tables. Where standard fabric ottomans may be too soft to act as coffee tables, ottoman coffee tables with tray tops are solid enough to hold drinks without worry.