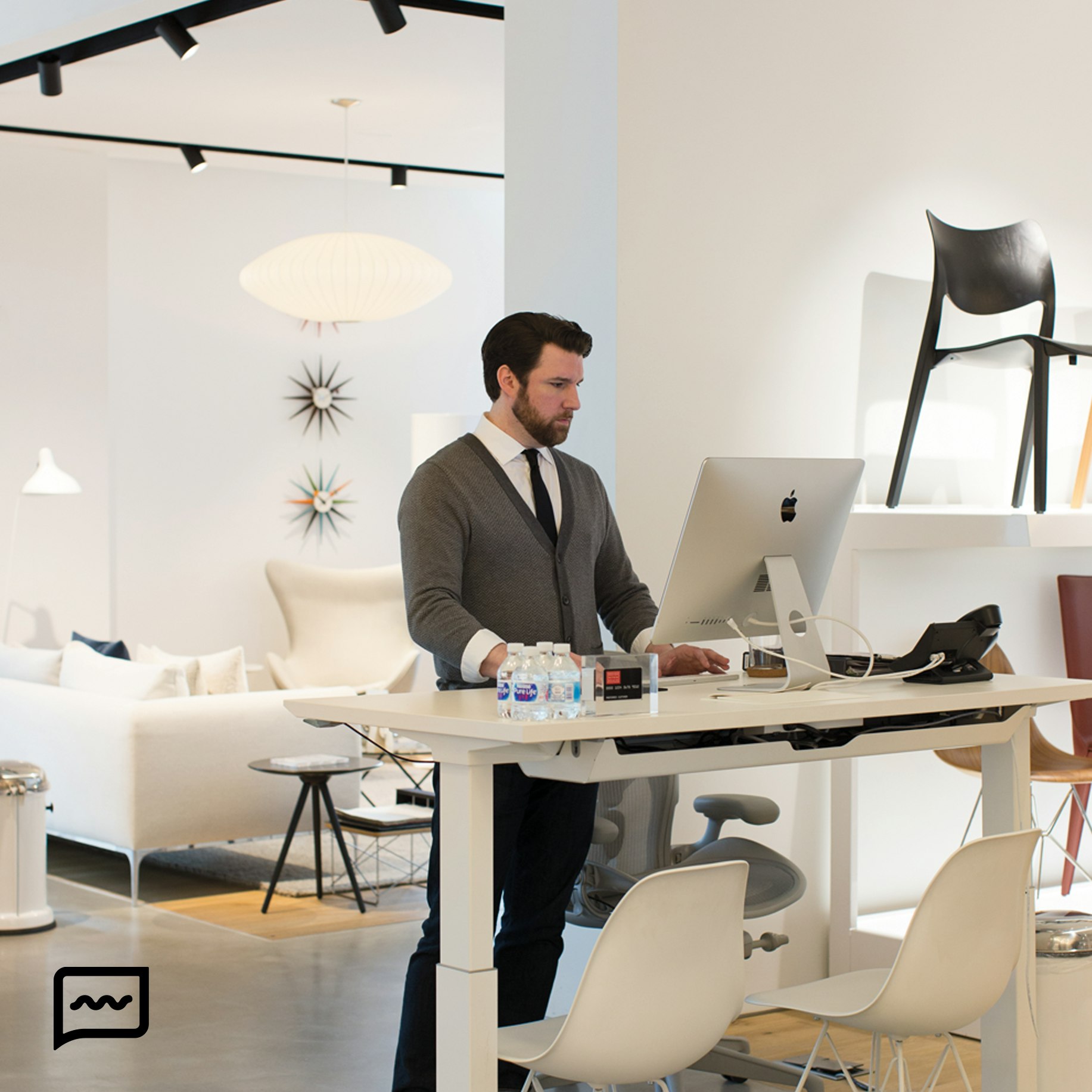 Any questions so far? We can help.
Complimentary design services including expert design consultations, in-home measuring and 3-D renderings of your rooms.
Modern Sofas & Sectionals
Whether you choose a mid-century modern or a minimalist contemporary couch, a cozy sofa or sectional is an essential component of a comfortable living room furniture setup. Large, upholstered couches provide comfortable seating for anywhere from two to ten people, and can maximize the sitting capacities of your living and entertaining spaces. For larger rooms, a contemporary sectional may be the right choice, providing plenty of room to stretch out or gather with friends for good conversation or movie watching. If you're looking for a designer sofa, those from Design Within Reach are conceived solidly on the principles of modern design, which includes a focus on quality, streamlined appearance, and comfort. A wide array of fabrics and leathers allows you to fine-tune your modern, contemporary, or designer sofa or sectional to blend perfectly into your decor.
How to Choose a Sofa
Consider sofa dimensions.
To choose the best sofa for your space, first consider dimensions: the dimensions of your space as well as standard sofa and sectional dimensions. This is of utmost importance in smaller spaces. In a smaller home, for instance, you may want to consider an apartment-size sofa – a loveseat, a two- or three-seater sofa, or a small sectional like the Raleigh Sectional from Design Within Reach.

To answer the question: What size sofa for a living room? It depends on the living room. There really is no standard sofa size, although many fall in the range of 85" to 95" long and 30" to 40" deep, with seat heights of 16" to 20". Sectional dimensions vary widely and usually are better suited for larger living rooms. A good method for choosing the right size sofa is to place a rectangle of tape on your living room floor where you think you'd like your couch to fit. Keep in mind the flow of traffic through your home; it's a good idea to keep approximately two to three feet of walking space around your living room furniture, and 14" to 18" between your chair and your coffee table. Once you have a rectangle taped down, measure it – those measurements can serve as a rough guideline for the maximum sofa or sectional size that will suit your space.

Choose sofa materials to suit your lifestyle.
With sofa size out of the way, you're free to consider sofa materials and colors. The two main material options are as follows:

Leather Sofas: A high-quality leather sofa is a mid-century modern classic, as are leather sectionals. Not only is it luxurious to stretch out on a modern leather sofa, but leather is durable, hypoallergenic, and stain-resistant when maintained properly. Leather couches are available in a wide spectrum of colors, with popular choices being warm brown leather and elegant black leather.

Fabric Sofas: Fabric sofas are comfortable, breathable chairs, made from a wide variety of fibers including cotton, linen, wool, and synthetic. Because they can be upholstered in a vast range of materials, fabric sofas offer you an incredible selection of colors and textures to choose from. Depending on the specific material, fabric couches can also be highly durable and easy to clean. Design Within Reach offers a large selection of high-quality fabrics and leathers so you can customize a living room couch that looks and feels exactly how you'd like.

Key considerations here, beyond personal style, are durability, ease of cleaning, and comfort. If you have children and/or pets, it's a good idea to choose high-performance, easy-to-clean materials like cotton, wool, and high-performance synthetic fabrics. Microfiber sofas are particularly easy to clean. As you browse, make note of colors and materials you like, and think about ordering fabric samples to test softness and see how the colors and textures will look in your space.