AT HOME WITH MISSY ROBBINS AND TALIA BAIOCCHI
Holiday entertaining, relaxed
"We entertain more frequently during the holidays, but what we serve doesn't change," says Missy Robbins, the James Beard award-winning chef and owner of Lilia and Misi restaurants in Brooklyn. "It's all Italy, all the time." In fact, Missy and her partner, Talia Baiocchi, the founder and editor-in-chief of Punch, a media brand focused on drinks and drinking culture, wrote the book on pasta, literally: the recently published Pasta: The Spirit and Craft of Italy's Greatest Food. A celebration of storytelling and delicious dishes, the book contains 100 recipes, many of which were tested on friends at the couple's fun but never fancy gatherings. "Cooking is my way of relaxing," Missy says.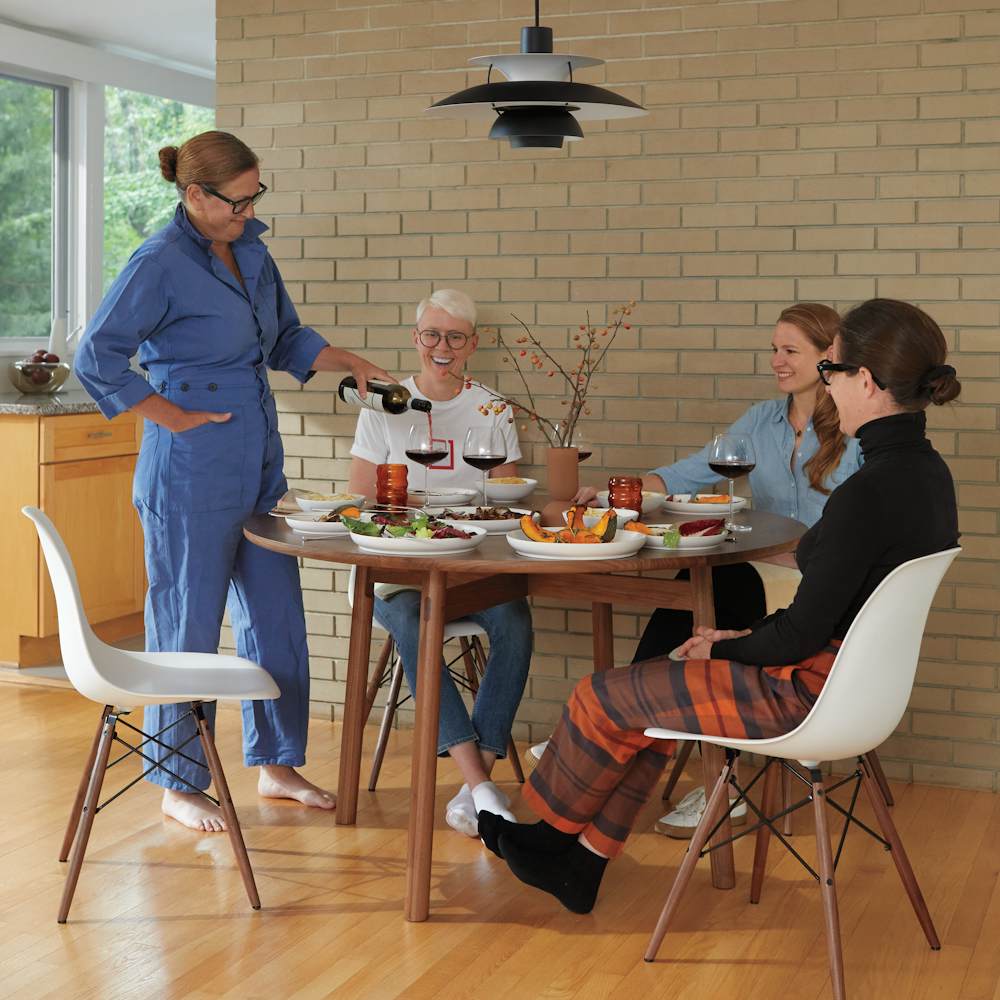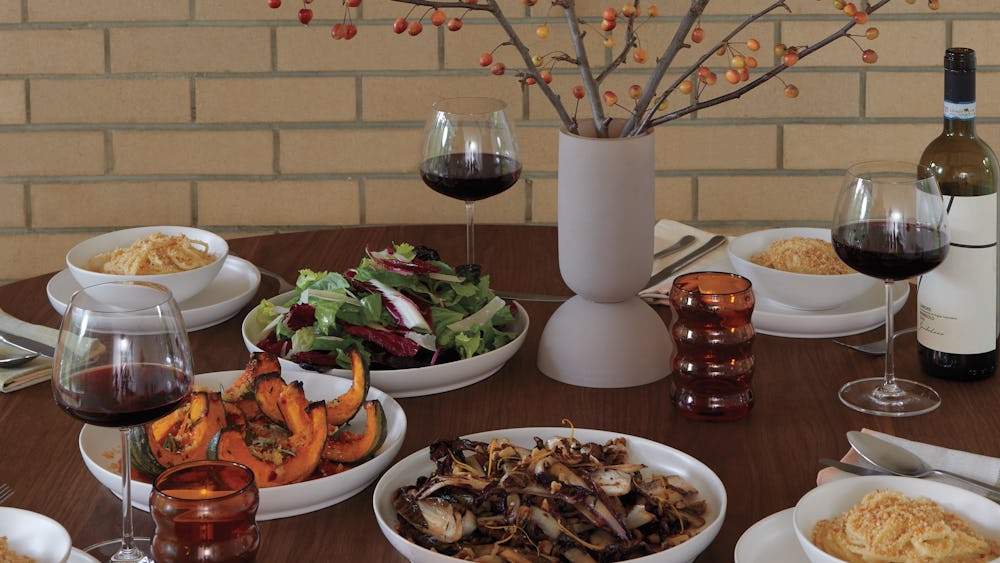 Italian home cooking
Missy and Talia complement each other perfectly as hosts, with Missy commanding the kitchen and Talia mixing up irresistible cocktails. While Missy is known for her delicious homemade pastas, she will often use dried pasta for dishes like her Spaghetti with Lemon, Pine Nuts, and Parmigiano. "While the pasta has only four main ingredients, they come together to make something extraordinary," she says. For a Sunday night supper with their friends Dana and Lish, Missy made a vegetarian menu of dishes from her Pasta cookbook, including a hearty pasta, Roasted Kabocha Squash, Charred Treviso with Walnuts and Saba, and a salad of Bitter Lettuces and Herbs with House Vinaigrette.
"After a long week at work running two restaurants, coming up to our house in Connecticut is like one big exhale," says Missy. "For years, I've lived in a tiny apartment with a microscopic kitchen in New York City. Now we finally have a place to grill outdoors, cook at home, garden, and have friends over. Both Talia and I love and appreciate midcentury modern architecture and furniture, especially the openness of the space and the fluidity between indoors and outdoors. This is a small house, but all the glass and open plan make it feel so much larger.

"When we first moved into the house, my parents gave us their prized Eames Lounge Chair they had owned for 36 years," says Missy. "For a while it was the only chair we had, and I kind of loved it that way. But we've gradually added pieces we love and made this place our own. At night, the fireplace is our gathering place. We always have aperitivo hour around the cocktail table. It's where we can shed the cares of the week and really relax."
"The first day we moved into this house, my parents gave us the Eames Lounge Chair they've owned for 36 years. It happens to be the most comfortable chair in the world. It's where I feel most at home." —
Missy Robbins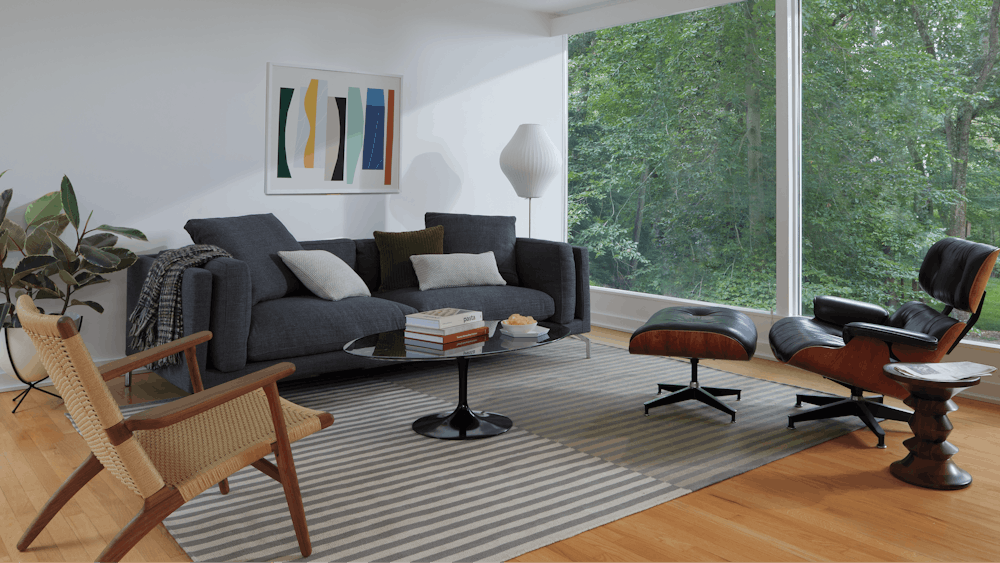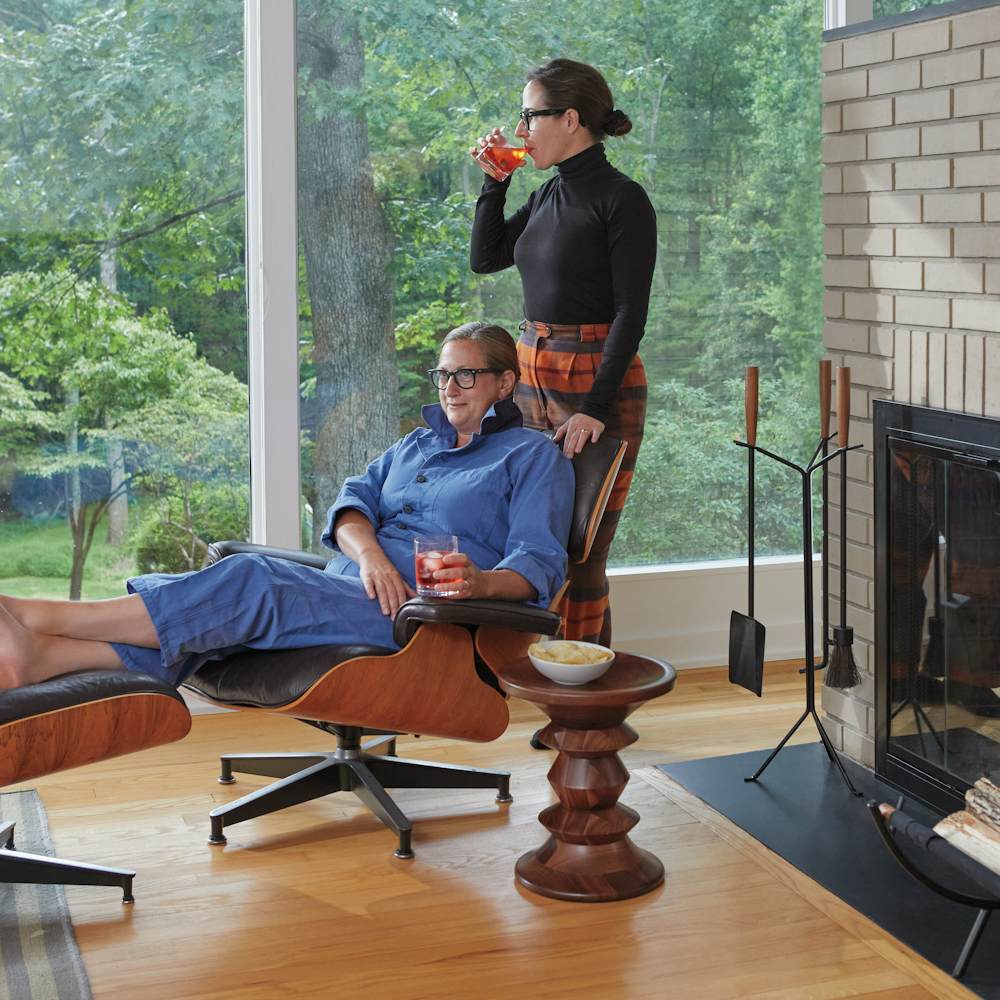 Missy's tips for entertaining
Prep as much as possible ahead of time so you can enjoy your guests. While pasta needs to be cooked close to serving, the nuts can be toasted and cheese grated earlier. The squash takes an hour to roast, but you can cook it ahead, then reheat and finish it. "Have your mise en place, or all your ingredients in place, before you start cooking," Missy advises.
For pasta, "Start boiling the water before you start cooking – it always takes longer than you think. And salt the water heavily." You can use anything from a good store-bought pasta to an artisanal brand.
Keep appetizers and desserts simple. "We usually serve an aperitivo platter with some cheeses, salumi, and olives. For dessert, we might just serve gelato."
Spaghetti with Lemon,
Pine Nuts, and Parmigiano
Makes 4–6 servings

Getting this dish right lies in the order of operations – specifically when to add the lemon. Add the lemon juice and lemon zest too early and it ends up dull and bitter, and this is a dish that endorses the opposite.

⅔ cup pine nuts
1 lb. 6 oz. good quality dried spaghetti
2 Tbsp. olive oil
1 garlic clove, thinly sliced
3 Tbsp. unsalted butter, cold and cubed
⅔ lemon peel, pith removed and peel finely chopped
1⅓ cups finely grated parmigiano-reggiano
4 lemons, cut in half and seeds removed


Preheat the oven to 325°F. Spread the pine nuts in a single layer on a sheet pan and toast until very lightly golden brown, 5 to 7 minutes, checking their progress every few minutes to ensure they don't burn. Set aside to cool, about 15 minutes. Once cooled, finely chop and set aside.
Bring a large pot of water to a boil over high heat. Generously salt the water.
Add the spaghetti to the water and cook for 5 to 8 minutes, until al dente.
While the pasta is cooking, place a large sauté pan over low heat and add the olive oil. Add the garlic and gently cook until aromatic but without color, 10 to 15 seconds.
Add the butter and 3 to 4 ladles (¾ to 1 cup) pasta cooking water. Swirl the contents of the pan to emulsify.
Using tongs or a pasta basket, remove the pasta from the pot and transfer to the sauté pan. Toss for about 1 minute to marry the pasta and the sauce.
Add the lemon peel and a little less than half of the pine nuts and continue tossing to combine.
Remove from the heat and slowly add half of the parmigiano, tossing until it is well incorporated.
Squeeze the juice from the lemon halves into the pan and continue tossing to marry. If the sauce begins to tighten, add a splash of pasta cooking water to loosen. When the pasta is properly married, it will cling to the sauce and have a glossy sheen.
Divide the pasta into bowls and garnish with the remaining pine nuts and parmigiano.
Roasted Kabocha Squash with Hot Honey
and Bread Crumbs
Makes 4–6 servings

There is no denying the lure of mild honey and hot Calabrian chiles. Here I roast squash with butter, herbs, and garlic, then toss the caramelized pieces with honey vinegar and drizzle it with the hot honey and a final dusting of breadcrumbs for texture. It's a dish that finds its home somewhere in the overlap of sweet, spicy, and bright.
Breadcrumbs
½ loaf (8 oz) country bread, torn into pieces (about 4 cups)
¼ cup olive oil
2 cloves garlic

Hot Honey
1 cup honey
3 Tbsp. crushed Calabrian chiles
1½ tsp. Calabrian chile oil (drained from jarred Calabrian chiles)

Squash
2 Tbsp. unsalted butter, cold and cubed
3 Tbsp. olive oil
3 to 4 lb kabocha squash, cut into 2-inch-thick wedges
10 cloves garlic
7 sprigs rosemary
7 sprigs thyme
Salt, to taste

To Finish
¼ cup honey vinegar or apple cider vinegar
3 sprigs thyme, leaves removed from stems
2 sprigs rosemary, leaves removed from stems
1 tsp. dried red chile flakes
Flaky sea salt, to taste


To make the breadcrumbs, preheat the oven to 200°F. Spread the bread on a sheet pan and bake until dried out, 30 to 45 minutes. You do not want any color. To test for doneness, smash a shard of bread with the back of a spoon. The interior should be completely dry. Let cool.
Once cooled, place the bread in a food processor and pulse until broken down into fine crumbs. You want them to retain some texture, so be careful not to turn them to dust.
Place a sauté pan over medium-low heat. Add the olive oil and garlic and cook until the garlic perfumes the oil, 1 to 2 minutes. Remove the garlic and save for another use.
Turn the heat down to low. Line a plate with paper towels. Add the breadcrumbs to the pan and cook, stirring occasionally, until they are golden brown, 5 to 8 minutes. Remove from the pan and transfer to the plate to drain. Let cool.
Measure out ⅓ cup breadcrumbs and set aside. Transfer the remainder to an airtight container and store in a cool, dry place for up to 1 week for another use.
To make the hot honey, mix together the honey, chiles, and chile oil in a small bowl. Measure out ¼ cup and set aside. Transfer the remainder to an airtight container store at room temperature for up to 2 weeks for another use.
To make the squash, preheat the oven to 400°F.
Place a small saucepan over low heat. Add the butter and gently melt. Remove from the heat and stir in the olive oil.
Place the squash wedges in a large bowl. Add the butter mixture and toss or stir to coat on all sides.
Place the squash wedges, skin side down, on a sheet pan. Arrange the garlic cloves around and on the squash and lay the rosemary and thyme sprigs on top. Sprinkle with salt.
Roast the squash until fork-tender and slightly caramelized, about 45 minutes.
To finish, transfer the squash to a large bowl, add the vinegar, and gently stir to coat.
Transfer the squash to a large serving platter and drizzle with the hot honey. Garnish with the thyme and rosemary leaves, chile flakes, and breadcrumbs, then sprinkle with sea salt to finish.