4.7 out of 5 Customer Rating
4.7 out of 5 Customer Rating
Shipping Options
Return Options
Not satisfied with your purchase? We'll work with you to make it right. Contact us within three (3) days of your order's delivery.
Learn more
.
12-year warranty (terms and conditions may vary)
Details
Details
As intuitive as the technology it supports, Flo features a patented geometric spring technology and dynamic fingertip control. This lets you put your screen exactly where you want it with minimum effort and maximum precision. Unlike any other monitor support mount on the market, it supports everyone's eyes, even those with progressive lenses. Houses technology ranging from 7 to 20 pounds.
Brand
General Dimensions
Assembly

Comes fully assembled
Warranty

12-year warranty (terms and conditions may vary)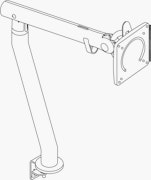 Flo Monitor Support
Depth Min (in): 20½
Height (in): 18½
Height Min (in): 6
Depth (in): 23
Care & Maintenance


With regular care and maintenance, your Herman Miller product will provide many years of superior performance and satisfaction. To maintain quality, please follow the cleaning procedures outlined here.


The instructions for the care and maintenance of Herman Miller products are provided to you as a service. No warranty is implied since results may vary.


Coated Metal


For normal cleaning, wash coated metal surfaces with a soft cloth soaked in detergent and warm water; rinse thoroughly and dry. Remove scuff marks from low-gloss coatings with pre-softened paste wax, following the manufacturer's instructions. Remove scuff marks and scratches from high-gloss coatings using automotive polishing compounds, either liquid or paste. After polishing, apply a pre-softened automotive paste wax to restore original sheen. For assistance in determining the appropriate color and gloss for Herman Miller touch-up paint, contact your Herman Miller Customer Service Representative.


Plastic


For normal cleaning, wash plastic surfaces with a soft cloth soaked in mild detergent and warm water. Rinse thoroughly and dry with a soft cloth. Do not use solvents or abrasive kitchen cleaners.
Reviews

Questions + Answers