A work stool version of the iconic Aeron Chair.
The chair that introduced the world to the power of ergonomics.
Perfect for architects and designers who sit at drafting tables.
Shipping Options
Return Options
Not satisfied with your purchase? We'll work with you to make it right. Contact us within three (3) days of your order's delivery.
Learn more
.
12-year warranty (terms and conditions may vary)
The start of an ergonomic revolution —
More than 25 years ago, the Aeron Chair brought ergonomics to the office, forever redefining what we expect a task chair to do. In 2016, Aeron was re-engineered to address how we work today, incorporating advancements in materials and the science of sitting.
Details
Details
Best in class
When Bill Stumpf and Don Chadwick designed the Aeron Chair (1994), they combined a deep knowledge of human-centered design with cutting-edge technology to create a chair unlike any other. In 2016, Don Chadwick evolved Aeron with 20 years' research in the science of sitting, as well as advancements in materials. The result is the perfect blend of ergonomics and comfort. Is it any wonder that more than 7 million Aeron Chairs have been sold worldwide?
The perfect balance of ergonomics and comfort.
You'll sit naturally while also experiencing superior back support.
Breathable fabric keeps you cool and comfortable.
Height-adjustable footrest for comfortable extended sitting.
Height-adjustable plus pivot arms.
Eco-Friendly Description: LEVEL certified and Indoor Advantage Gold certified product. LEVEL® by BIFMA is an evaluation and certification system for environmentally preferable and socially responsible office furniture. The LEVEL program has three performance tiers: LEVEL 1, 2, and 3. The higher the number, the more criteria considered and met across 4 key areas: materials, environmental impact, human health, and social responsibility. Indoor Advantage Gold certification is SCS Global Services' highest level of indoor air quality performance for furniture. The certification assures that furniture products support a healthy indoor environment by meeting strict chemical emission limits for volatile organic compounds (VOCs).
Brand
General Dimensions
Product Weight

50 lbs
Box Dimensions
Assembly

Comes fully assembled
Warranty

12-year warranty (terms and conditions may vary)
Lifestyle
Counter Height
Height (in): 49.25
Height Min (in): 45.625
Width (in): 27
Depth (in): 17
Weight (lbs): 50
Seat Height (in): 29.25
Seat Height Min (in): 24.75
Seat Width (in): 20.25
Seat Depth (in): 17
Weight Capacity (lbs): 350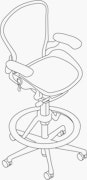 Bar Height
Height (in): 54.5
Height Min (in): 49
Width (in): 27
Depth (in): 17
Weight (lbs): 70
Seat Height (in): 34.25
Seat Height Min (in): 28
Seat Width (in): 20.25
Seat Depth (in): 17
Weight Capacity (lbs): 300
Powder-coated or polished die-cast aluminum frame and base

8Z Pellicle elastomeric suspension seat and backrest

Seat tilt mechanism

Adjustable back with PostureFit SL™ hardware or lumbar support

Standard polyurethane foam arm pads

Standard 2.5-inch carpet casters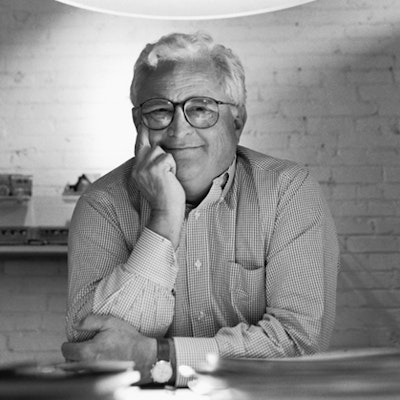 Bill Stumpf
Bill Stumpf once said that he liked to collaborate with other designers the way a jazz trio improvises, playing together with no fixed destination. The approach requires complete attention, and you have to trust your instincts. Design should make room for spontaneity and discovery, said Stumpf, "blending the pleasure and pain of life into something wonderful."
More on Bill Stumpf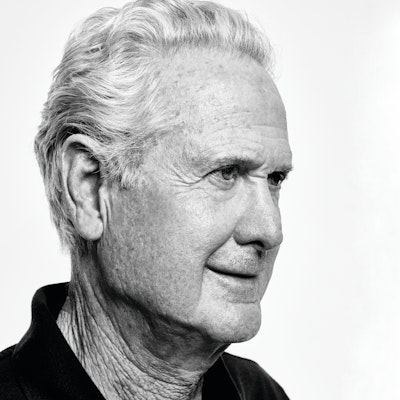 Don Chadwick
Chairs are for sitting on. It sounds obvious, but there are designers who seem to miss that point. Not Don Chadwick, however, who has developed some of the best chairs on the market – including the Aeron Chair with Bill Stumpf – by emphasizing the body and the fact that bodies move.
More on Don Chadwick
Care & Maintenance
With regular care and maintenance, your Herman Miller product will provide many years of superior performance and satisfaction. To maintain quality, please follow the cleaning procedures outlined here.
The instructions for the care and maintenance of Herman Miller Products are provided to you as a service. No warranty is implied since results may vary.
Polished Aluminum
For normal cleaning, apply a pre-softened paste wax to polished aluminum components following the manufacturer's instructions. In humid atmospheres near salt water, apply the wax once a month. In other areas, apply wax every three months to maintain the appearance of the aluminum.
Plastic
For normal cleaning, wash plastic surfaces with a soft cloth soaked in mild detergent and warm water. Rinse thoroughly and dry with a soft cloth. Do not use solvents or abrasive kitchen cleaners.
Pellicle
For normal cleaning, vacuum fabric as needed. Vacuuming picks up dust and reduces the need for professional cleaning. Do not brush fabric or use a vacuum attachment with a rotary brush. Brushing may permanently damage the nap or change the character of the fabric.
There are two types of stains: water-based and oil-based. Water-based stains are non-greasy soil or stain such as coffee, soft drinks, fruit juices, or milk. Oil-based stains are oil-borne soil or stains such as lipstick, grease, or salad dressing.
For water-based stains, use a water-based cleaner (specifically made for cleaning fabric) or a solution of mild (alkaline) warm soapy water (not overly soapy) applied with a damp clean cloth or sponge. Work the cleaner into a lather or foam. Never use hot water, it will set the stain. Avoid scrubbing.
For oil-based stains, use a dry cleaning solution applied with a damp clean cloth or sponge.
To spot-clean fabric, immediately soak up the stain with a soft absorbent cloth. Do not dry the stain completely or it may set. The longer a stain is allowed to remain on a fabric, the more difficult it is to remove.
Test the cleaning solution on a small, concealed area first. If there is no spotting, ringing, or damage to the fabric or its dyes, apply the cleaning solution to the soiled area with light, quick strokes. Begin at the outside of the stain and work toward the center, being careful not to over-saturate the fabric.
Do not rub too vigorously or you may damage the nap of the fabric or break fibers. Several light applications are better than one heavy application.
Soak up all remaining cleaning solution and then use another clean cloth or sponge to remove any residue. (For water-based stains, use a clean cloth or sponge dipped in cool water.)
Let fabric dry thoroughly and then vacuum well before using.
If the stain resists cleaning, call a professional cleaner.
If large areas are soiled, have a professional cleaning firm clean the fabric with a dry compound upholstery shampoo.