4.3 out of 5 Customer Rating








4.3 out of 5 Customer Rating
Sculptural modern desk.
Colorful cubbies.
Authentic George Nelson.
Shipping Options
Threshold Delivery, In-Home Delivery
Return Options
Not satisfied with your purchase? We'll work with you to make it right. Contact us within three (3) days of your order's delivery.
Learn more
.
DWR honors a one (1) year warranty on all products. Brand-specific warranties may extend to longer periods.
Details
Details
With ample space for writing, typing, or sketching, the Swag Leg Desk, designed by George Nelson in 1958, offers colorful cubbies for desktop organization and a handy shelf. The Swag Leg Collection was named for a manufacturing process that uses pressure to curve and taper metal tubing. This desk perches lightly on signature sculptural legs stabilized by a solid walnut stretcher. Brightly colored dividers create storage cubbies, and the center cubby fits most laptops. Includes removable organizer trays in its two drawers and adjustable glides to ensure a level work surface. This is the authentic Swag Leg Desk by Herman Miller.
Sculptural modern desk.
Colorful cubbies.
Authentic George Nelson.
Brand
General Dimensions
Product Weight

75 lbs
Assembly

Requires Assembly
Warranty

DWR honors a one (1) year warranty on all products. Brand-specific warranties may extend to longer periods.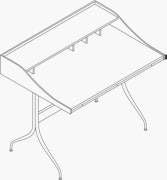 Nelson Swag Leg Desk
Height (in): 34¼
Width (in): 39
Depth (in): 28⅜
Weight (lbs): 75
Steel legs with solid walnut stretcher

Walnut veneer desktop frame

Particleboard panels

Formed plastic organizer trays

Leveling floor glides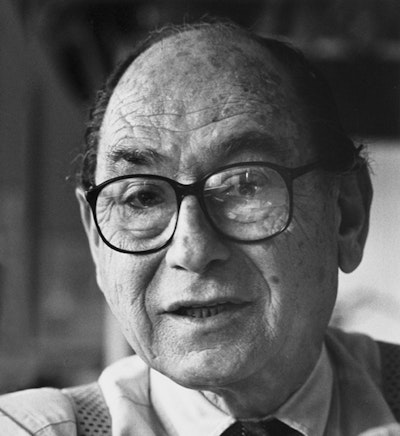 George Nelson
Possessing one of the most inventive minds of the 20th century, George Nelson was the rare person who can envision what isn't there yet. Nelson felt that designers must be "aware of the consequences of their actions on people and society and thus cultivate a broad base of knowledge and understanding."
More on George Nelson
Care & Maintenance
With regular care and maintenance, your Herman Miller product will provide many years of superior performance and satisfaction. To maintain quality, please follow the cleaning procedures outlined here.
The instructions for the care and maintenance of Herman Miller products are provided to you as a service. No warranty is implied since results may vary.
Chrome
For normal cleaning, wet cheesecloth in a nonabrasive cleaner, like liquid dish soap, and rub the chrome component lightly until the original luster reappears. Dry the component with a soft cloth to remove any soap residue.
Wood & Veneer
This includes Herman Miller products finished with wood veneer or recut wood veneer, except the oiled Eames Lounge Chair and Ottoman with Rosewood, Oiled Walnut, or Oiled Santos Palisander veneer unless specifically noted.
Normal Cleaning
Dust regularly with a slightly damp, soft, lint-free cloth. Wipe dry with a dry, soft cloth in the directionof the wood grain.Spills should be immediately wiped up with a damp cloth.
Once a month
Clean the surface with a soft cloth dampened with a quality cleaner formulated for wood furniture. Wipe the surface in the direction of the wood grain to remove dirt and fingerprints. Wipe dry with a clean, dry cloth.
Twice a year
Apply a good quality furniture polish with a soft cloth. Do not use aerosol-powered cleaners or polishes. Also, do not use polishes containing waxes or abrasives, or polishes that are oil based.
Stains
Herman Miller veneers meet strict testing standards for resistance to wear, light, stains, water, and pressure. To reduce the risk of damage, take some precautions: Use coasters for glasses and mugs. If a glass top is added to the veneer surface, be sure it rests on felt pads. Don't place a potted plant on a veneer surface unless it's in a water-tight container or in a drip tray.Don't let vinyl binders stay on a surface for very long. Use protective pads under equipment with "rubber" cushioning feet. Some chemical compounds used in the feet on office equipment, such as printers and monitor stands, may leave permanent stains or marks.
Minor repair of water rings, stains, and scratches
Rub the surface lightly in the direction of the wood grain using No. 000 steel wool. Apply a scratch-removing polish with a color and value that simulate the veneer. If the scratches are deep, consult a professional furniture refinisher.
Other Damage
Wood is susceptible to bruising and scratching from heavy office equipment, so we encourage a protective surface is placed underneath. Objects should be lifted instead of dragged across a surface. Protective pads should be used under items with a rough bottom, like pottery. Denting, caused by extreme pen pressure when writing, can also damage veneer. Use desk pads or some other protection where a lot of paperwork is done. Sunlight can damage veneer as well, so veneer surfaces should not be in direct sunlight. To help a surface age evenly, users can periodically move items on their desks so that the entire surface is exposed to an even amount of light over time. In addition to light, extremely high or low humidity is a damaging environmental factor. Herman Miller suggests maintaining a relative humidity of 35-65 percent.
Laminates
Products using laminate may include tabletops, work surfaces, counter caps, transaction surfaces, flipper doors, and lateral files.
For normal cleaning, wash the laminate with a soft cloth and a solution of mild detergent and warm water. Rinse thoroughly and dry with a soft cloth.
For minor repair of burns or other stubborn marks, apply a nonabrasive liquid kitchen cleanser with a soft cloth soaked in warm water. Rub in the direction of the grain; use caution to avoid damaging the surface texture or gloss. If no grain direction is visible, rub with a light, circular motion.
Do not use powdered abrasives or other harsh cleansers like hypochlorite bleach, hydrogen peroxide, nitric or hydrochloric acids, or lye; they may deface the surface and change the finish color.
You may also like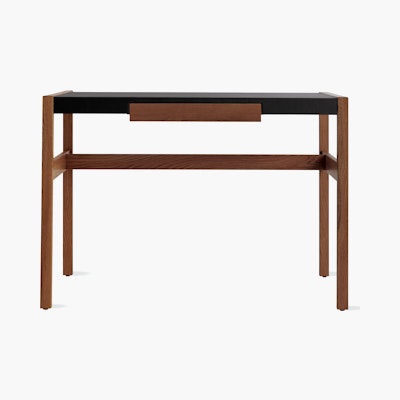 Risom Desk
Design Within Reach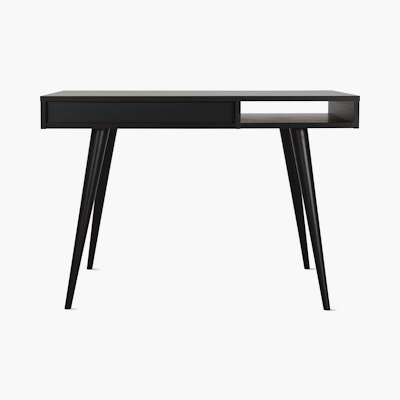 Celine Desk
Case
$1,295.00

-

$1,695.00
$906.50

-

$1,695.00
up to 30% off
Reviews

Questions + Answers