Modern Outdoor Furniture
If there's one thing we know to be certain, it's this: modern outdoor furniture sets can make or break your space. The right pieces of backyard furniture will create an inviting outdoor area that begs daily use, while the wrong ones will altogether deter you from relaxing out of doors or dining alfresco. Our advice? Design a welcoming space with pieces that are equal parts unique and functional.
Whether you're looking for deck furniture to encircle your pool or dining sets to outfit a paved terrace, our modern patio furniture combines of-the-moment silhouettes with high-performance materials to enhance durability. Bring style and comfort to your patio, courtyard, or balcony with contemporary outdoor furniture, including sofas and sectionals, side tables, chaise lounges, and more designer patio furniture pieces.
Types of Outdoor Furniture
Thanks to an abundance of outdoor furniture styles, it's easy to find what's right for your space. As you shop, consider these options and seating arrangements.
Outdoor lounge furniture, like a sleek chaise or deep-seated armchair, is an ideal choice for a pool patio or sundeck. These chairs encourage their occupants to sit back, relax, and soak up the sun. Outdoor accent tables not only provide a surface for a beverage or book, but they also pair effortlessly well with outdoor sofas and chairs. Center a low coffee table in the midst of your seating arrangement, or place end tables between chairs. End tables are especially functional if your seating centers around a fire pit.
If you're looking for outdoor furniture for small spaces, opt for pieces that feature a streamlined silhouette. Think: a petite yet plush two-seater sofa, a café table and stools, or an accent table with a pedestal base and armless chairs.
For outdoor entertaining, select a patio furniture dining set. Pair a rectangular dining table with a mix of benches and chairs to accommodate a large dinner party. Lastly, if you have an outside kitchen and grill, consider outdoor patio bar sets with counter height bar stools.
Choosing Outdoor Furniture
No matter the size of your space or the style of your pieces, durable patio furniture is a must-have. Keep the following materials in mind when choosing outdoor furniture.
Recycled high-density polyethylene is waterproof, fade resistant, and maintenance-free. Similarly, powder-coated steel is both weatherproof and anti-rust. If you want a more natural-looking material, opt for solid teak, which weathers naturally and develops a beautiful silvery-grey patina. For those who love wicker, try woven resin cord. It mimics the look of wicker, but it boasts weatherproof properties.
In addition to durability, comfortable patio furniture is a necessity. Seat cushions instantly soften solid wood- or steel-framed pieces. Choose cushions covered in UV- and mildew-resistant fabrics so that they withstand the elements.
Outdoor furniture arrangements may vary according to your needs and the size of your space, but these pieces are a surefire way to channel sophisticated ease and create a welcoming space — one that you'll want to use on the daily.
At Design Within Reach, we're here to answer questions and more, with complementary design services to support you at every step of your interior design journey. Our staff of in-store design professionals can give advice and recommendations via chat, photos, and live video. They can also do 3-D renderings of your rooms so you can see how an arrangement might work. Look for the black chat icon at the lower right of webpages.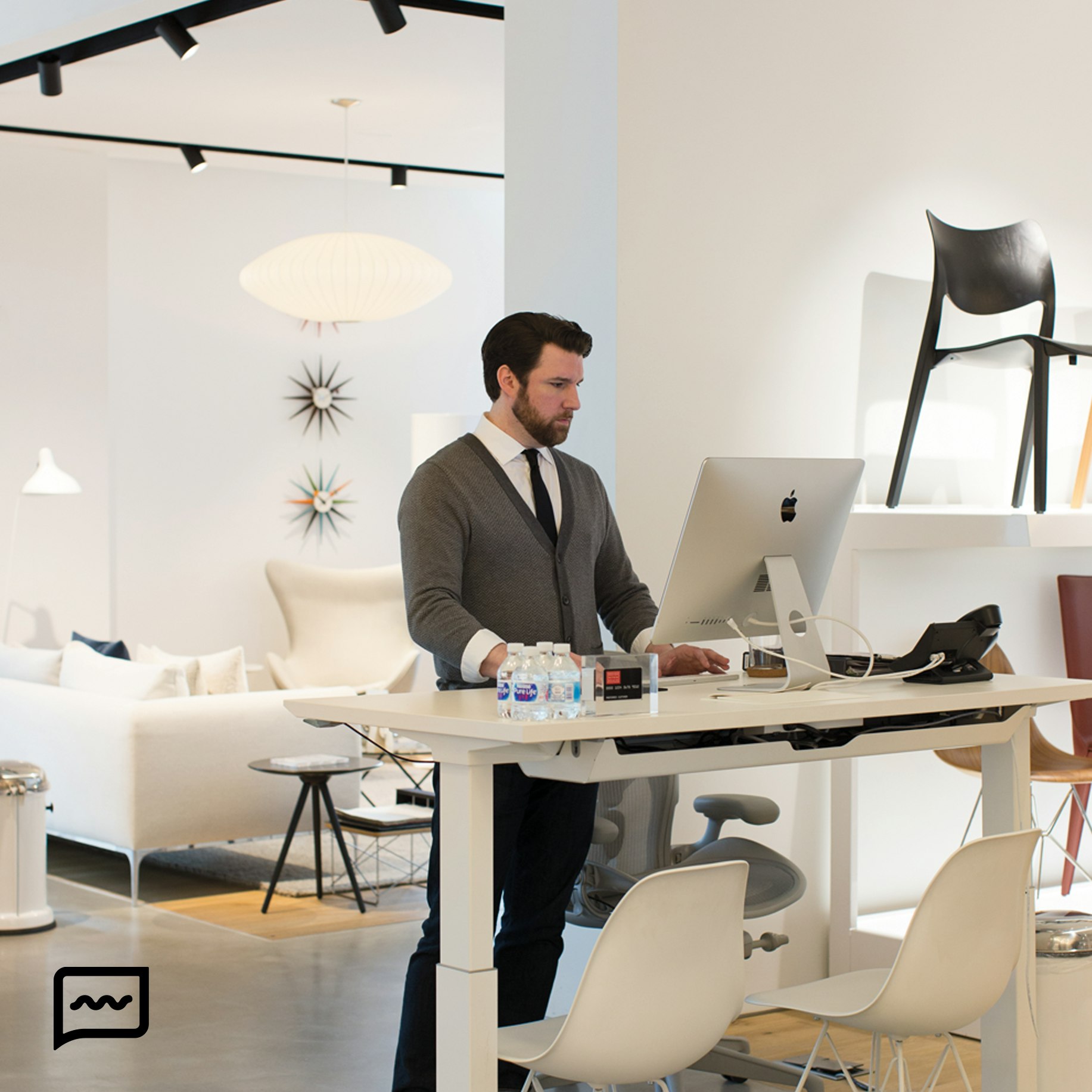 Any questions so far? We can help.
Complimentary design services including expert design consultations, in-home measuring and 3-D renderings of your rooms.