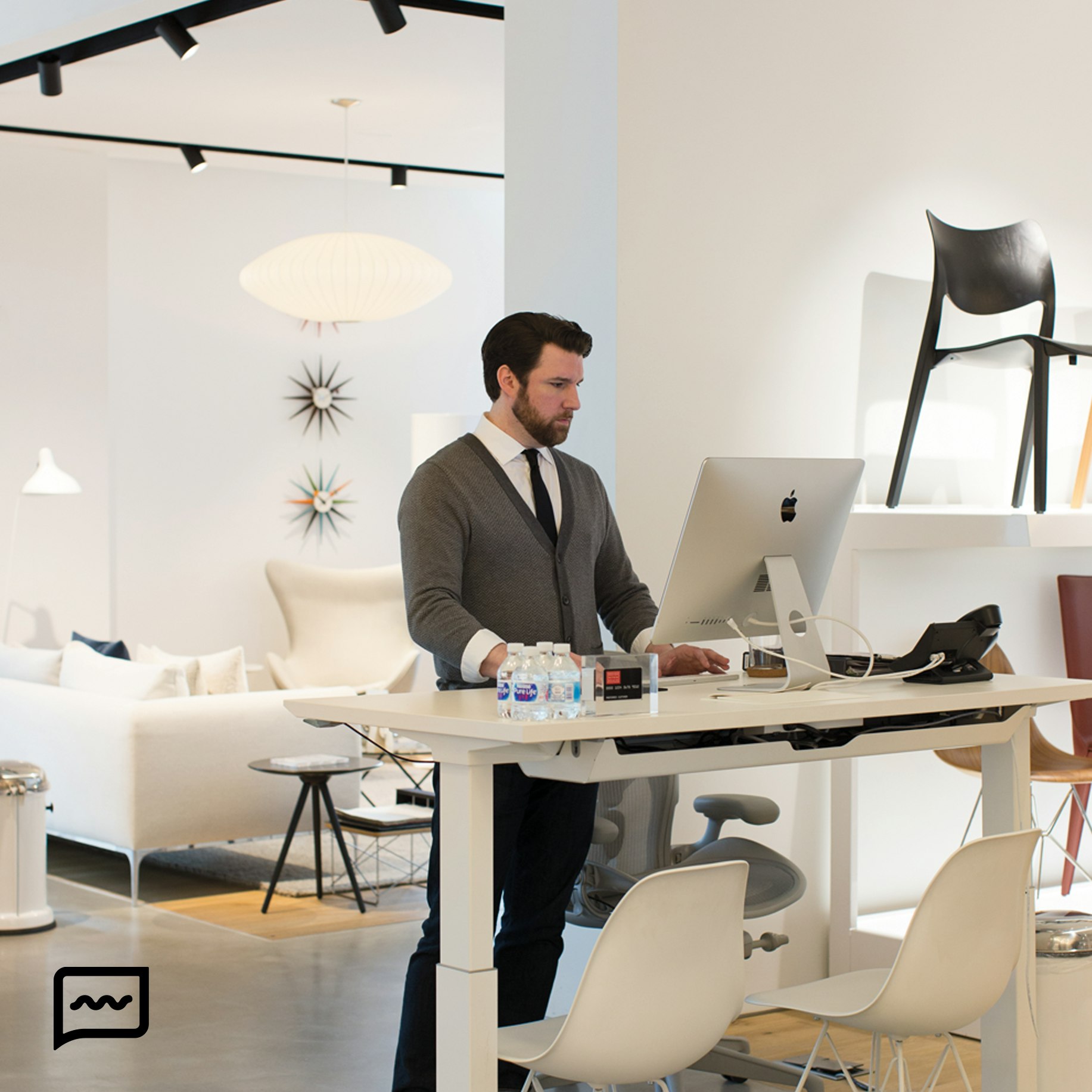 Any questions so far? We can help.
Complimentary design services including expert design consultations, in-home measuring and 3-D renderings of your rooms.
Modern Shelving Systems
Modern shelving systems are typically adjustable or otherwise customizable shelving units that can be configured to support myriad unique storage needs throughout the home. These adjustable shelving systems are sometimes called modular shelving systems, as they are often sold by modules, individual components that can be mixed and matched as needed. At Design Within Reach, shop modern shelving systems suitable for the smallest to the largest of spaces.
How to Choose & Where to Use Modern Shelving Systems 
Shelving systems can be used in any room in the house, including the basement. Kitchen wall shelves are useful for storing ingredients, spices, cookware, linens, and small appliances. Kitchen shelving units can come wall-mounted or freestanding to suit individual needs and style. Many kitchen shelving systems without cabinet doors fall under the category of open kitchen shelving, but some units come with doors and even drawers to keep things out of sight. Some shelving systems can be assembled to meet specific needs, in such cases as custom pantry shelving or closet shelving. Closets, especially bedroom closets, are another place where a custom shelving system can be invaluable, as they can maximize available storage space in ways basic storage furniture cannot. The home office also needs organization, and modular shelving can be part of the solution. Home office shelving can incorporate freestanding wood bookshelves or office wall shelving systems with wire frames.

A mid-century modern shelving system provides a way to select as much or little storage as you need while adding that touch of mid-century style. Design Within Reach offers several shelving systems in that category. Shelving systems have the advantage of customization, allowing you to tailor the system to fit your space or preference. They also can usually be expanded later as needs or desires change. A metal wall shelving system might have a framework of steel wire with a protective coating onto which shelves of wood or another material may be placed. The position of its shelves can usually be adjusted up or down to accommodate whatever is being placed on them.

At Design Within Reach, shop mid-century modern shelving systems and modular shelving units to accommodate your home's unique storage needs.