AT HOME WITH TALIA BAIOCCHI
Drink modern
"I don't make complex drinks at home. I leave that to the pros," says Talia Baiocchi, despite her impressive cocktail pedigree as the author of Spritz and the founder and editor-in-chief of Punch, a media website focused on drinks and drinking culture. "When I'm entertaining, I keep it simple, choosing drinks with three or fewer ingredients and focusing on fresh fruits or herbs in season."

"You should always have a few 'house drinks' in your back pocket," says Talia, "and build your home bar around those." She suggests choosing three or four drinks that you like to make and keeping those ingredients on hand, rather than feeling as if you have to stock a full back bar.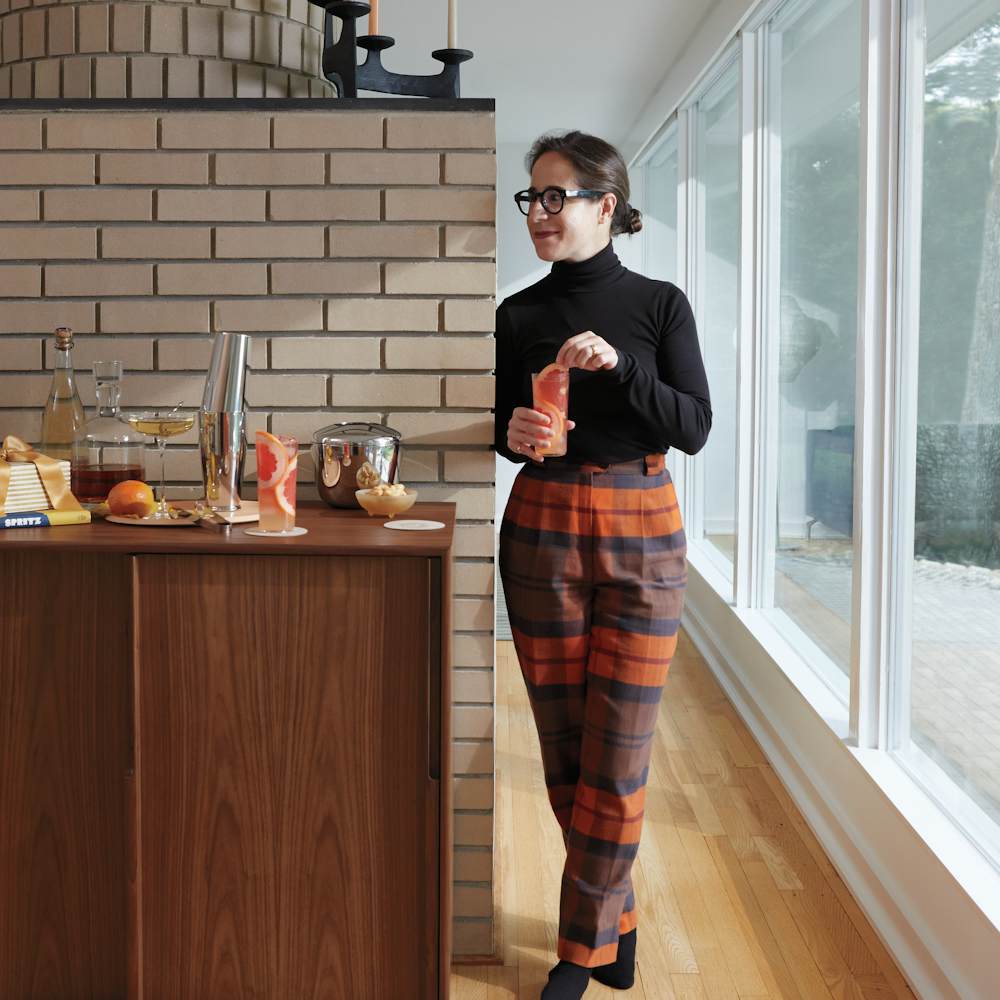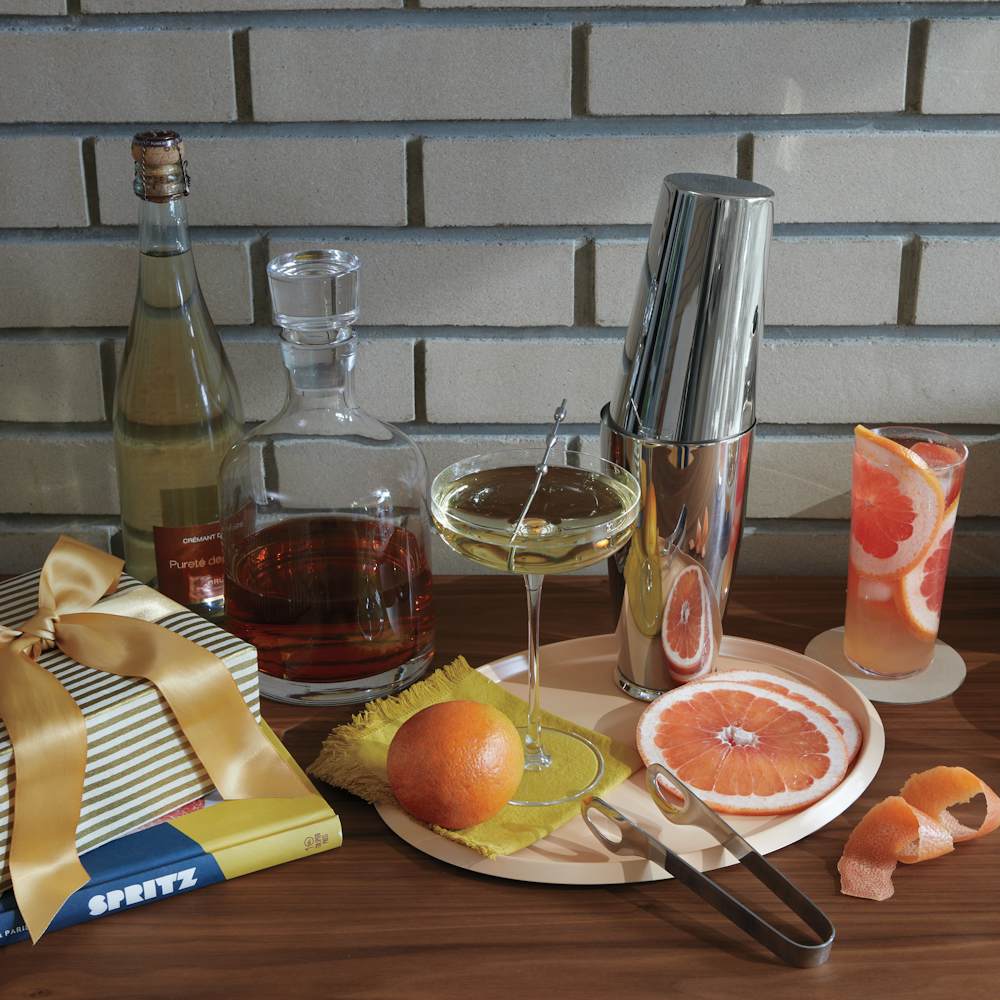 How to be a
mix master
Talia's tips for orchestrating the drinks for your dinner with ease:

• I usually serve guests an aperitivo when they arrive – a low-alcohol drink like the Punch House Spritz (below).

• Garnishes make even a basic drink feel special. Use what you're making for dinner for inspiration: You could add sprigs of rosemary, mint, or thyme; dehydrate lemon slices in a low-temperature oven; or add dried juniper berries or anise.

• After dinner, I like to offer a few bottles of amaro and eau de vie along with small vintage glasses to let people sample different varieties and extend the enjoyment of the evening.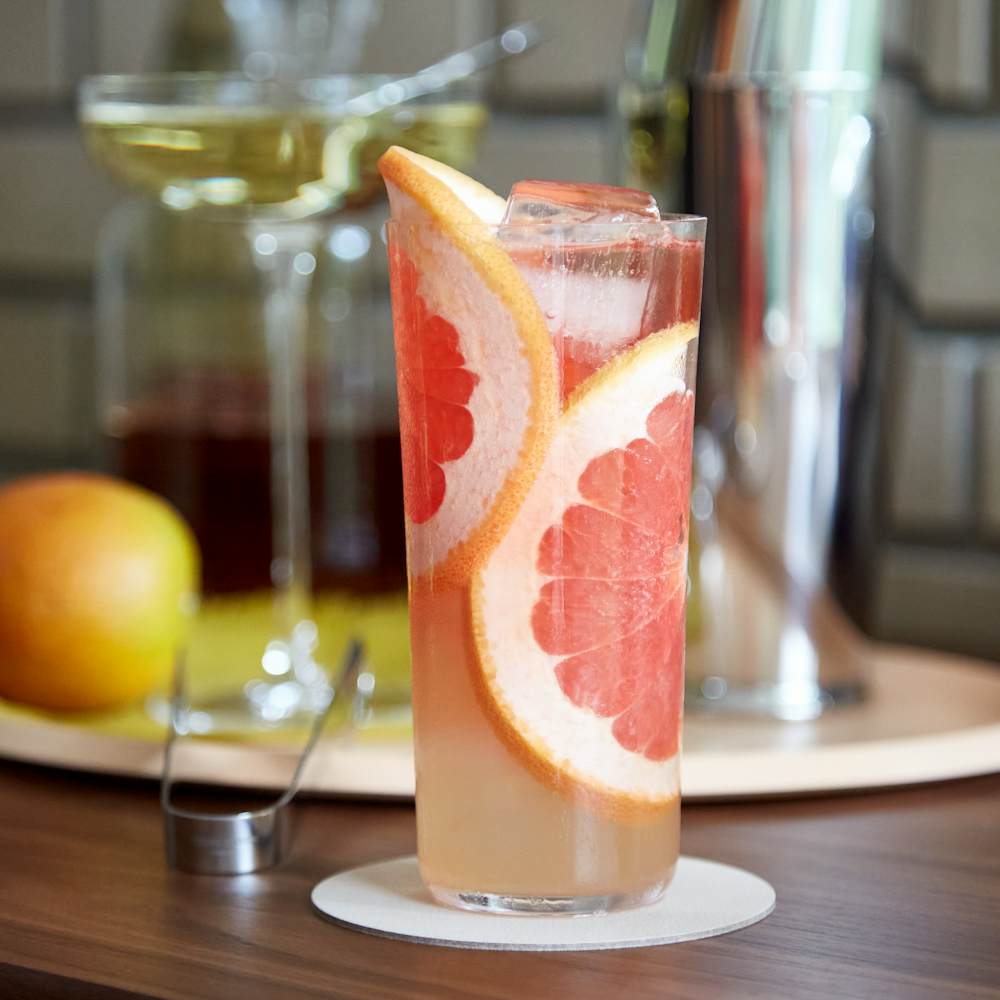 Punch House Spritz
4 ounces Lambrusco rosato
2 ounces Americano bianco aperitivo
1 ounce fresh grapefruit juice
1 ounce soda water
Small grapefruit for garnish

1. Slice a small grapefruit in thin slices for garnish. Nestle one slice on each side of a highball glass, staggered, then anchor with ice cubes.

2. Add the Americano and grapefruit juice to the glass. Top with the Lambrusco and soda water, and gently stir to combine.

For a large batch:
Combine 3 cups Lambrusco, 1½ cups Americano, and ¾ cup fresh grapefruit juice in a pitcher. Divide the mixture between 4–6 ice-filled glasses. Top each with 1–2 ounces soda water, and garnish with a sliced grapefruit wheel.

Adapted from Spritz: Italy's Most Iconic Aperitivo Cocktail, with Recipes by Talia Baiocchi and Leslie Pariseau, © 2016.

Published by Ten Speed Press, an imprint of Penguin Random House.
"You should always have a few 'house drinks' in your back pocket and keep those ingredients on hand. If you're running late or entertaining spontaneously, you'll know what to make." —
Talia Baiocchi