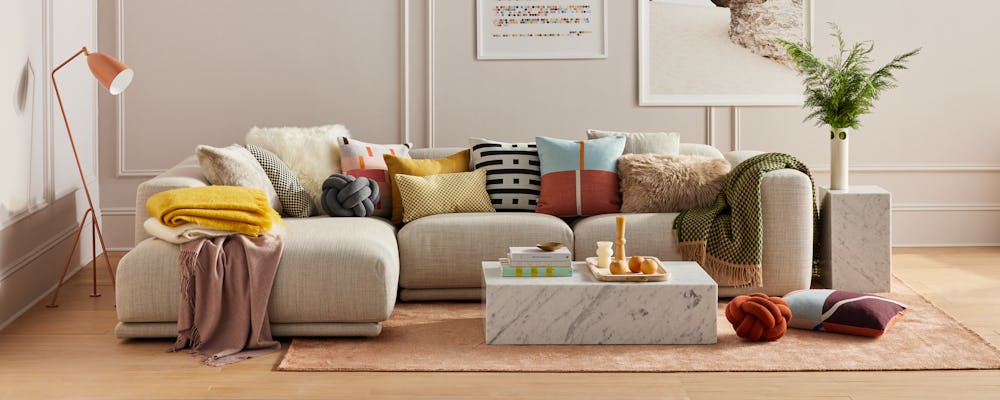 Modern Decor & Accessories
Midcentury modern design embraces modern art in all its forms, drawing inspiration from experimental modern art movements such as modernism, minimalism, abstraction, futurism, and others. No midcentury modern design scheme is complete without modern wall art, modern decor, and other visually interesting home accessories that evoke its artistic history. Many pieces of modern decor pay homage to modern artists and modern design elements, giving your home a cohesive look. At Design Within Reach, explore a rich assortment of modern decor and accessories that can amplify your modern design scheme.
How to Decorate with Modern Decor & Accessories
Prioritize function.
Because functionality is an essential aspect of authentic midcentury modern design, it's a good idea to start decorating and accessorizing with items that will increase the utility of your space. Modern storage accessories, decorative light fixtures, outdoor accessories, and tabletop and bar accessories can all lend visual interest to a modern home while performing essential functions.

Create balance.
To create a sense of balance with your modern decor, choose decorative objects that complement or contrast the surrounding furniture and architecture. For example, if your modern furniture features curved lines and organic shapes, consider decorating with objects that also feature curves and organic shapes. Alternatively, provide contrast with objects that feature a linear aesthetic or geometric motifs. In a light, bright space, embrace a cohesive color scheme with light finishes and materials – or create compelling contrast with objects in a darker, moodier color palette.

Enhance your space.
As you decorate, consider how your decor will enhance the existing features within your space. For example, in a living room with high ceilings, small-scale pieces of wall art may feel disproportionate to the room. Instead, choose large-scale posters or wall art that better fill the space. Similarly, think about hanging wall mirrors across from or adjacent to windows that receive ample natural light. The mirrors will reflect the light and help brighten your space.

How do you find your home decor style?
A good strategy for learning what home decor styles speak to you is to browse photo galleries of homes. Check out the DWR gallery to peruse real customer photos of the modern furniture and decor available at Design Within Reach.

Where to buy home decor and accessories?
For a wide selection of modern home decor and accessories, shop at Design Within Reach.