GIFTS OF GREAT DESIGN
For the
comfort craver
Warm their spirit with the most luxurious of pillows and throws. Gift lustrous mohair, baby alpaca, or lambswool throws. Plush sheepskin pillows pile on comfort, while colorful Hjelle wool and graphic Girard check pillows brighten sofas, chairs, and beds.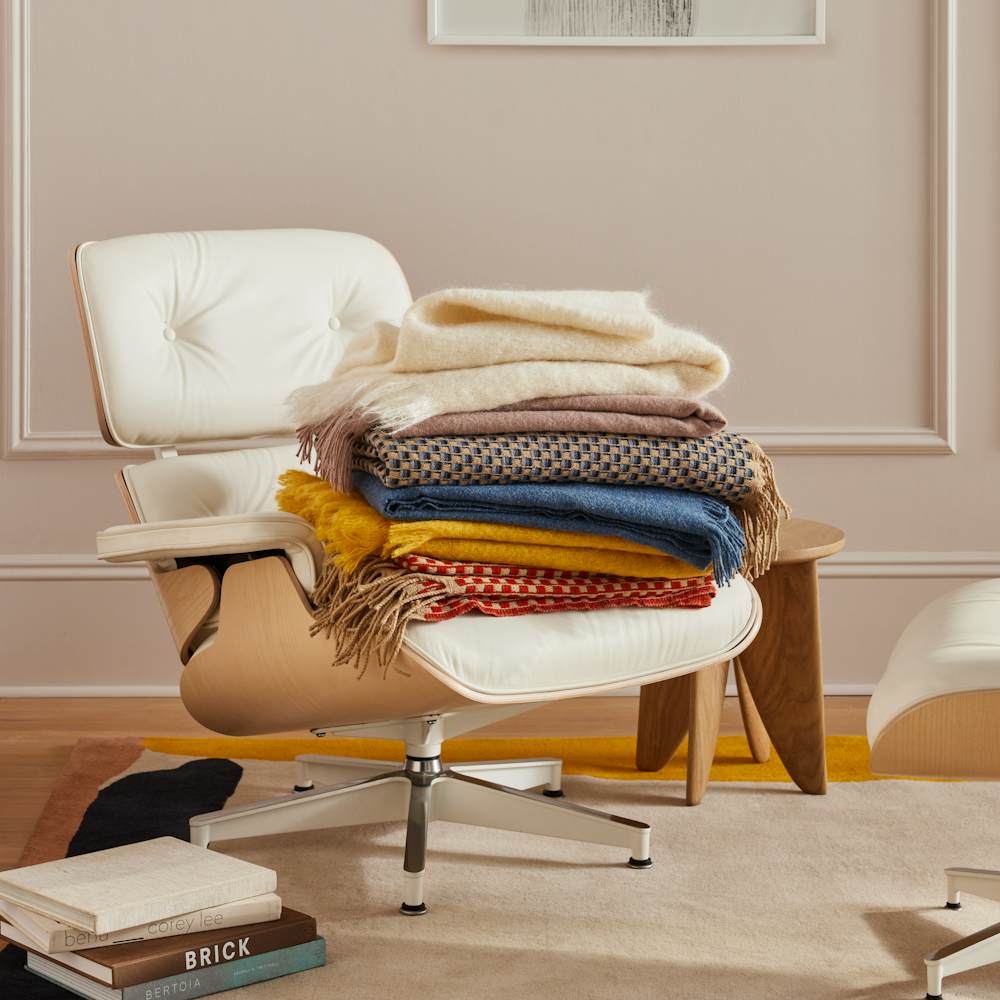 Stress-Relief Gifts
Though hallmarked by joy and excitement, the holiday season can also be a stressful period for many – especially those who haven't finished their gift shopping. This year, consider using stress as a source of inspiration and shop for stress-relief gifts that will encourage their recipients to unwind.
Relaxation gifts can take many forms – you can put together a relaxation gift basket complete with healing aromatics, self-care essentials, and more spa accessories, or you can gift your loved ones a more permanent relaxation solution: a comfortable place to rest and relax in their own home. Comfort gifts like these may include any item that will enhance the coziness and warmth of a loved one's home: plush throw pillows; thick, textured throw blankets; lushly upholstered floor poufs, and more.
If you'd like to present your friends and family with stress-relief gifts that will forever amplify the calming atmosphere of their home (without sacrificing style), browse cozy gifts at Design Within Reach.
Cozy Gifts From Design Within Reach
Stress-relief gifts from Design Within Reach include many sought-after textile accessories, including the well-loved Oona Throw. Woven from ethereal baby alpaca wool and hand-finished by Peruvian craftspeople, the luxurious Oona Throw provides calming, weightless comfort and is available in a choice of several eco-friendly, water-based hues.
For a thicker alternative that's just as lightweight and soft as Oona, consider Lofoten – inspired by the waffle-knit design of Norwegian fishermen sweaters and made in Norway, the lambswool Lofoten throw is an homage to Norwegian comfort and quality. Or, for the ultimate indulgent comfort gift, consider the Sheepskin Throw, whose pile enables it to work as a rug, blanket, or piece of downy decor. The soft plaid Passel Throw and coolly minimalist alpaca wool Aymara Throw would also be excellent choices for cozy gifts that will become staple home accessories.
Throw pillows and floor pillows from Design Within Reach can also make great relaxation gifts that can enhance the style and sophistication of a space when not being used as cozy comforts. Consider pairing a Passel Throw with a matching Maharam plaid pillow in the Passel pattern for a unified stress-relief gift bundle or couple a minimalist or color-blocked modern throw blanket with a punchy patterned pillow (think: Amulet Pillow or Gey Pillow) for compelling contrast.
If you'd like your relaxation gifts to provide more structured support, consider the sculptural Knot Pillow or Knot Floor Pillow, which are as comfortable as they are visually stimulating. Your options don't end there – shop all throw pillows and blankets at Design Within Reach to explore more cozy gift ideas that incorporate rich, lush textiles.
Any questions so far? We can help.
Complimentary design services including expert design consultations, in-home measuring and 3-D renderings of your rooms.