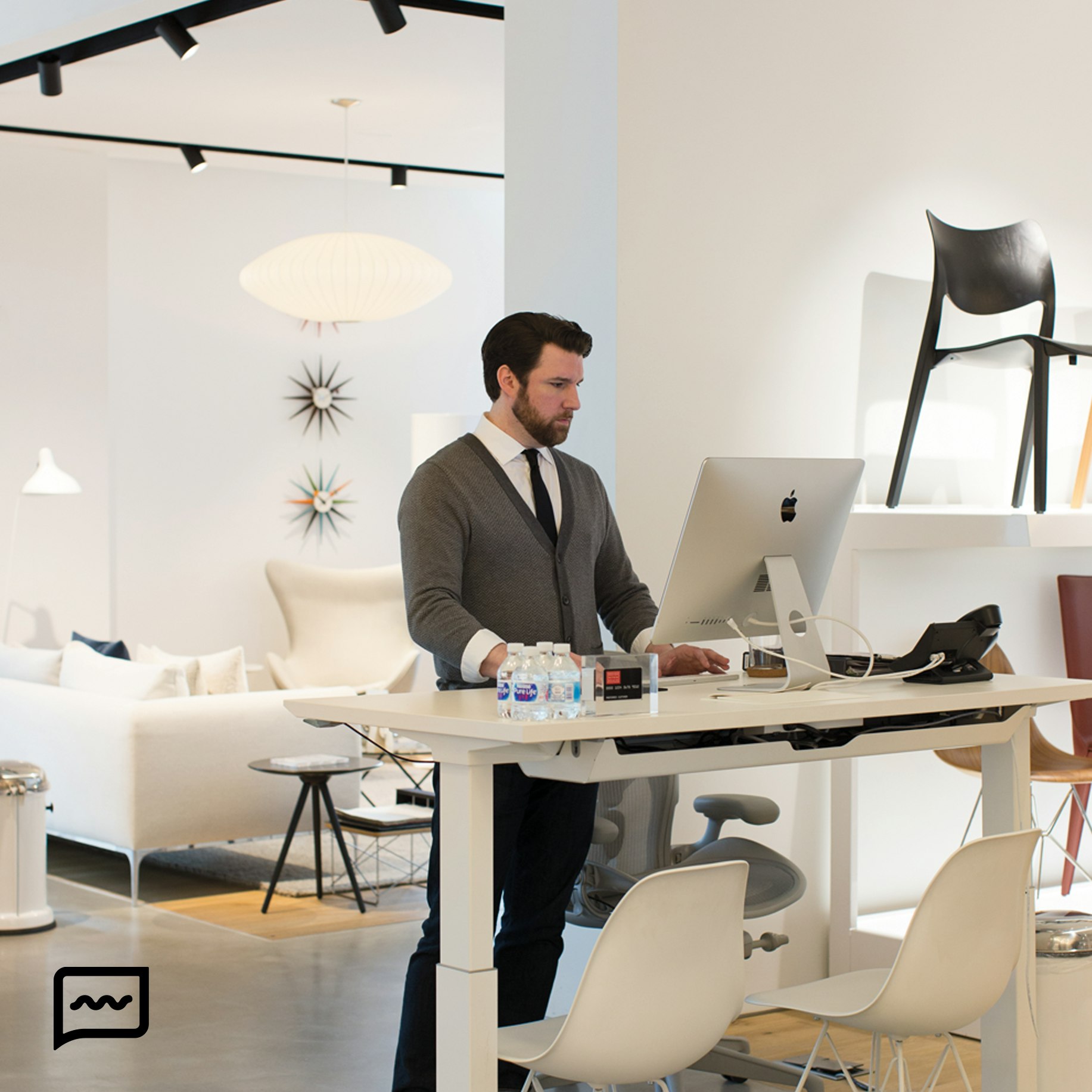 Any questions so far? We can help.
Complimentary design services including expert design consultations, in-home measuring and 3-D renderings of your rooms.
Modern Bedroom Furniture
During the mid-20th century, when the modern home became a place for families to enjoy new luxuries, modern bedroom furniture underwent a transformation. Small beds with ornately carved wooden headboards were replaced with large, king- or queen-sized beds with sleek, minimal wood headboards and platform bed frames. Eclectic heirloom bedroom furnishings were replaced with modern bedroom sets, comprising a bed frame, two nightstands, a dresser, and other matching modern bedroom furniture. Overall, bedroom furniture became more streamlined and cohesive, designed to be functional yet luxe.

At Design Within Reach, shop contemporary and modern bedroom furniture that highlights the transformative design principles of the midcentury modern movement, including modern bed frames, modern nightstands, modern dressers, and more.
How to Arrange Bedroom Furniture
Start with the bed.
A bed can make or break a bedroom. The very first step to arranging modern bedroom furniture is to choose a bed size that will complement your space and suit your needs. If you have a small room, an oversized bed may overwhelm the space. On the other hand, if you have a particularly spacious bedroom, a small twin- or double-sized bed may look out of place.

Before choosing a bed, it's important to measure your space and mock up a floorplan in which you can test different bed sizes. You can even use tape or cut out pieces of butcher paper to represent different bed frame sizes. If you're furnishing a bedroom for an individual, you can try positioning the bed against a wall or in a corner. However, if you're furnishing a bedroom for a couple, the best practice is to leave room on either side of the bed for a nightstand.

Once you've determined the best bed size for your space, shop for modern bed frames. If you're looking for beds with storage, keep in mind that additional features may impact the bed's overall footprint – a king-size bed frame with pull-out drawers will ultimately require more space than a king platform bed without additional storage features.

Consider storage furniture.
Now, think about your bedroom storage needs. If your bedroom has ample closet space, you may not need as much supplementary storage furniture for your clothing – a small dresser or chest of drawers might suffice. However, if your bedroom lacks closet space, consider a larger dresser, armoire, wardrobe, or even a modern storage bed with drawers. For other accessories and bedside essentials, consider a modern vanity and bedside tables with drawers.

At this stage, it's also a great idea to consider a modern bedroom furniture set, rather than individual pieces. Midcentury modern bedroom sets comprise matching pieces of furniture – from a bed and nightstands to a dresser and vanity – for a cohesive look. Modern bedroom sets are versatile, too. All pieces of furniture can be used in one room, or the pieces can be used throughout different rooms as needed.

Again, a bedroom floorplan can be an incredibly useful tool as you determine what type of furniture can fit in your bedroom, as well as how to arrange your bedroom furniture. If you're thinking about placing storage furniture along a wall with windows, note the furniture's height compared to the height of any windowsills – and don't forget to leave room for your bedroom door to fully open without obstruction.

Fill in the blanks.
Once you've settled on a bed and storage pieces, think about maximizing comfort with additional furniture and decor. A modern lounge chair, armchair, or accent chair placed near a floor lamp or in a sunny corner can become your new favorite reading spot. A bench or stool placed at the foot of your bed can offer a convenient place to sit as you put on shoes – or it can give an affectionate pet a leg up to reach your bed. A full-length mirror or wall mirror hung over a dresser can reflect light, making your room feel brighter and more spacious. And don't forget a modern bedroom area rug to cushion bare feet and tie your space together.

At Design Within Reach, shop authentic modern bedroom sets and individual furnishings that will give your bedroom a modern upgrade.