A Guide To Choosing The Right Sofa or Sectional For Your Space
Admittedly, choosing a sofa or sectional for your living room can be a daunting task. The sofa design options (sizes and shapes and styles, oh my!) are nearly endless. Such a broad selection ensures that the perfect piece for your living room does, in fact, exist. However, you might find yourself getting lost in a maze of choices as you scour the internet and design boutiques alike for the ideal sofa or sectional. As the focal point of the living room, a sofa anchors and informs the space. Its size, style, and material combine to set the tone for the room. Here, we break down the decision into three simple steps, so you can easily find the piece that's just right for you — whether it becomes a gathering place for family movie night or your favorite spot to curl up with a good book.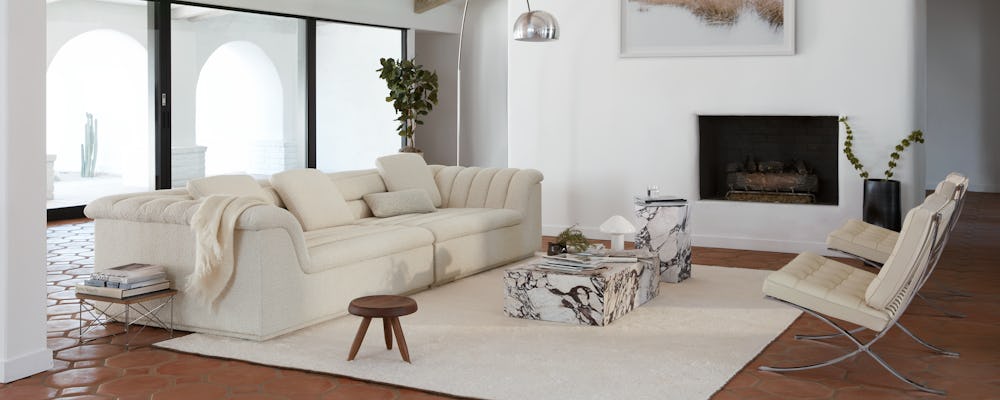 "A sofa or sectional is the focal point of a living room. It should be a functional piece that creates visual interest and sets the mood for the space." — Annette Design Expert, DWR Austin Store
1. Choosing the right sofa for your living room size
When browsing for a sofa, one of the most important factors to consider is the size of your space or family room. Are you furnishing the living room of a cozy apartment in Manhattan? Or the great room of a sprawling open concept home? It's also important to consider the room's traffic pattern as well as the size and scale of any existing furnishings that you plan to incorporate into the space. Depending on the room's size, a sectional, sofa, or settee are among the best options.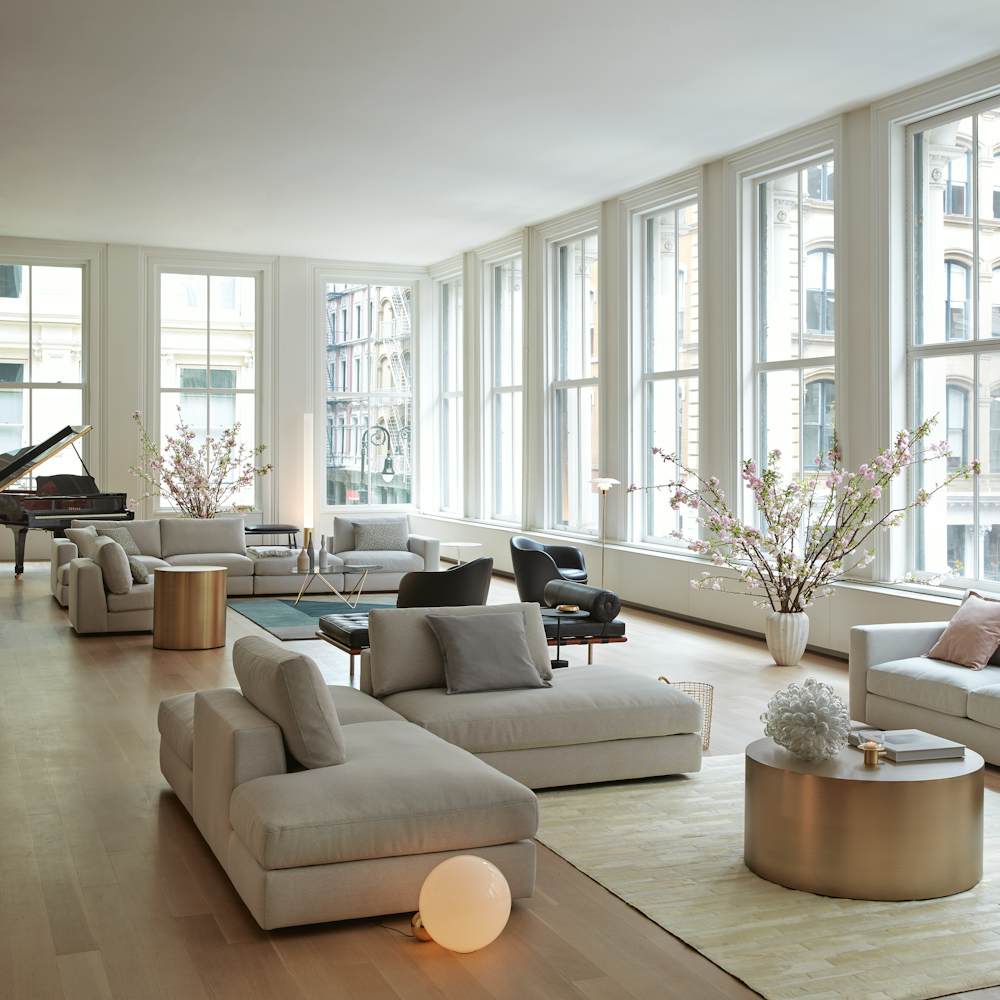 Sectionals
The merits of a sectional are abundant, much like the seating it provides. There are many different ways to arrange a sectional: It can be placed flush against a wall or in the center of a room to divide the space. Modular sectionals, which comprise love seats, slipper chairs, and chaises, offer even more versatility. They can be combined or disassembled as desired.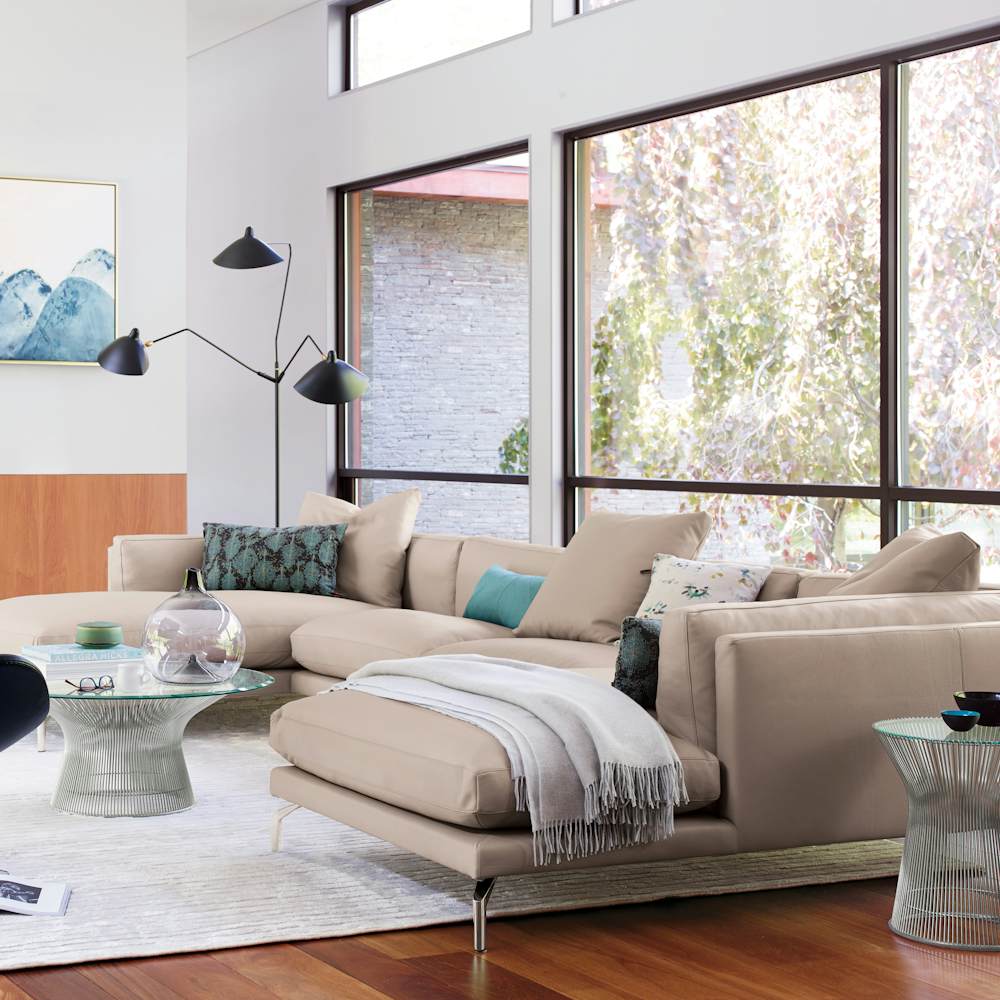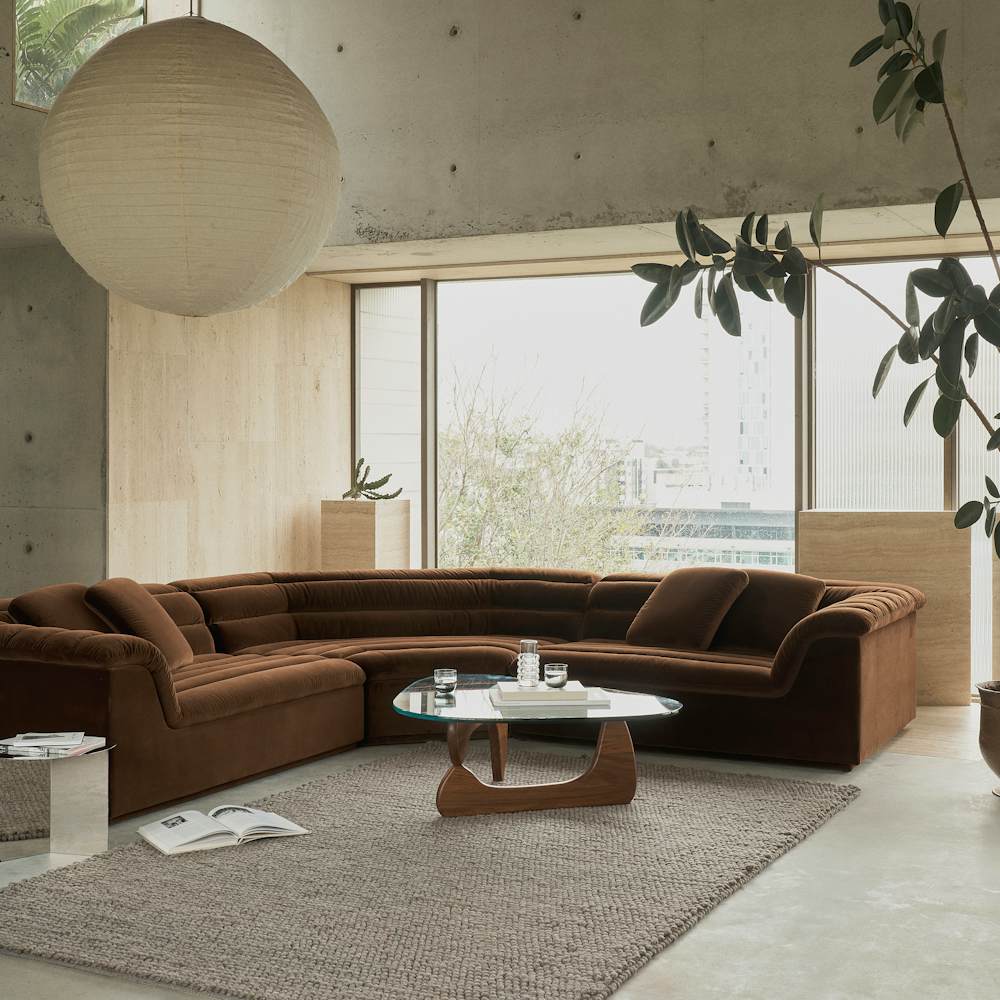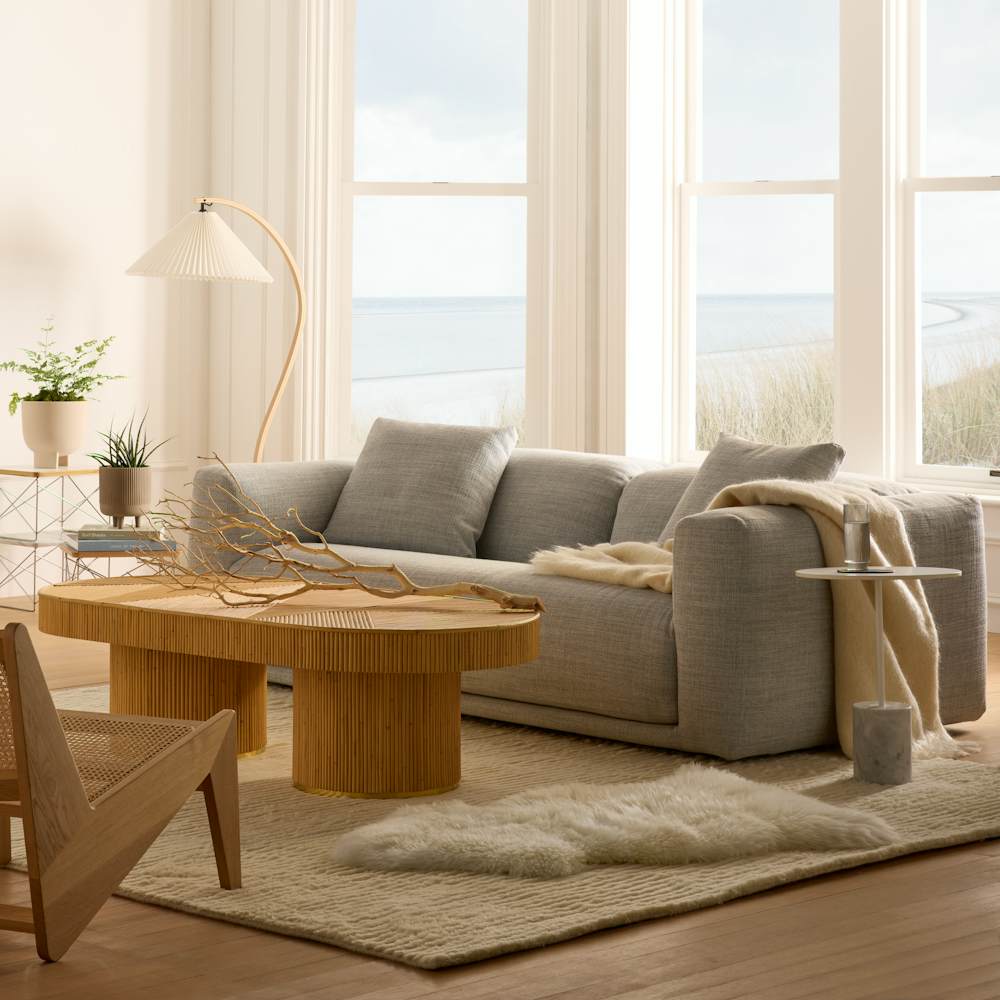 Sofas
While there are some suitable sectionals for small spaces, a sofa is often a better choice. Generally, it seats three people comfortably. With a streamlined, linear shape and no perpendicular seat to account for, a sofa makes rearranging a breeze. Plus, it still offers versatility, with styles that range from two arms to one arm to armless.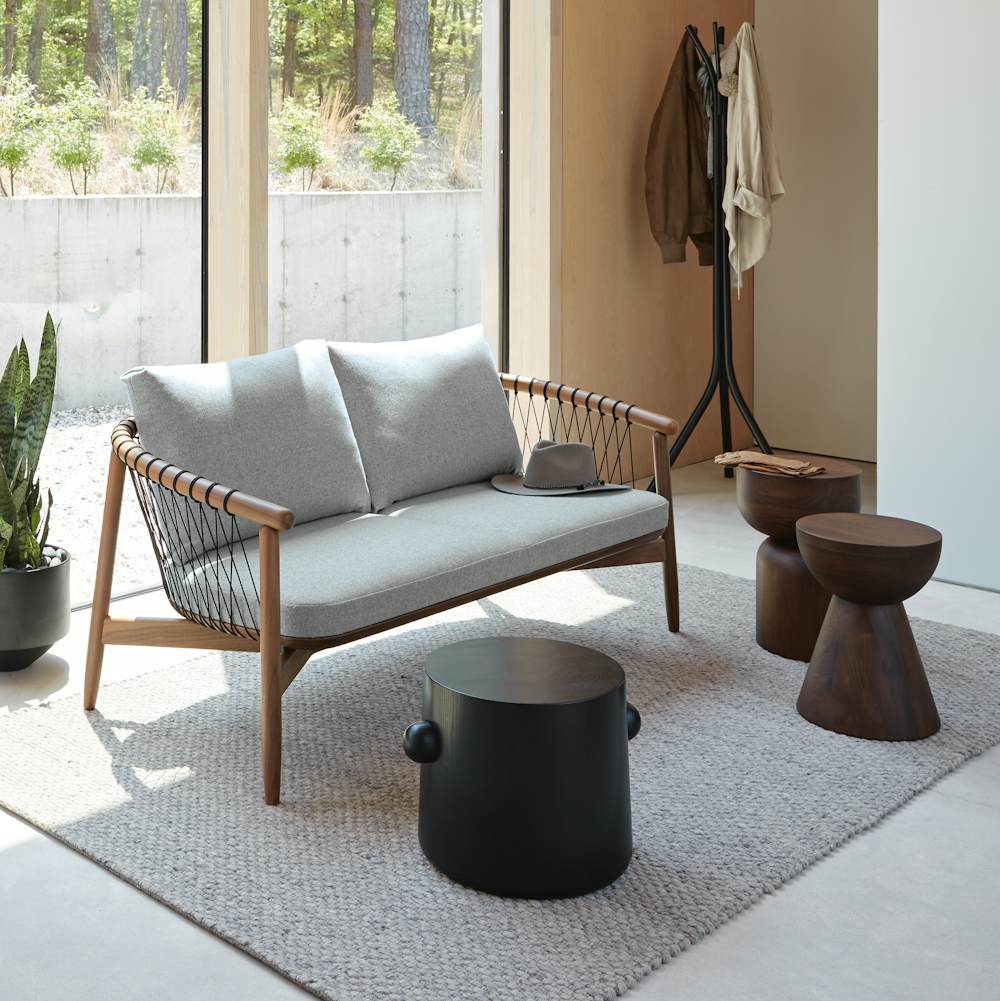 Settees
Smaller and slimmer in size, a settee, also known as a loveseat or two-seater sofa, is a sophisticated option for a cozy space. Usually, a settee consists of one or two cushions and seats two people. It's equal parts chic and pragmatic, especially if you're furnishing a small but well-appointed room.
2. Choosing the right sofa style for your space
From ultra-sleek to luxuriously plush, there are myriad sofa styles and silhouettes from which to choose. The sheer number of options can be overwhelming, so here are a couple of tips to keep in mind.
First, a sofa should coincide with the overall aesthetic of your home. For example, if your space is filled with antique pieces, an armless leather sofa with a sleek steel frame and clean lines might feel out of place.
Second, your sofa should not only be aesthetically pleasing but also functional for its intended use. A deep-seated sofa with articulating headrests will create a cozy environment for family movie night, while a sophisticated Eames sofa would be well-suited for an evening cocktail party.
If you're looking for a more traditional or classic piece, choose one with rolled arms and a button-tufted seat back. Embrace minimalism with a sofa that features monochromatic piping and a wide back and arms. A mid-century modern living room sofa is an enduring design — think: a plush yet streamlined silhouette perched atop walnut or steel legs.
3. Choosing the right sofa material for your lifestyle
The best material for sofas depends on what you want it to accomplish. Do you want it to add warmth to the living room? Stand up to pet hair? Withstand spills? The first decision is to choose either leather or fabric. Then, you can select the color of leather or the kind of fabric to get the most comfortable sofa for your living room.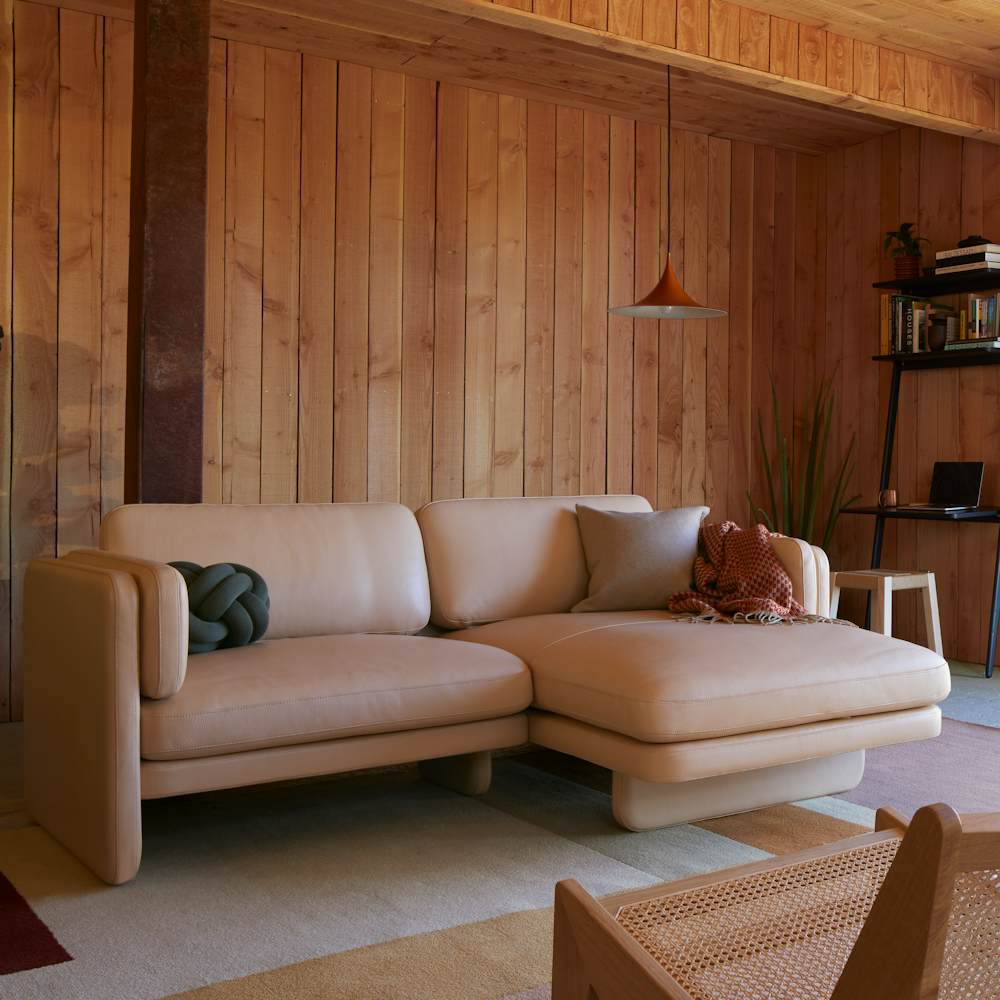 Final tips
Hopefully, these tips take some of the guesswork out of selecting the right sofa for you. Remember: size, style, and material are the top three considerations to keep in mind.
Choose a sectional, sofa, or settee based on the size of your living room.
Choose a piece that is equally aesthetically pleasing and pragmatic — a style that plays well with your home's interiors.
Choose a material that not only sets the right tone for your living room but also suits your lifestyle.
Once you've made those decisions, all that's left to do is sit down, settle in, and soak up the moments that bring life to a living room.