Price reduced from

$2,995.00

to
$2,545.75
Price reduced from

$2,995.00

to
$2,545.75
Request free swatches
Arrives in 4-7 business days
Estimated Arrival:
Available to ship in: 11 weeks
Gracefully curved wood construction.
Plush foam cushions.
Unique latticed suspension.
Shipping Options
Return Options
Not satisfied with your purchase? We'll work with you to make it right. Contact us within three (3) days of your order's delivery.
Learn more
.
DWR honors a one (1) year warranty on all products. Brand-specific warranties may extend to longer periods.
Intersecting lines —
A seat that sits at the crossroads of industrial and handcrafted, the Crosshatch Chair features a parachute cord latticed suspension back and gracefully curved wood.
Details
Details
A juxtaposition of materials
Eoos, a studio based in Vienna by designers Martin Bergmann, Gernot Bohmann, and Harald Gründl, designed the Crosshatch Collection (2014) with a desire to use an industrial material in a handcrafted way, creating a weaving that's both structural and decorative. A year of testing ropes later, they found the ideal choice to be parachute cord, which stays stiff and won't stretch over time. Made in U.S.A.
Gracefully curved wood construction.
Plush foam cushions.
Unique latticed suspension.
Brand
General Dimensions

28.5" H 31.25" W 30.25" D
Product Weight

45 lbs
Box Dimensions
Assembly

Comes fully assembled
Warranty

DWR honors a one (1) year warranty on all products. Brand-specific warranties may extend to longer periods.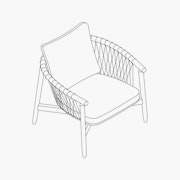 Crosshatch Chair
Height (in): 28.5
Width (in): 31.25
Depth (in): 30.25
Weight (lbs): 45
Seat Height (in): 14.75
Solid walnut or white ash frame

Foam cushions with Dacron® wrap

Nylon parachute cord

Noble fabric (100% wool felt) or MCL leather upholstery
Care & Maintenance
With regular care and maintenance, your Herman Miller product will provide many years of superior performance and satisfaction. To maintain quality, please follow the cleaning procedures outlined here.
The instructions for the care and maintenance of Herman Miller products are provided to you as a service. No warranty is implied since results may vary.
Wood & Veneer
Normal cleaning
Dust furniture with a slightly damp, soft, lint-free cloth. Wipe dry with a dry, soft cloth in the direction of the wood grain. Spills should be immediately wiped up with a damp cloth.
Once a month
Clean the surface with a soft cloth dampened with a quality cleaner formulated for wood furniture. Wipe the surface in the direction of the wood grain to remove dirt and fingerprints. Wipe dry with a clean, dry cloth.
Twice a year
Apply a good quality furniture polish with a soft cloth.
Do not use aerosol-powered cleaners or polishes. Also, do not use polishes containing waxes or abrasives, or polishes that are oil based.
Minor repair of water rings, stains, and scratches
Rub the surface lightly in the direction of the wood grain using No. 000 steel wool. Apply a scratch-removing polish with a color and value that simulates the veneer. If the scratches are deep, consult a professional furniture refinisher.
Fabric Upholstery
Normal cleaning
Vacuum fabric as needed, using an upholstery attachment. Do not brush fabric or use a vacuum attachment with a rotary brush. Brushing may permanently damage the nap or change the character of the fabric. Do not apply water or any liquid solution.
Wetting the fabric with any liquid solution may result in permanent damage. If further cleaning is needed, dry-clean or spot clean fabric with solvent cleaner.
Large areas
If large areas are soiled, contact a professional cleaning firm.
Reviews
Reviews
Such a lovely addition to my home
I absolutely love my Crosshatch chair! I was very surprised it is as comfortable as it is, like it looks comfy, but this thing really is SUPER COMFY.

Chair also looks awesome, makes my apartment feel like a So Cal vacation house.

I've had it for about 2 years now, it has broken in nicely. Seat cushion still in great shape, paracord siding hasn't frayed or anything like that. These things really are built super well for being so dainty looking.
Stylish and incredibly comfortable
January 19, 2020
Purchased
1 year ago